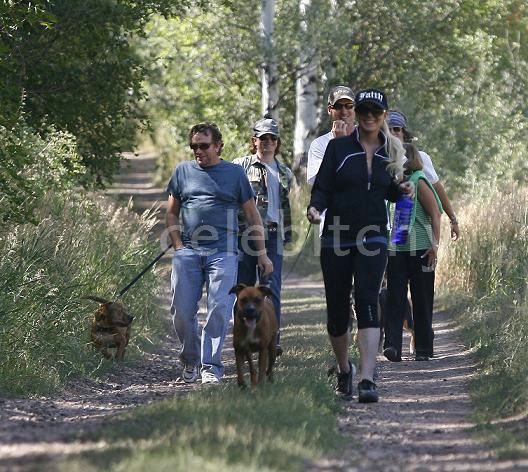 Boy the justice system sure is tough on drug/alcohol abusing celebrities lately. It's been rumored that Lindsay Lohan could get off easily, since she wasn't going to be charged with any felonies. Most sources were saying a minimum of 4 days, but it turns out to be even better – just 1. The rageaholic, self-centered actress will have to put in an additional 10 days of community service. Pretty sweet deal for borrowing a car and chasing someone down in the middle of the night while intoxicated. Lohan was original ordered to spend 96 hours in jail, which was reduced to 48. She was then given credit for time served when she was arrested, which somehow brought her down to one day in jail. Something tells me one day won't get through to her like she needs.
"Lohan reached a plea deal on Thursday and will spend one day behind bars, plus 10 days of community service and must complete a drug treatment program, Access Hollywood has learned. As part of the plea deal, Lohan reportedly pleaded no contest to two charges of DUI, and two charges of being under the influence of a controlled substance (on two separate occasions) and reckless driving.

"Lohan was charged earlier in the day with seven misdemeanors stemming from two drunken-driving arrests in the last four months. More serious felony drug charges were not filed, prosecutors said, because tests showed there wasn't enough cocaine on her to warrant them. A rep for Lindsay released the following statement to Access Hollywood on behalf of Lohan:

'"It is clear to me that my life has become completely unmanageable because I am addicted to alcohol and drugs. Recently, I relapsed and did things for which I am ashamed. I broke the law, and today I took responsibility by pleading guilty to the charges in my case. No matter what I said when I was under the influence on the day I was arrested, I am not blaming anyone else for my conduct other than myself. I thank God I did not injure others. I easily could have. I very much want to be healthy and gain control of my life and career and have asked for medical help in doing so. I am taking these steps to improve my life. Luckily, I am not alone in my daily struggle and I know that people like me have succeeded. Maybe with time it will become easier. I hope so.'"
[From Yahoo News]
I hope whatever PR lackey wrote the copy of her remorseful statement gets a raise. That's all really creative. Um, could you try saying something new? How many times has everyone heard that Lindsay is sorry and knows what she did was wrong? She's not sorry, and maybe knows it's wrong but doesn't give a rip. Remember how before all this, Lohan kept getting into car accident after car accident? It seemed to average at about 4 or 5 a year, and she always blamed the paparazzi. Now that we have it on record that she likes to incorporate some time behind the wheel into her boozing expeditions, it really makes you wonder just how much the paparazzi really had to do with all those accidents. Yeah they're annoying and have flashing lights and crowd around you, but I'm guessing that's a lot harder to deal with when you're completely plastered.
Picture note by JayBird: Header image of Lindsay walking some dogs in rehab on Monday. Note the prominently displayed "Faith" hat. If she wears it, I guess that means we're supposed to believe she has it. Image thanks to Splash Photos.