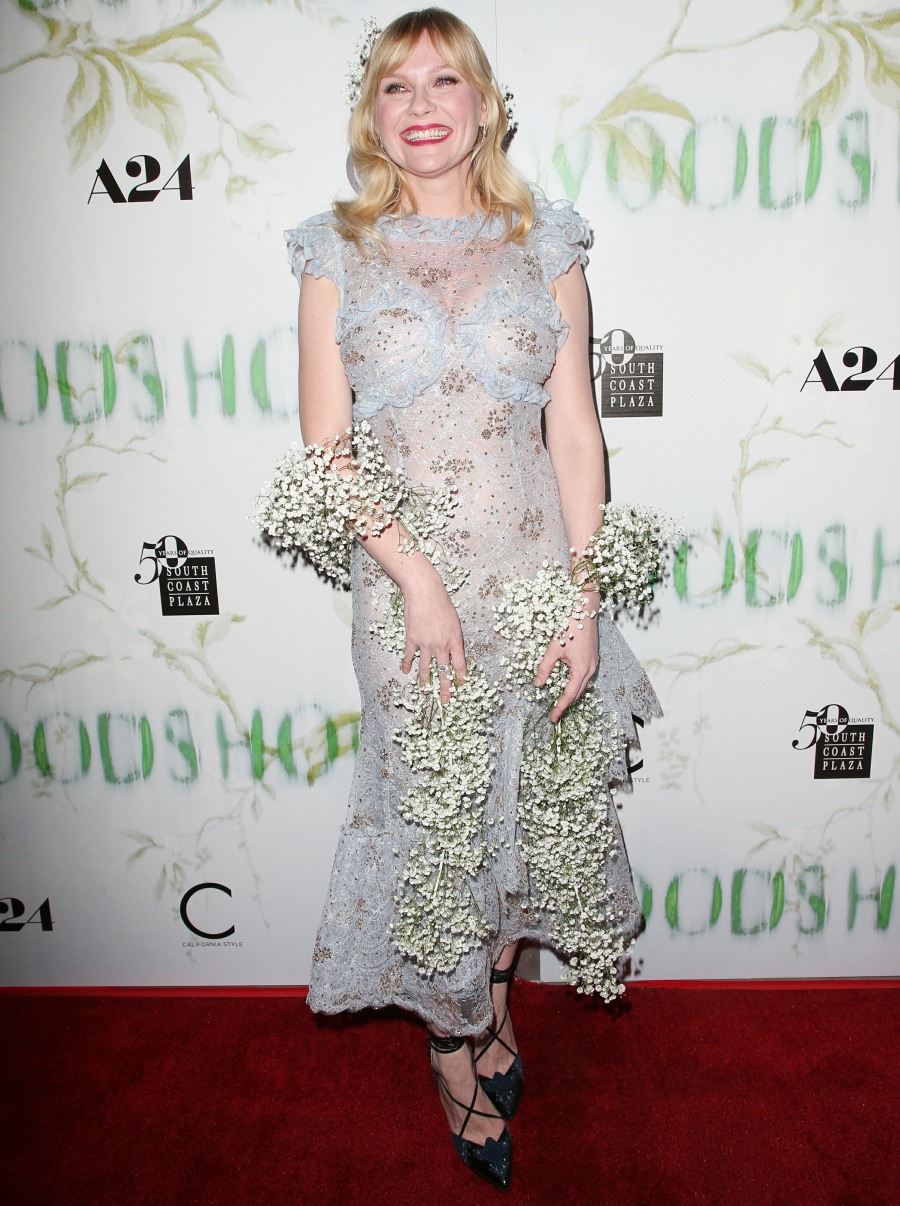 With the combination of the Emmys, the film festivals and the start of the Oscar campaign season, I've been feeling like sort of a jerk about fashion. I actually do enjoy it when celebrities wear awful things because then I get to yell about it. But really… WTF are some of these designers even thinking? These are photos of Kirsten Dunst this week at the LA premiere of Woodshock, a film directed by Rodarte designers Kate and Laura Mulleavy. Kiki has been wearing Rodarte throughout the promotional tour for the film, because derp, that's the entire point: the film is basically an "artsy" advertisement for Rodarte. So if you've spent all that money on an art film to sell clothes, wouldn't you actually want to put your best designs on your star? I guess not! Because look what Rodarte hath wrought: a silly, fug dress with literal ruffles around the boobs. HIGH DESIGN. Much Rodarte. Kiki made this stupid dress even worse by adding a floral garland as a shawl. My God. At this same premiere, Kiki also told Us Weekly that she's probably going to ask the Mulleavys to design her wedding gown when she marries Jesse Plemons. I hope that they make sure to outline her boobs in baby-ruffles on her wedding dress too.
What else? This movie has a simple plot: a woman, played by Kiki, grieves for her deceased mother by going to the woods and getting high. She also eats cake. Apparently, Kiki accidentally got super-high during filming because some sketchy prop dudes gave her actual joints to smoke. Some highlights from her EW interview:
How she accidentally ended up getting high: "We had a prop team, but I don't think they knew how to roll joints, so they just asked somebody who was around. I don't know how they found this person, but I guess they threw in some fun nuggets for us. After this happened to me… some [crew members] took the weed home, and they were like, "That was some of the strongest weed I've ever smoked."… They asked someone to roll some fake joints and they thought, oh, that's fun, let's throw a couple of these in.

Eating cake in 'Woodshock' and macarons in 'Marie Antoinette': "I think I'm eating the cake with disdain, here. I have one bite and spit it out! But, Sofia [Coppola] and I kick ourselves; we should have invested in Ladurée after Marie Antoinette because those stores popped up everywhere [after we used their macarons in the movie]. Recently, I was in France with my friend and my goddaughter, and the little girl wants macarons all the time. We went inside a Ladurée, and I was telling my friend how Sofia and I should've bought stock in the company before the movie. We didn't know it'd turn into such a big thing. And then these girls walked out of the store and saw me. They were like, 'Oh, Kirsten! The reason we got macarons is because of Marie Antoinette!' And I was like, there you go. We made macarons hot again…They're everywhere. They're even in airports! There were none when we made our movie…Yes, we messed up not investing in them. But, okay, I feel like I have to move on to savory [in my next movie]. Pasta, I don't know.
She really sounds bummed that she didn't invest in Laduree! That's funny. True story: I never saw Marie Antoinette. Should I? It felt like a movie I would not enjoy. Woodshock also seems like a movie I would not enjoy – I would rather get high and eat cake rather than pay to watch someone else get high and eat cake.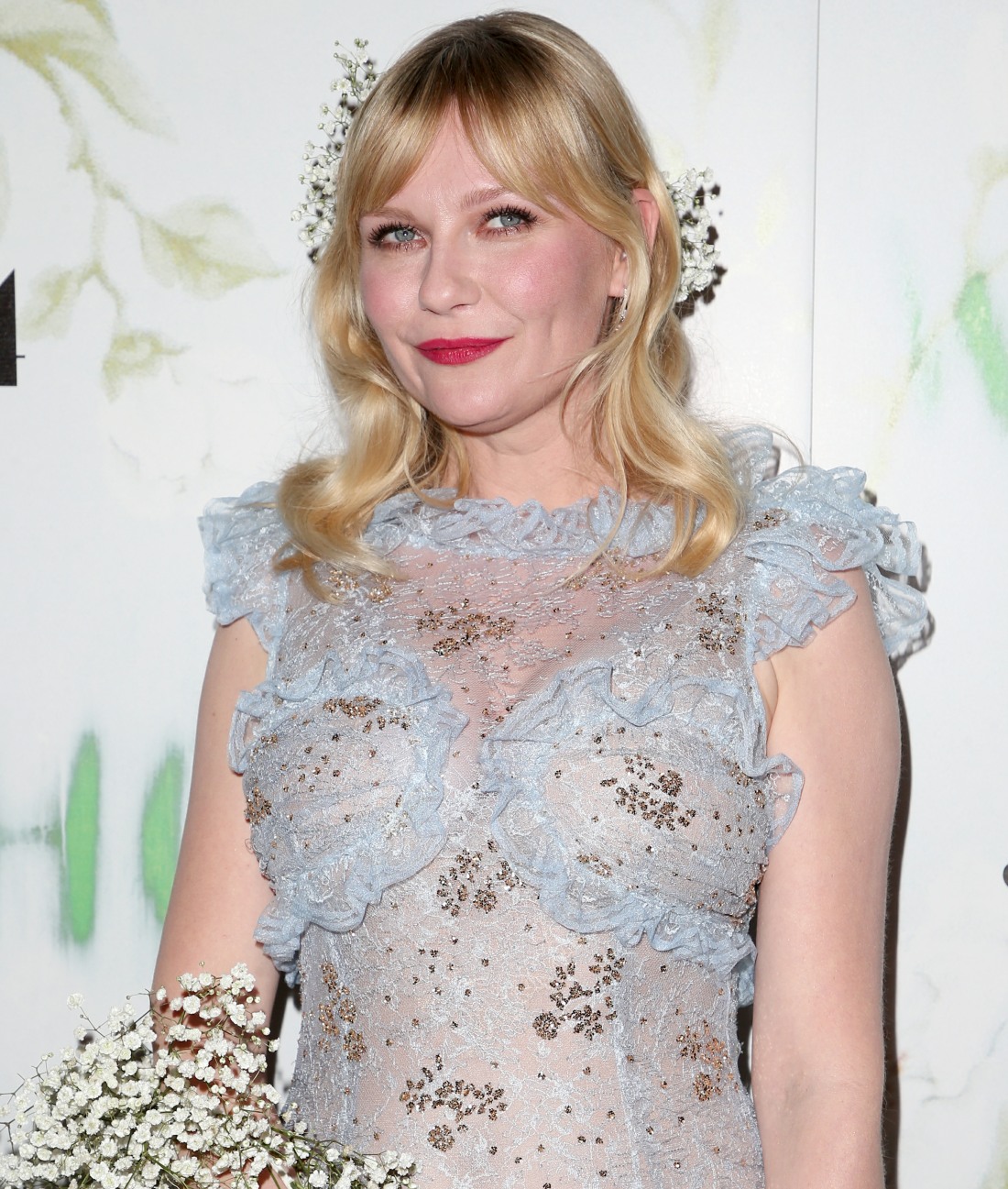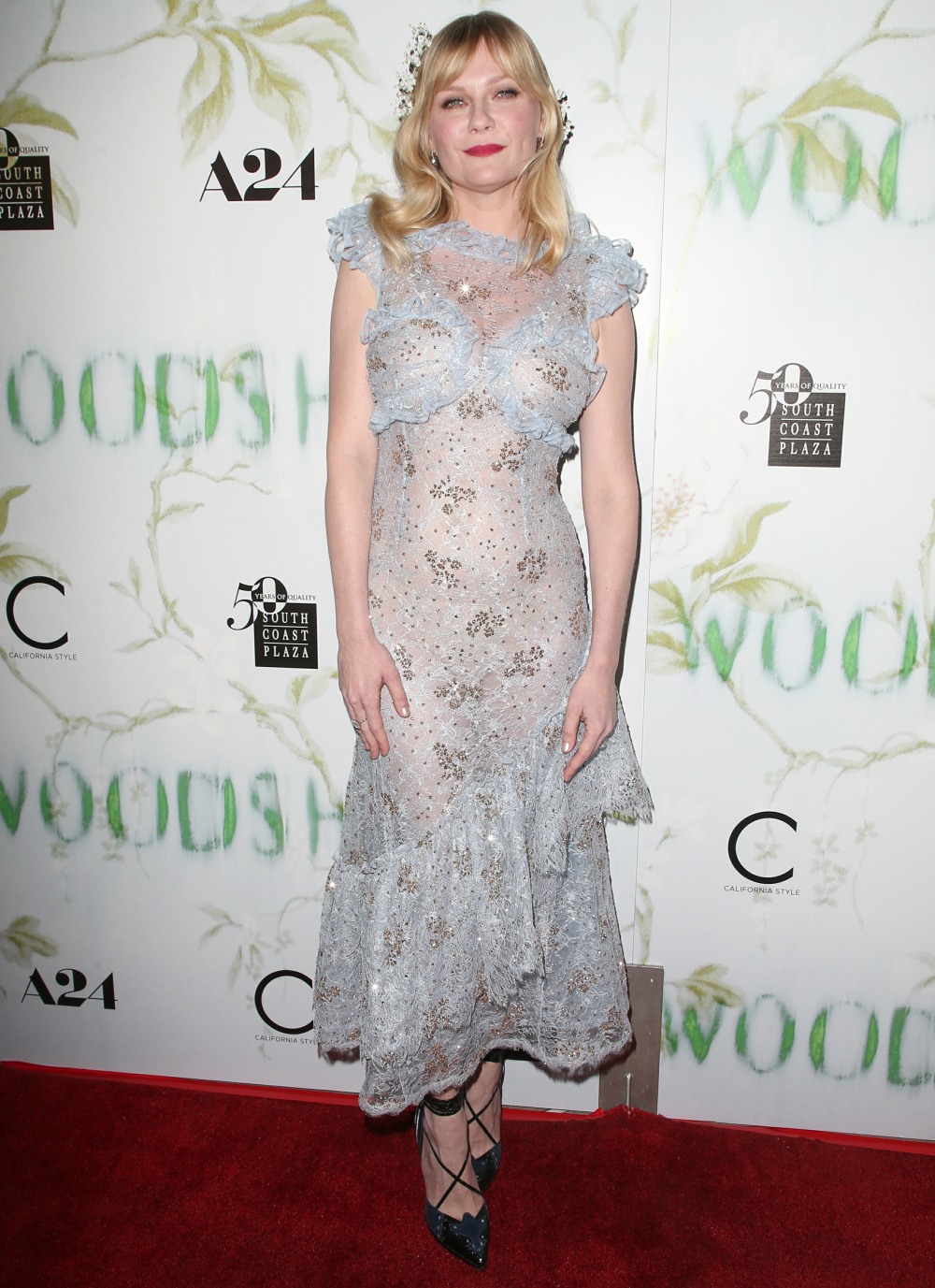 Photos courtesy of WENN.