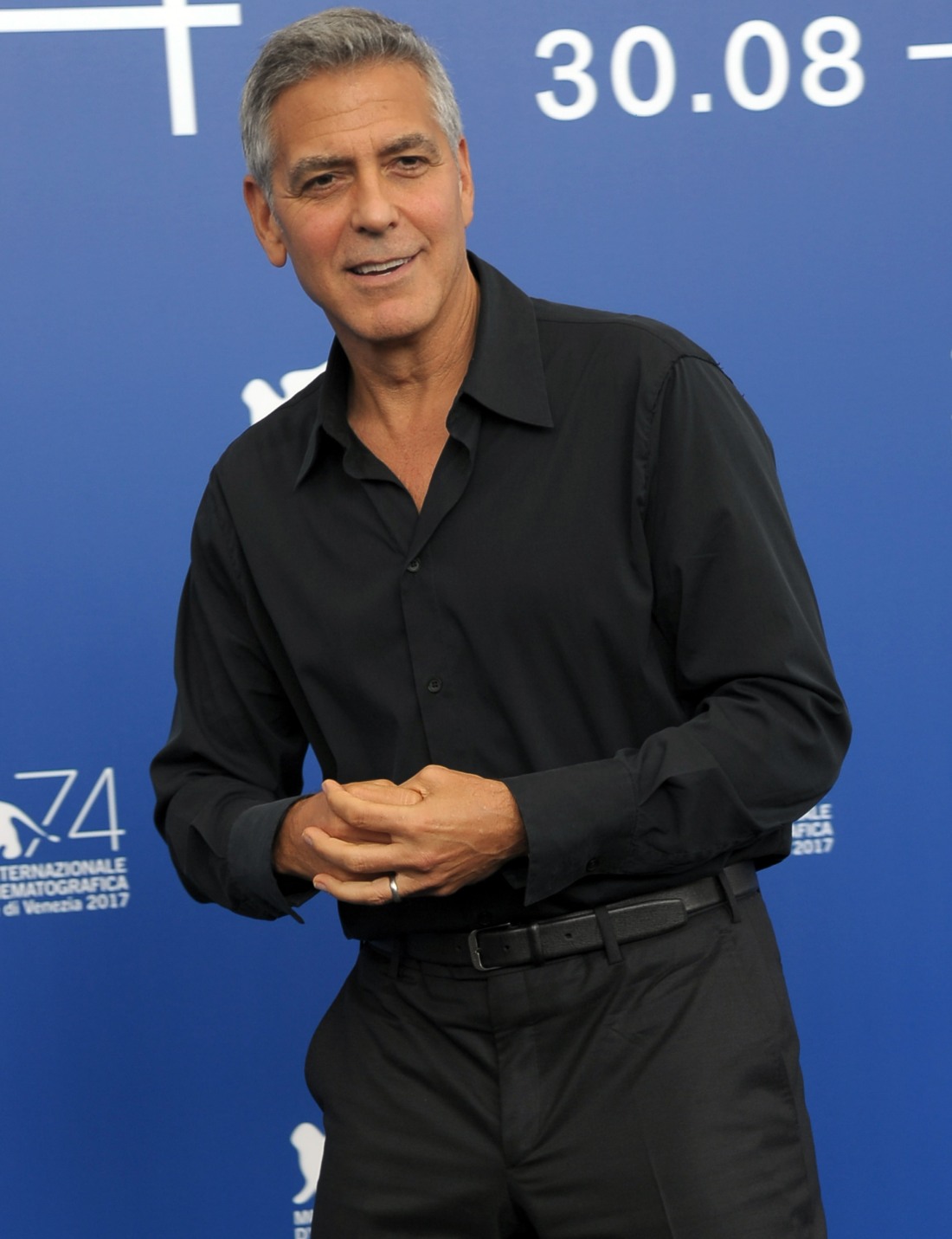 George Clooney is still talking and still promoting Suburbicon. Maybe he actually stopped talking at this point, and reporters are only getting around to posting his full interviews now. I say that because I feel like I've read half of these quotes before, possibly in his USA Today or Hollywood Reporter interviews. The Daily Beast published their long-read interview with George over the weekend – he talks again about how he's not the guy to direct movies about the black experience, and how it should be a no-brainer for the president to come out and say that Nazis are bad. There's new stuff in this interview too, like George's take on Hillary Clinton's campaign. You can read the full piece here. Some highlights:
Not all racists are hicks from the South: "I remember the movie Guess Who's Coming to Dinner and, although not a perfect film, there's something great about the idea of, "Yeah, I'm a liberal, but don't marry my daughter!" And it was fun because, having grown up in Kentucky, when I see movies depicting any type of racism it always sounds like Mississippi Burning—hick accents and all. And when I was looking at the crisis of Levittown, these people sounded like they'd come from the East Coast and they were still hanging Confederate flags on houses and saying all these racist things. It's good to remember that it wasn't just the South that was f–ked up. It played out everywhere.

Telling the African-American version of Suburbicon: "…One of the things I talked to the actors about—including Karimah, who plays Daisy Myers—was that there's somebody out there that would be the perfect person to do the African-American version of this story. That's not where my expertise lies, and probably where it shouldn't lie, but I do have a fairly strong sense of white males worried about losing their place in society and blaming minorities. I grew up around that so I can speak to that, and we wanted to focus on that version of it.

Whether the election was "a referendum on women." "I think it was. Here's what I see from Hillary. Hillary, for years and years and years, has been the presumptive nominee, and quite honestly, she was incredibly qualified for the job. But being qualified for the job does not necessarily mean you're the right person to be president. Here's what I mean. She was more qualified than even her husband was when he was elected president, but she's not as good at communicating things. That's simply true. When she got up and gave a speech, it didn't soar. Now, that doesn't mean that she wouldn't have done a great job as president, and I supported her because by the time we did the fundraiser the primary was over at that point and it was time to get on with picking someone to move forward, and she was the right person to side with."

Hillary's elevated game: "It was frustrating because I never saw her elevate her game. I never saw it. And I had a lot of liberal friends who were like, "She's not good at this." And I see that, and I understand it. I also think, though, that if it was a guy it wouldn't have been so polarizing. I think the fact that she's a woman made it a much harder uphill battle. They've had the "Arkansas Project" where for twenty-five years the Clintons have been accused of murdering Vince Foster and accused of tons of stuff, so I thought it was a raw deal. I think that she wasn't particularly good at articulating the things that she wanted to do, and unfortunately we live at a time right now where articulating what you want to do is more potent in the electorate than the other way around, obviously, when Trump only said he was going to "Make America Great Again." Don't you think the next Democrat who runs should just run with a blue hat that says, "Make America Great Again?"
The Hillary quotes are being carried under headlines like "George Clooney slams Hillary" and "Clooney says Hillary lost because she never elevated her game." I think there's a particular context and in that context, he's not wrong. He's acknowledging that Hillary was judged (unfairly) by a different set of rules as a woman, that she faced the historic challenge of already being a target of a "vast right-wing conspiracy" for three decades, that she had been a high-quality public servant but she wasn't the best campaigner. I like and love Hillary Clinton and I can admit to myself and to all of you that she wasn't the best campaigner either. She wasn't. Now all that being said, if you refused to vote for Hillary Clinton because she wasn't a great campaigner, then you suck as a person. People who watched the election unfold and saw the crazy sh-t Donald Trump said and did and then thought "but her emails, and her vocal fry!" Yeah. The problem wasn't that Hillary wasn't a great campaigner. It must have been something else.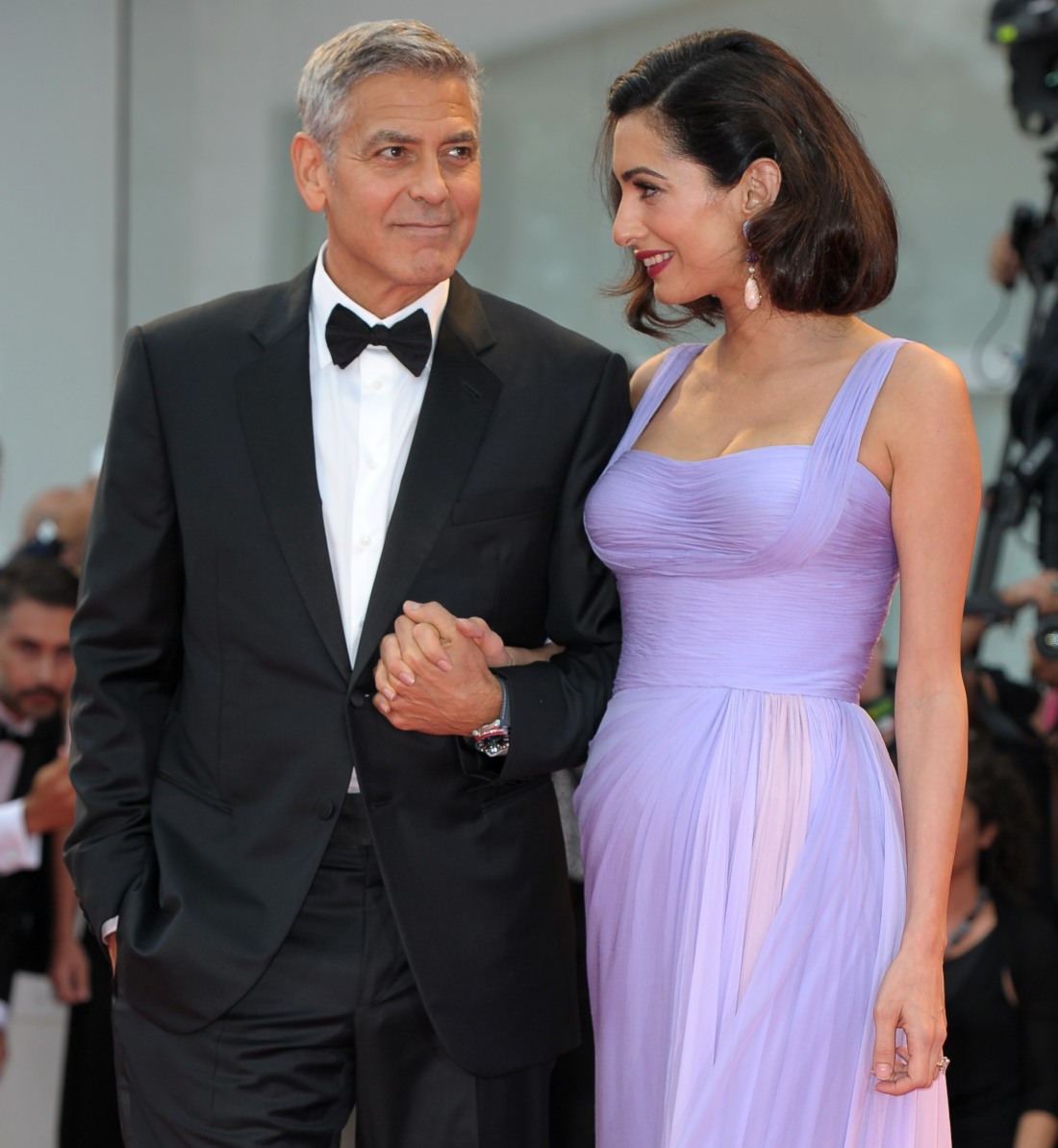 Photos courtesy of WENN.