Back in April, Spencer Pratt and Heidi Montag announced their pregnancy. They seemed to only figure out this year that pregnancy and babies are always "interesting" and "profitable" from a celebrity/tabloid standpoint. Learning that, Spencer immediately got Heidi pregnant and they started selling their story far and wide. Edited to add: Heidi seemed to have wanted a baby for a while, but Spencer took some convincing. They claimed that they were able to conceive pretty quickly. Us Weekly got most of the exclusives, because I guess Us Weekly was the highest bidder. Spencer and Heidi were really trying to tap into The Hills nostalgia and now they have a baby boy to show for it.
Now a family of three! The Hills alums Heidi Montag and Spencer Pratt welcomed their first child, a baby boy named Gunner Stone, on Sunday, October 1, Us Weekly exclusively confirms. Gunner was born at 3:06 p.m. He weighed in at 6 pounds, 12 ounces, and measured 19 inches long. He has blond hair and blue eyes. "Heidi and Spencer are proud parents of a healthy baby boy as of this afternoon," the couple's rep exclusively tells Us.

"We are so blessed to have a beautiful healthy baby boy," Montag tells Us Weekly exclusively. "It was the hardest and most rewarding experience." Pratt described the experience to Us as, "Officially the most lit day of my life."
Thoughts on the name Gunner Stone Pratt? Gunner Pratt sounds like the name of every frat boy ever, but it's not exactly a bad name. I actually have to give them some begrudging credit: they found a name which is rarely used by celebrities, but it still feels familiar enough to not be considered "weird." As for the middle name "Stone" – Spencer is a "crystal salesman." That's his job now. If Heidi had given birth to a girl, I bet "Crystal" would have been in her name somewhere. But since it's a boy, he gets the name Stone. Why not Hypersthene or Moonstone or a specific crystal name?!?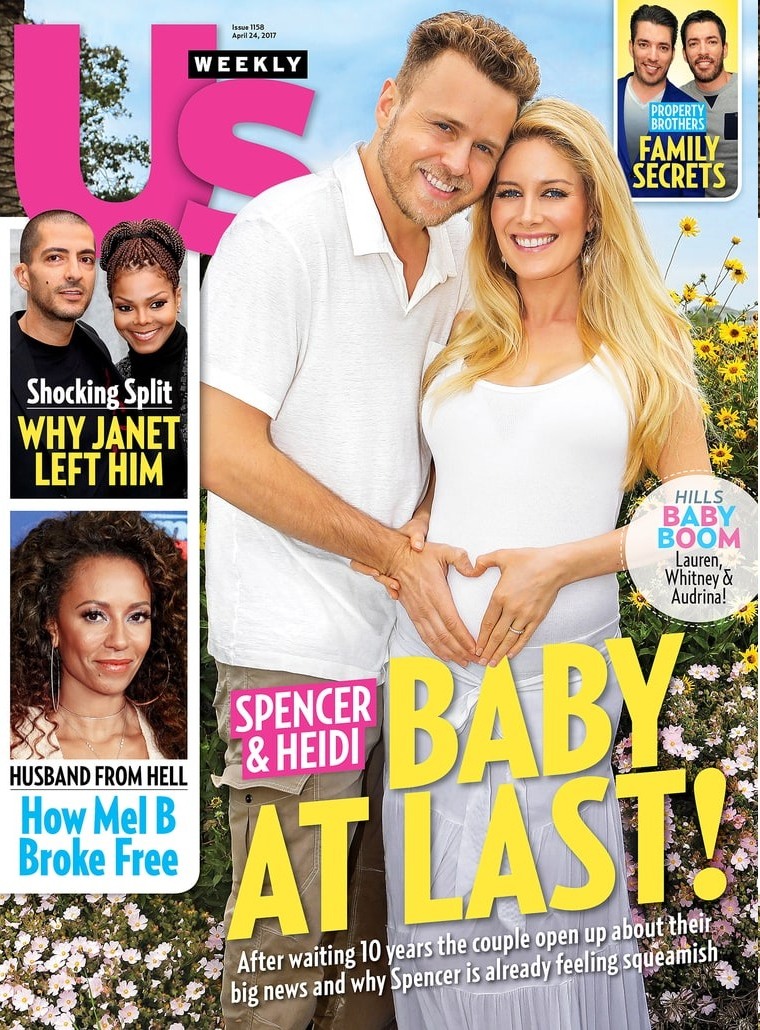 Instagram courtesy of Heidi Montag, cover courtesy of Us Weekly.