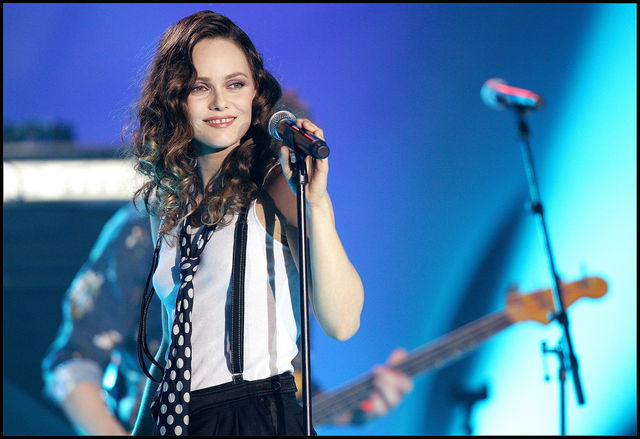 Does it get any better than hearing Johnny Depp talk about how much he loves his partner, French singer/actress/model Vanessa Paradis? More excerpts are coming out from Johnny's cover interview with Vanity Fair, although the site still hasn't put up the complete text. They do have a gorgeous Johnny Depp slideshow, though. I'm still waiting for my issue to come, and I'm starting to spin conspiracy theories about how my mailwoman is a rabid Johnny Depp fan. Did she steal my copy? Did she?
In this latest excerpt, Johnny is talking about how his life wasn't "real" until he met Vanessa and they started having babies. Johnny says he is "glad" he waited to start a family with Vanessa rather than his ex-wife Lori Anne Allison or his ex-fiancées, Jennifer Grey, Winona Ryder and Kate Moss. Potentially, that could be way harsh (especially for Winona, who doesn't seem over Johnny, in my opinion), but Johnny doesn't make it sound like something mean:
Johnny Depp says he's "glad" he didn't start a family with his first wife.

The Pirates of the Caribbean star — who was married to make-up artist Lori Anne Allison from 1983-1986 — says he is pleased he didn't have children until he got together with his current partner Vanessa Paradis.

"I'm glad I didn't have children until Vanessa and I got together," said Depp, who has two kids — Lily-Rose, 10, and seven-year-old Jack — with Paradis. "I think when you are young you are hoping that this person will be the right one, the one you are going to be in love with forever but sometimes you want that so much you create something that isn't really there."

"I went through a number of relationships when I was younger. I was very young when I married Lori Anne and probably it was because I was trying to create a situation."

"We married in 1983 but it didn't last very long and that was probably because I wasn't ready to handle such a commitment."

"I then got engaged to Jennifer Grey, Winona Ryder and Kate Moss but it wasn't until I met Vanessa that life started to be real."
[From Vanity Fair via Showbiz Spy]
Sigh. Johnny's so lovely. Can you imagine being his girlfriend and having his babies and he talks about you this way? Vanessa Paradis is such a lucky bitch. And yet, I can't hate her. She seems cool. And she seems to know that she's a lucky bitch.
Back to Johnny's exes, does it strike anyone else that Vanessa, Winona and Kate Moss could all be related, they look so much alike? Johnny sure has a type, doesn't he? Petite women with huge eyes, high cheekbones and small chins. When he first got with Vanessa and I saw a picture of her, my first thought was "What happened to Kate Moss? She looks tired."
Picture note by Celebitchy: Johnny Depp is shown on the set of the Rum Diaries (in a car) in Puerto Rico on 6/9/09. Credit: WENN.com. He is also shown on 6/4/09 laughing in a white shirt. Look at that co-worker who gets to kiss him goodbye! Credit: Fame Pictures. Vanessa Paradis is shown with Johnny at the 2008 Oscars. She is also shown performing on 3/8/08 and 7/15/08. Credit: WENN.com