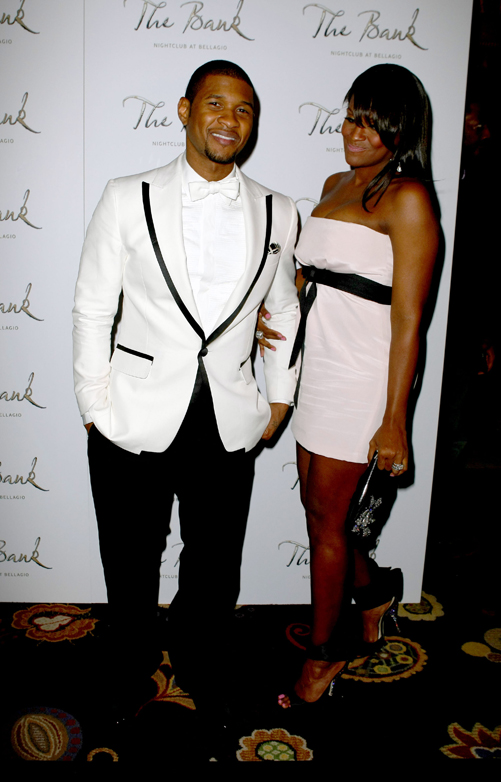 I'm doing my best not to say anything snotty as I sadly report that Usher and wife Tameka Foster have officially parted ways. While Tameka is no one's favorite person (even Usher's), and the couple have long been reported as having marital issues, they have two very young sons and this is very sad for them.
In Touch can exclusively reveal that Usher and his wife, Tameka Foster, are divorcing. "The Grammy winner has been living apart from his wife for nearly a year after almost two years of marriage," the insider exclusively tells In Touch, adding, "Usher's primary concern is for his children. He is a great father and just wants to do what is right for them." The soon-to-be exes have two kids together, Usher Raymond V, 18 months, and Naviyd, 6 months.

And the insider says that it's more than just talk — the divorce papers were filed in Atlanta this morning. The couple has faced problems in the past. In November 2008, In Touch reported that Usher was flirting with girls at a party in Miami, and even asked a model what she was doing afterward. And in February, In Touch revealed that although Usher flew to Tameka's side after she suffered cardiac arrest from cosmetic surgery in Brazil, he "had no idea that she was there to have surgery."
[From In Touch Weekly]
It was loudly rumored that the pair was breaking up (or already had broken up) late last year – and then Tameka announced that she was pregnant with Naviyd. If they've been living apart for a year and Naviyd is six months old, that means they separated when Tameka was three months pregnant. Considering how loud the rumors were at the time, I wouldn't be surprised if Usher and Tameka were already living apart, and then had a brief reconciliation.
Usher, you'll remember, famously had doubts about the marriage from the beginning. Tameka came between him and his mother, who had been his manager for over a dozen years. Usher fired his mom at Tameka's urging, and his career took a nosedive (she's since been rehired). He canceled their lavish Long Island wedding the day before it was supposed to take place – though later ended up marrying Tameka – albeit at a courthouse.
This relationship has been on its last legs since before the pair walked down the aisle. It's so sad since they have two little kids, but it'll probably ultimately be better for them than growing up watching an angry, bitter marriage. Though I'm sure we'll all have an angry, bitter divorce battle to witness first.
Here's Usher shopping at Cross Creek in L.A. on June 2nd. Header of Tameka and Usher hosting the New Year's Eve celebration at The Bank Nightclub in Las Vegas. Images thanks to WENN.com .