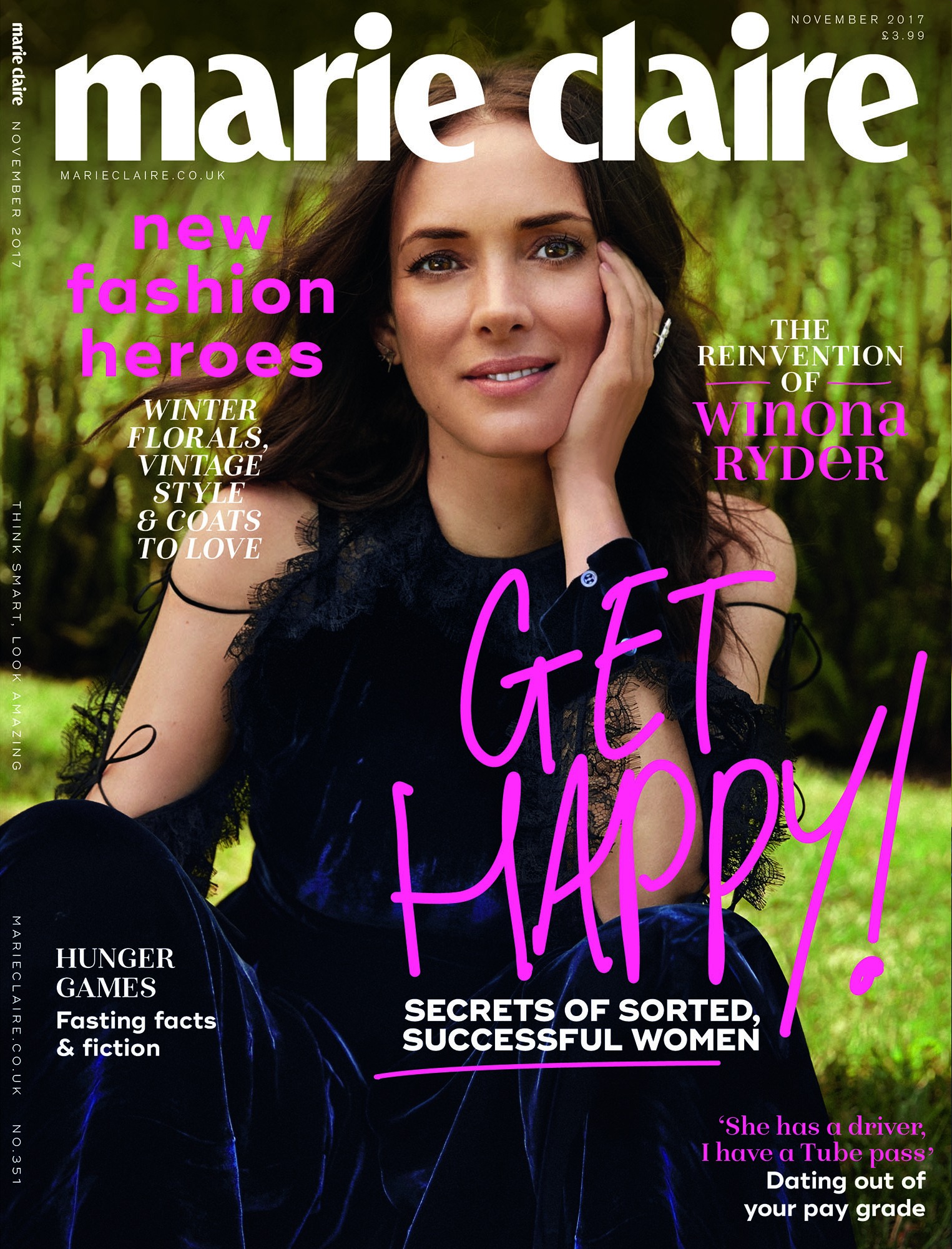 Winona Ryder covers the November issue of Marie Claire UK. It's lovely to see her back on magazine covers, isn't it? Winona is promoting the second season of Stranger Things, which comes back on October 27th. CB mentioned that when she saw IT, it felt like a pale imitation of Stranger Things, so IT basically worked to hype the second season. This profile is pretty nice to her, and she comes across well – more of a quirky loner than an affected weird girl. It helps that – in my opinion – Winona's quirkiness is genuine. She really IS weird. And it's great. You can read the Marie Claire UK piece here. Some highlights:
Her parents: "We didn't have a lot of money. But the love compensation was amazing. My dad would make little things exciting, like bringing home Rolos. There's that saying, "you find your family," but I would have chosen them even if they weren't my parents. They're my best friends.'

On her life outside of Hollywood: "I'm not in any way comparing myself to Daniel Day-Lewis [who recently announced his retirement from acting], but you do become interested in other things.' So, Ryder became immersed in the study of constitutional law, sitting in on lectures at Berkeley College – 'There were a lot of laws that I disagreed with' – and for a few days even joined environmental activist Julia Butterfly Hill, who was spending two years living in a redwood tree.

She worries about the child actors on 'Stranger Things': "I'm grateful that I got to start at the time I did. As much as I love it, I don't know if I would even have become an actor [if I was starting out now]. I wouldn't know how to [handle it]. I do worry about the massive exposure at that age. Millie [Bobby Brown, who plays the enigmatic Eleven] teases me. I'm like the old grandma.' She adopts a wobbly voice: 'What are you kids doing?' She laughs, thinking of the occasion she mistook the Snapchat messaging app for some kind of snack: '"Snack chat? Give me a piece of that!" I'm like the confused older person [on the set].'

She's a fashion non-conformist. 'I think it's ridiculous that you can get in trouble for wearing the same dress again. I wear things over and over because I like them. Look at the economy. Should we really be out there saying that you're not allowed to re-wear something?'

Where she'll be in 20 years: 'I honestly don't know if the world is going to exist then. Everything is changing so fast. I've never been very strategic. I think if you try to be strategic, you just end up failing.'

She's still not interested in social media: 'People who I really respect talk about "relevance" but I'm like, "I don't care, leave me alone."'
I worry about the kids on Stranger Things too, but not in the way Winona is worrying… at least publicly. She knows what it's like to be extremely famous at a young age and she barely made it through those years. Imagine what it's like for Millie Bobby Brown right now, not just with social media, but with stage parents, being the family breadwinner, being pushed to do so much now that she's a star. It makes me uncomfortable. I want Winona to take Millie under her wing, but that would probably be inappropriate.
As for the rest of it… "I honestly don't know if the world is going to exist then." Me too, Winona. I've stopped making plans.
Cover courtesy of Marie Claire UK, photo courtesy of Getty.