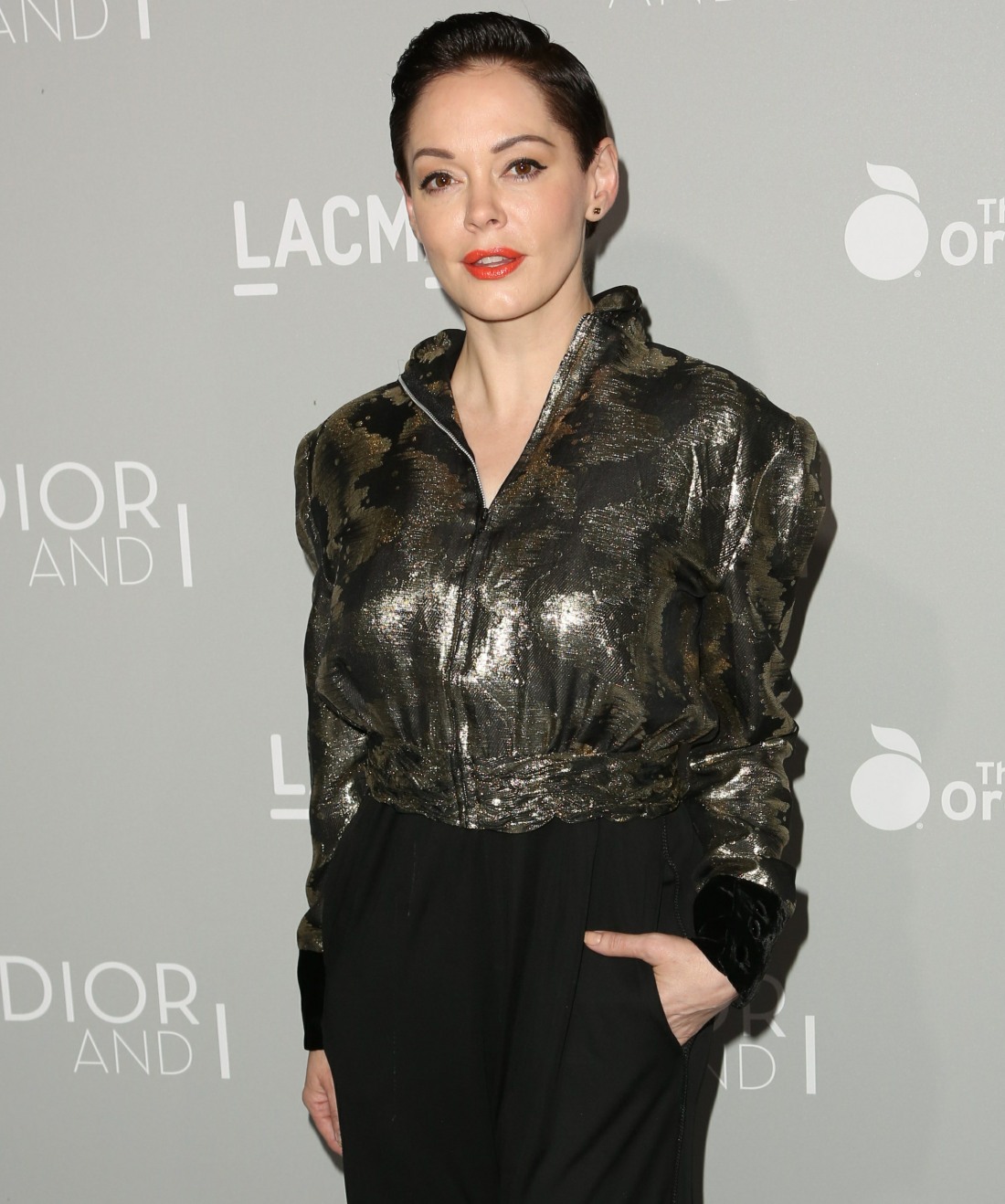 Rose McGowan has been outspoken – up to a point – about how she was violated and what was done to her by Harvey Weinstein. She actually hasn't ever specifically written or said the words "Harvey Weinstein raped me" because (I believe) she's still afraid that Weinstein will sue her for breaching what is probably an iron-clad NDA. But she's been extremely active in other ways, mostly on Twitter. You can see her Twitter here – her tweets are still up. But they might not be for long, because Twitter has temporarily suspended her account. For real.
Rose McGowan's Twitter account has been suspended for violating Twitter's rules, McGowan said in an Instagram post.

"TWITTER HAS SUSPENDED ME," she wrote. "THERE ARE POWERFUL FORCES AT WORK. BE MY VOICE. #ROSEARMY."

The actress has been vocal on the platform in recent days regarding the recent sexual harassment allegations surrounding Harvey Weinstein. She settled with Weinstein in 1997.

She called Ben Affleck a liar on Tuesday, as well as telling him to "f— off," after he stated that he had no knowledge of Weinstein's activities, and posted several tweets encouraging her followers to sign a petition to dissolve the board of The Weinstein Company, which she alleges had knowledge of Weinstein's behavior.

McGowan will not have access to her account for 12 hours. Twitter provided no specific instances of her rule violation, but stated that she can delete the tweets that violate its rules to gain access to her account more quickly. According to Twitter's website, the platform "may suspend an account if it has been reported to us as violating our Rules surrounding abuse. When an account engages in abusive behavior, like sending threats to others or impersonating other accounts, we may suspend it temporarily or, in some cases, permanently."
This makes me sick and sad. WTF Twitter? I've been checking Rose's Twitter feed all week, and while she's calling people out by name, she hasn't been wrong about any of it. I don't get how Agent Orange threatening nuclear war and bullying private citizens is somehow A-OK for the Twitter platform (as in, his account has not ever been suspended) but a rape victim using the platform to inform and engage people about sexual assault and harassment is somehow a suspend-able offense? All of those Russian bots get to spam everybody, and the Alt-Right d-bags get to use the platform unchecked, but a woman talking about sexual assault? *clutches pearls* Also: since I've been checking on her feed all week, I know that she's gotten into it with some high-profile Deplorables, like some douche journo from Townhall who was literally tweeting at Rose to mock her for being raped. She's been dealing with those kinds of f–kers, and I wonder if one of them complained/whined and that's why her account was suspended. In any case, none of this is a good look, @jack and @twitter.
Rose McGowan's Twitter account has been suspended for inciting women to speak out against sexual harassment & rape. Anyway, lets hop on over to Richard Spencer's account & get the deets on the next Klan rally…

— LTone (@LTone) October 12, 2017
so twitter suspended rose mcgowan because she spoke publicly about her experiences with and condemnation of sexual abuse/misconduct but the actual sexual predators still get full access to this platform? ok lol

— grim reefer (@fogcut) October 12, 2017
Bob Weinstein is a POS. They allllll knew. pic.twitter.com/zWJZf52ywq

— rose mcgowan (@rosemcgowan) October 11, 2017
Photos courtesy of WENN.