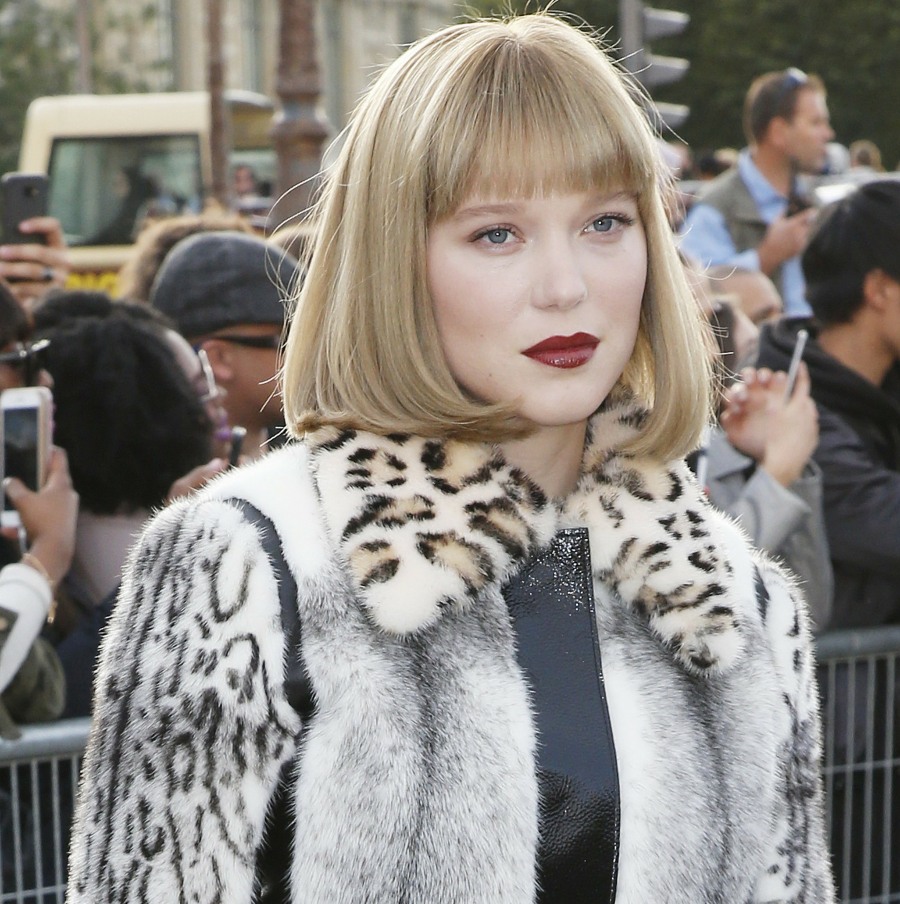 Lea Seydoux is a 32-year-old French actress, probably best known for her role in Blue Is the Warmest Color and Spectre (where her role was terrible, but I don't blame her for that). She's been a working actress for years and years, she's been nominated for Cesar Awards (the French equivalent of an Oscar) four different times. She won the Palme d'Or in Cannes for Blue Is the Warmest Color. All of that means that she's dealt with a lot of men like Harvey Weinstein in her life. And she's had enough. Lea shared her story with The Guardian, and she is f–king awesome. You can read the full piece here.
I meet men like Harvey Weinstein all the time. I have starred in many films over the last 10 years and have been lucky enough to win awards at festivals like Cannes. Cinema is my life. And I know all of the ways in which the film industry treats women with contempt. When I first met Harvey Weinstein, it didn't take me long to figure him out. We were at a fashion show. He was charming, funny, smart – but very domineering. He wanted to meet me for drinks and insisted we had to make an appointment that very night. This was never going to be about work. He had other intentions – I could see that very clearly.

We met in the lobby of his hotel. His assistant, a young woman, was there. All throughout the evening, he flirted and stared at me as if I was a piece of meat. He acted as if he were considering me for a role. But I knew that was bullsh-t. I knew it, because I could see it in his eyes. He had a lecherous look. He was using his power to get sex. He invited me to come to his hotel room for a drink. We went up together. It was hard to say no because he's so powerful. All the girls are scared of him. Soon, his assistant left and it was just the two of us. That's the moment where he started losing control.

We were talking on the sofa when he suddenly jumped on me and tried to kiss me. I had to defend myself. He's big and fat, so I had to be forceful to resist him. I left his room, thoroughly disgusted. I wasn't afraid of him, though. Because I knew what kind of man he was all along.

Since that night in his hotel room, I've seen him on many other occasions. We are in the same industry, so its impossible to avoid him. I've seen how he operates: the way he looks for an opening. The way he tests women to see what he can get away with. He also doesn't take no for an answer. I once went with him to a restaurant and when he couldn't get a table he got angry and said: "Do you know who I am? I am Harvey Weinstein." That's the kind of man he is. I've been at dinners with him where he's bragged openly about Hollywood actresses he has had sex with. He's also said misogynistic things to me over the years. "You'd be better if you lost weight," he said. That comment shocked me.

One night, I saw him in London for the Baftas. He was hitting on a young woman. Another time, at the Met Life ball, I saw him trying to convince a young woman to sleep with him. Everyone could see what he was doing. That's the most disgusting thing. Everyone knew what Harvey was up to and no one did anything. It's unbelievable that he's been able to act like this for decades and still keep his career. That's only possible because he has a huge amount of power.
You know what I love about Lea? That she doesn't feel guilty or ashamed. None of Harvey's victims are guilty of anything, but almost all of the victims who have come forward have talked about the guilt and shame they felt for being in that position, for being manipulated, for the sinking realization that this was his game all along. Lea's not playing that. F–k that noise, she's saying. He's gross and fat and obscene and crude and vile and monstrous she's saying. He is pathetic and she saw through him. Good for her.
After the Weinstein story, Lea continued to detail the other humiliations, harassments and abuses she's suffered at the hands of male directors. When she was in her mid-20s, a director who she "really liked and respected" told her, "I wish I could have sex with you, I wish I could f–k you." She also gave a not-so-blind-item about the director of Blue Is the Warmest Color, Abdellatif Kechiche, describing work on a film with "very long sex scenes that lasted days." She says the unnamed director "kept watching us, replaying the scenes over and over again in a kind of stupor. It was very gross." Lea and Adèle Exarchopoulos were both pretty open about the bad experiences they had on that film.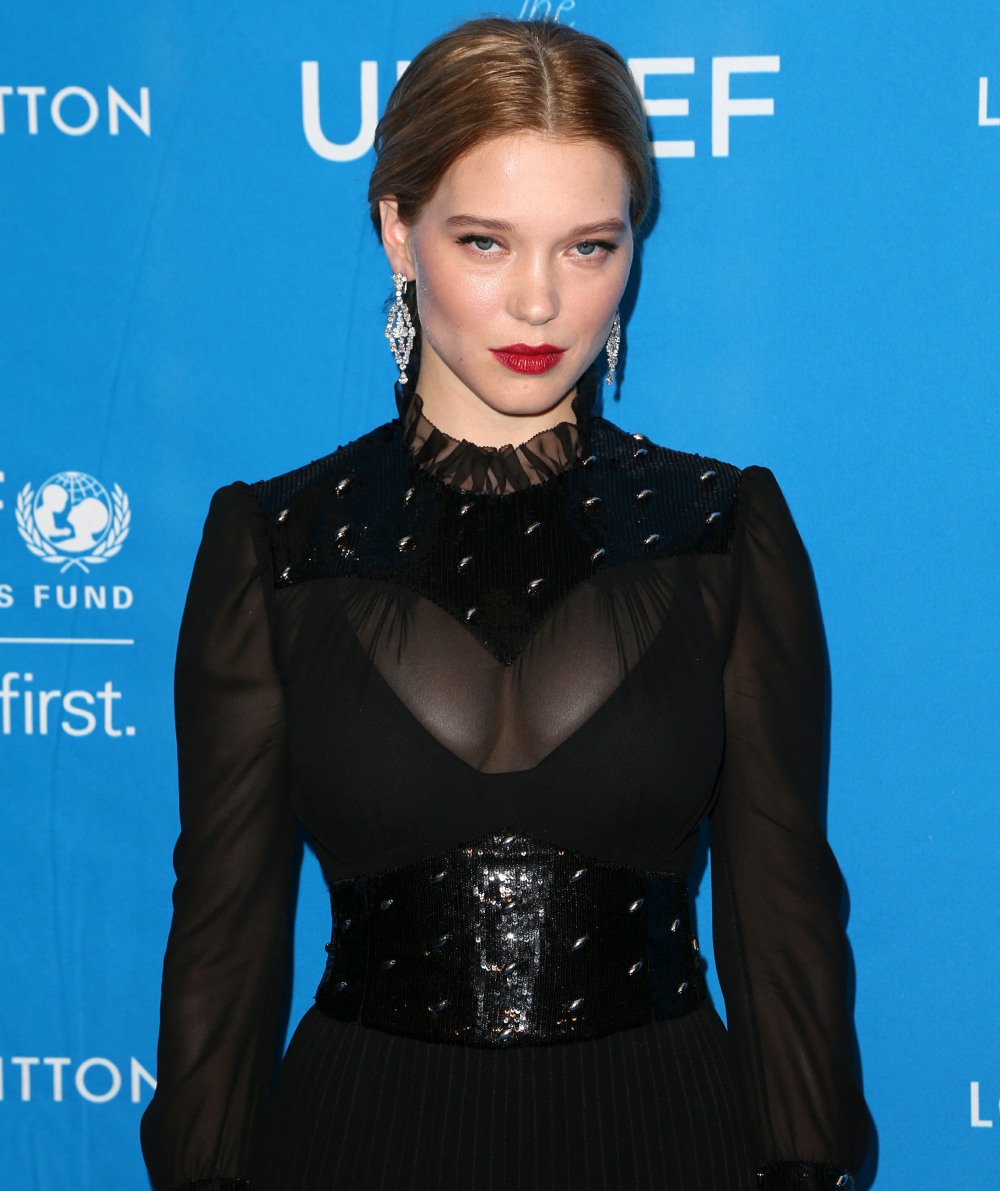 Photos courtesy of WENN.