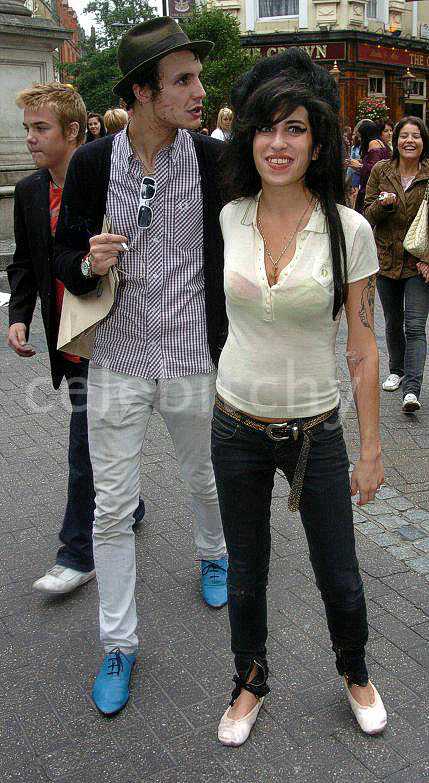 The best way to help drug-addicted Amy Winehouse and her equally drug-addicted husband, Blake Fielder-Civil? Don't buy her records, according to her in-laws. Apparently the couple who raised a professional layabout and leach have decided they know what's best for Amy: don't support her career. They don't make any mention of what anyone should do to punish their son Blake. But it is hard to take something away from someone who hasn't earned anything.
"The father-in-law of singer Amy Winehouse said Tuesday that fans should stop buying her records to force her to seek help for drug addiction. Giles Fielder-Civil said Winehouse and his son, Blake Fielder-Civil, were in 'abject denial' about their problems. He said he believed the couple had used cocaine, crack cocaine and heroin. "'I think they believe they are recreational users of drugs and they are in control,' Fielder-Civil told British Broadcasting Corp. radio. 'Clearly they are addicts.' He said fans should send a message 'that her addiction and her behavior are not acceptable. Perhaps it is time to stop buying records,' Fielder-Civil said. 'It's a possibility, to send that message.'

"Giles Fielder-Civil said Winehouse's record label, Island, should be more 'pro-active in helping the couple to get better' and suggested the singer not be given awards until she cleaned up her act. 'We shouldn't be condoning her addiction by rewarding her with these awards'" he said."
[From the Washington Post]
From most of the things that have been printed about Blake's parents, they've been less-than-helpful with regarding their son's problems and his negative influence on Amy. They've repeatedly denied that he even has a problem, and have constantly put the blame on Winehouse. Suddenly they understand he's a drug addict, but again, the solution is to put pressure on Amy. I understand that his ultimate point (though he doesn't say it, but let's assume this is what he's getting at) is to take away the source of funding for the drugs. But let's be realistic, Amy's made a lot of money, and if everyone stopped buying her records today, she and Blake would still be able to get drugs. Poor addicts manage to do it everyday, so I'm sure they'd find a way. That doesn't treat their addiction, and it's just a ploy to get publicity for himself. If he really cares about them, he needs to shut up, find his kid, and get him into a rehab facility far, far away. Blabbing to the press doesn't help anything, and it just demonstrates what an idiot the guy is. He's never shown any understanding that Blake has some responsibility for their massively messed up situation. Though it kind of explains how he got that way.
Picture note by JayBird: Header image of Amy and Blake out on Friday after their big fight. Images thanks to Splash Photos.