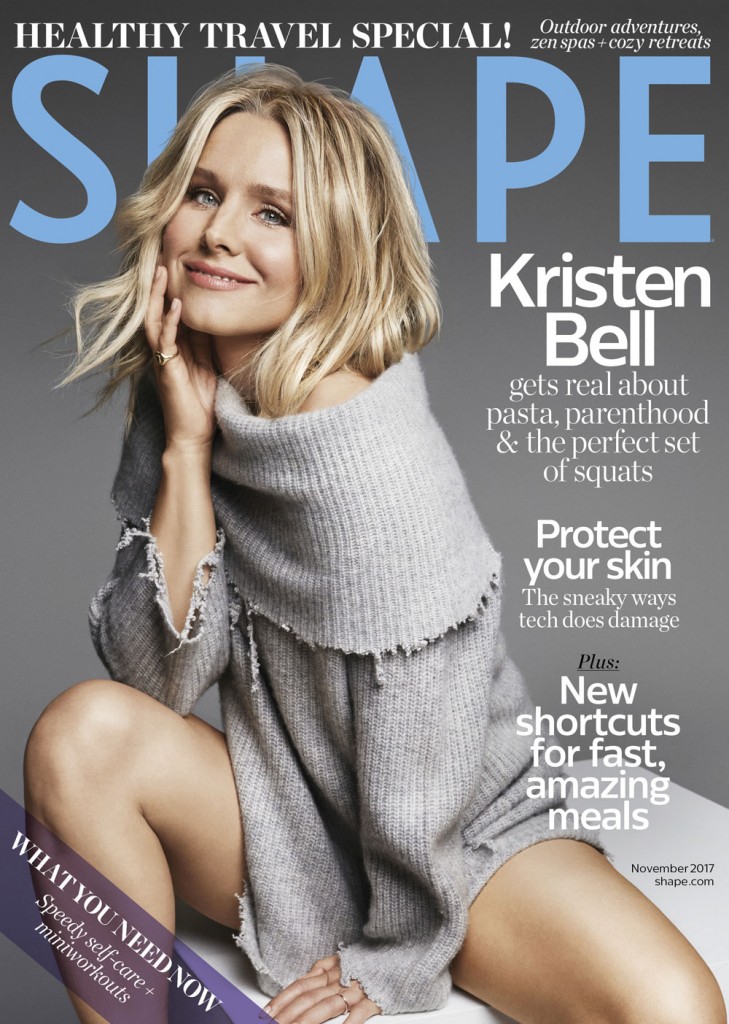 I have a confession to make. I can't keep croutons in the house or I will eat them smothered in salad dressing without any salad to go with it. Don't get me wrong I love a giant salad, but croutons are more of a binge food for me than other simple carbs like bread or pretzels. So that's why I was heartened to hear that Kristen Bell's favorite food is croutons. I didn't think anyone else was crazy about them too, they're just little hard pieces of stale bread, but they can be so tasty. Have you ever had the croutons at Ruby Tuesday? They're kind of springy and crunchy at the same time and they're amazing, but I digress.
Bell covers the upcoming issue of Shape Magazine and of course she talks about her diet and exercise. I actually like that she's covering these topics because she usually talks about her marriage, counseling and mental health. Those are important issues but we've heard about them from her so many times. So it's interesting to me to hear how she eats – healthily of course, and works out in short bursts.
Embrace the microburst
"I need fast workouts. I don't have an hour and a half—I have 25 minutes, max. So I incorporate sprints into my routine. I sprint up my driveway, walk back, repeat. I do it 10 or 15 times. The whole thing takes me maybe 15 minutes. It's fantastic for your heart, brain, and body. And sprinting makes me feel really strong." (Try this speed-building hill sprint workokut.)

Teach your kids a good workout ethic
"It's important to me to show my children that I care about my health and fitness enough to stay committed. So when I'm in their room with them, I'll do some squats. When they ask what I'm doing, I'll say I'm getting my physical fitness in. And because they copy everything I do, the next time they pick up a heavy bag they'll say, 'I'm getting my workout in.' It's a value I want to instill in my kids at an early age—that paying attention to your body is mandatory. Whether it's putting my sunscreen on or doing push-ups, it's not just me taking care of myself but also me helping shape my daughters."

Eat your cravings
"I am obsessed with food! I start my day with matcha. And then, when my stomach wakes up, I order egg whites, spinach, extra feta, and hot sauce on set. I tell the caterer, 'Once you've added so much feta that you think, Oh no, I've added too much feta, double that.' As a snack at work, I'll grab a Chobani yogurt. At home, I'll pick things that are blooming in my garden—mulberries, nectar plums, blackberries. Lunch is almost always a big garbage disposal salad. I start with lettuce and add a scoop of rice, a scoop of beans, a handful of nuts, tomatoes, broccoli, carrots, cucumber, strawberries, blueberries, a splash of olive oil, a squeeze of lemon, and some sea salt. It's delicious. My favorite food, though, is croutons. Any and all croutons. I don't discriminate."
I like to carve at least an hour out for exercise and I needed to hear this – that smaller amounts of time count and that you can do squats or sprints whenever it fits into your day. Exercise doesn't have to be at the gym either of course, and that's the main excuse most people have for not doing it, not having enough time. Plus people think it should be punishing *raises hand* and Bell also talked about doing what feels right for your body and mind (I didn't excerpt that part, but it's at the source) and choosing gentle exercises like yoga. As for setting an example for her kids I think that does work. My son has been going to the gym and running with me and I think just the fact that I do it makes him interested. If you make it look fun and you genuinely enjoy doing it then they will be interested in fitness too.