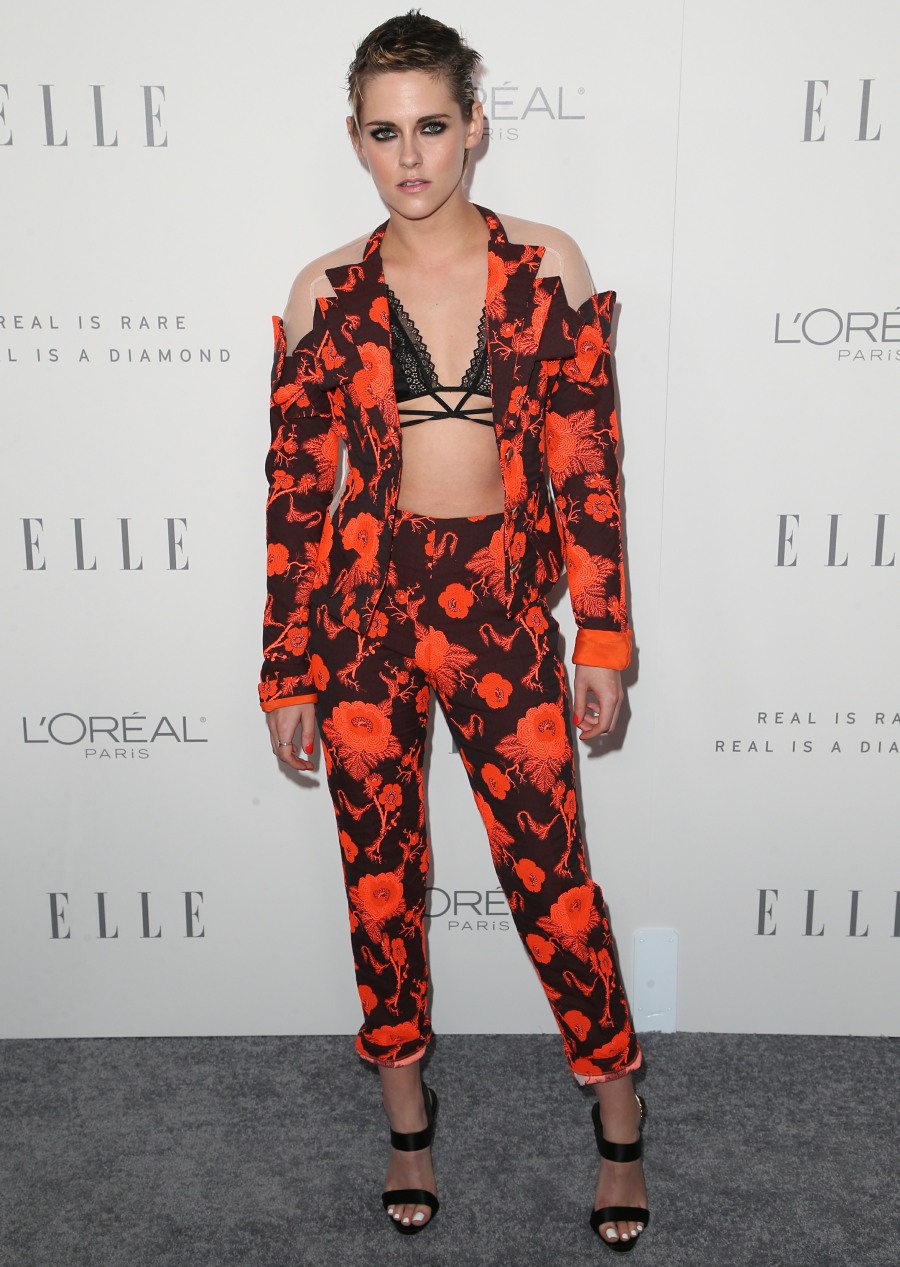 Some days, I'm just so happy that Kristen Stewart exists, you know? These are some photos from yesterday's Elle Women In Hollywood event, and K-Stew killed it with her crazy style. Kristen was by far the most colorful and avant-garde-looking woman at the event. She wore this Antonio Berardi suit with an exposed bra and sheer shoulders. This suit makes zero sense. It's not even cute, really. And yet Kristen looks really great. She's reaching some kind of strange Blanchett-esque quality for me: she's able to elevate bad looks and make them palatable through sheer force of will.
At the WIH event, Kristen talked about Harvey Weinstein without mentioning his name. She said, in part:
"I just want to express how thankful I am to hear what is typically a sort of like murmured pseudo-conversation because we've all been talking about this forever—not to make it specific, but it is, about this motherf–ker. It's just like one of those conversations we've all had a million times be so loud amongst people who really care about that. If I had someone close to me feel like they couldn't be helped or were subject to that type of manipulation or torment or fear of any kind really, especially in regards to being in our realm, where we work, where we have taken very apparent strides towards something not quite equal, but somewhere hopeful for sure, I would feel sick, and do, because I know a lot of these women."

"So kudos to those who felt hopeful enough, and comfortable enough to be caught and received and heard by those around them, that made it okay to allow themselves to feel better. Because you need to allow yourself to feel better when you feel that bad. And it takes help and we can all be proud of that notion and perpetuate it by saying that we have got you, affirmatively… I can't tell you how many times I've saved makeup artists—because it trickles down to makeup artists, camera assistants—from DPs who are like, 'Hey babe,' you know like, it happens on lesser scales, too. And, um, when I say like 'saved' I mean momentarily been like, "Hey, don't, f–ker." And then they're embarrassed for one second but then it just keeps going every single day. So, I would say let's be aware of this on every level. I can tell you that those girls are as duct-taped as one could possibly be, because they're in fear of getting their next job."
This is an excellent point she's making, that sexual harassment happens on such a wide scale with actresses, but it's also happening to women on the "lower levels" of film production, to the assistants, makeup artists, etc. Kudos to K-Stew.
Here are more photos from the event. Riley Keough in Calvin Klein… I actually love the skirt? I'm meh on the blouse – it looks fine with the skirt, but it's not a great blouse overall.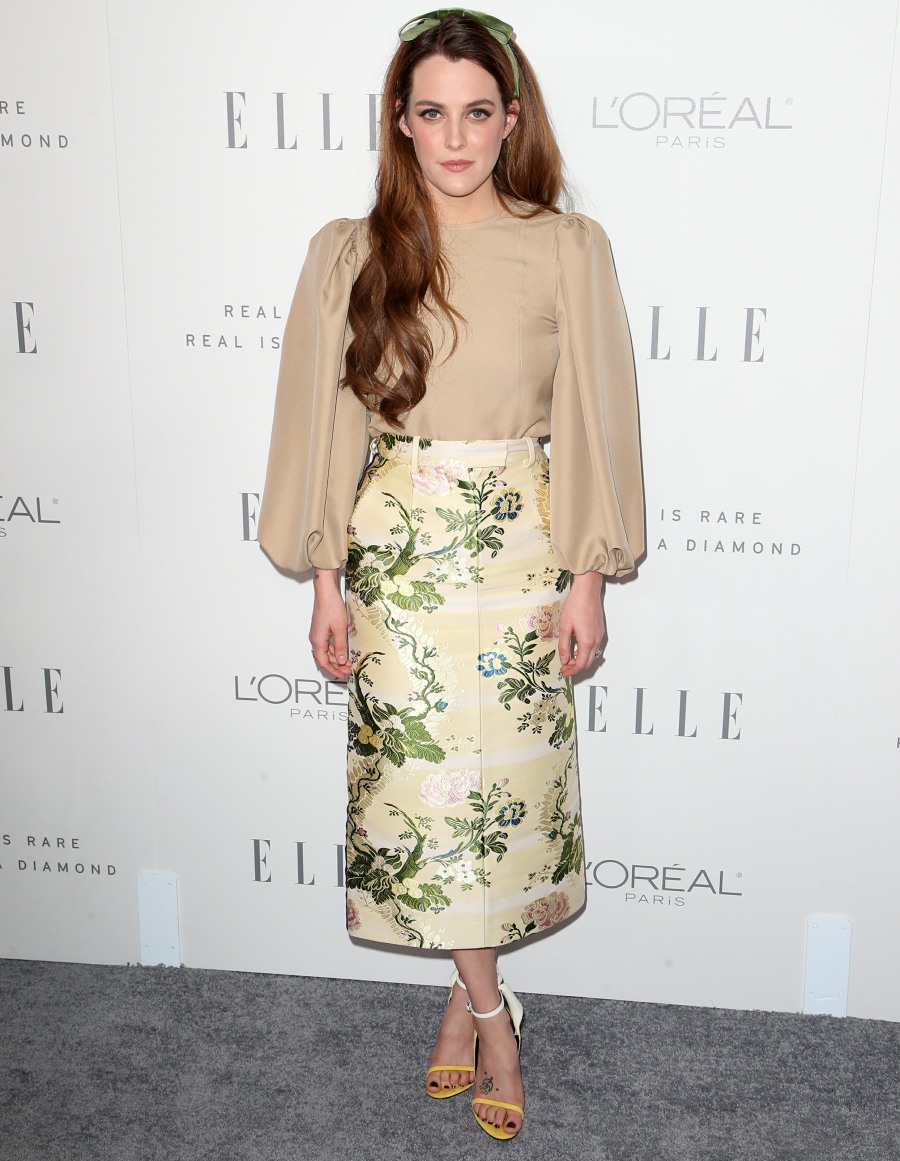 Tessa Thompson is my pick for worst-dressed at this event. She also wore Calvin Klein and I HATE this. It pains me to say that, but my God.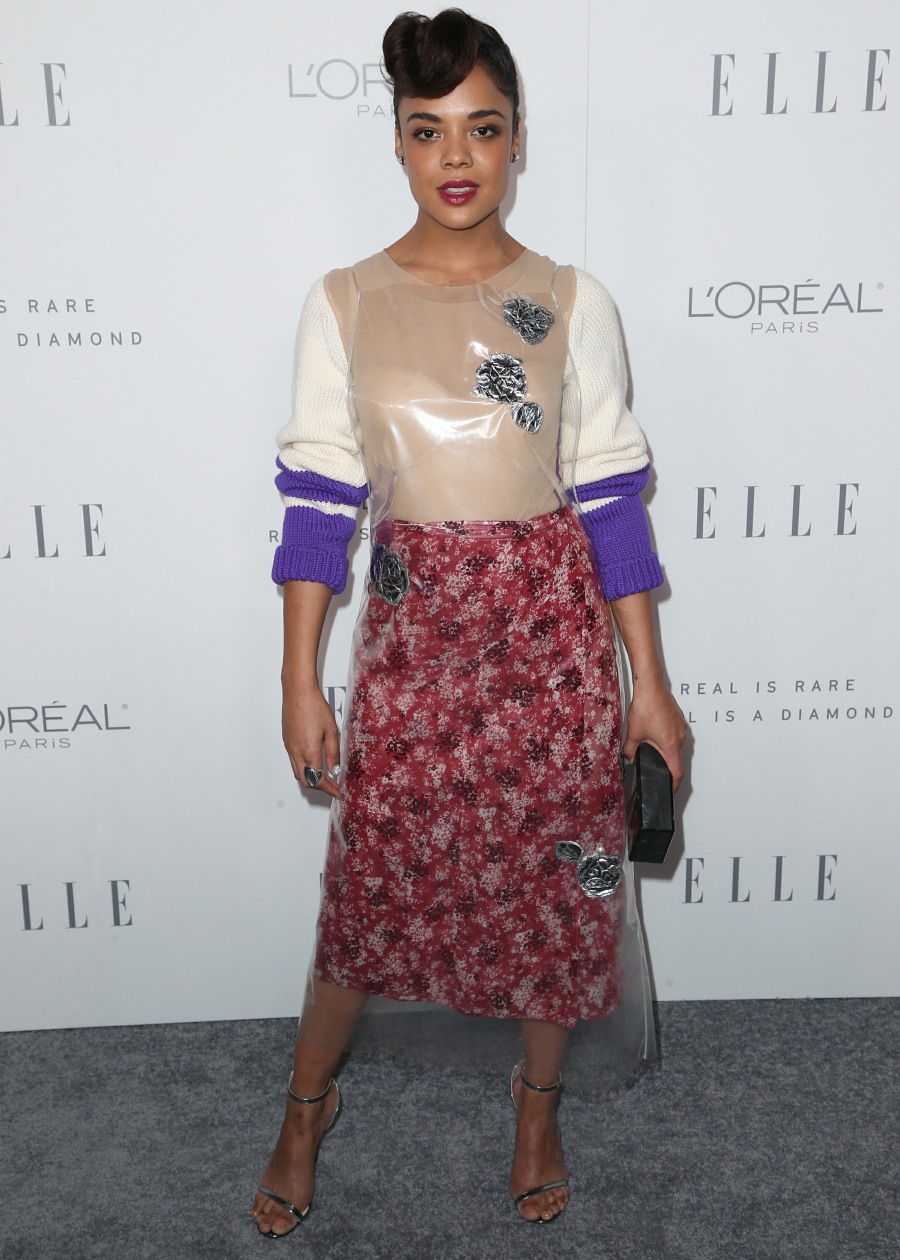 Jessica Chastain in a vinyl skirt?? Crazy world. This is Calvin Klein as well and it's okay. Frankly, the skirt is too shiny.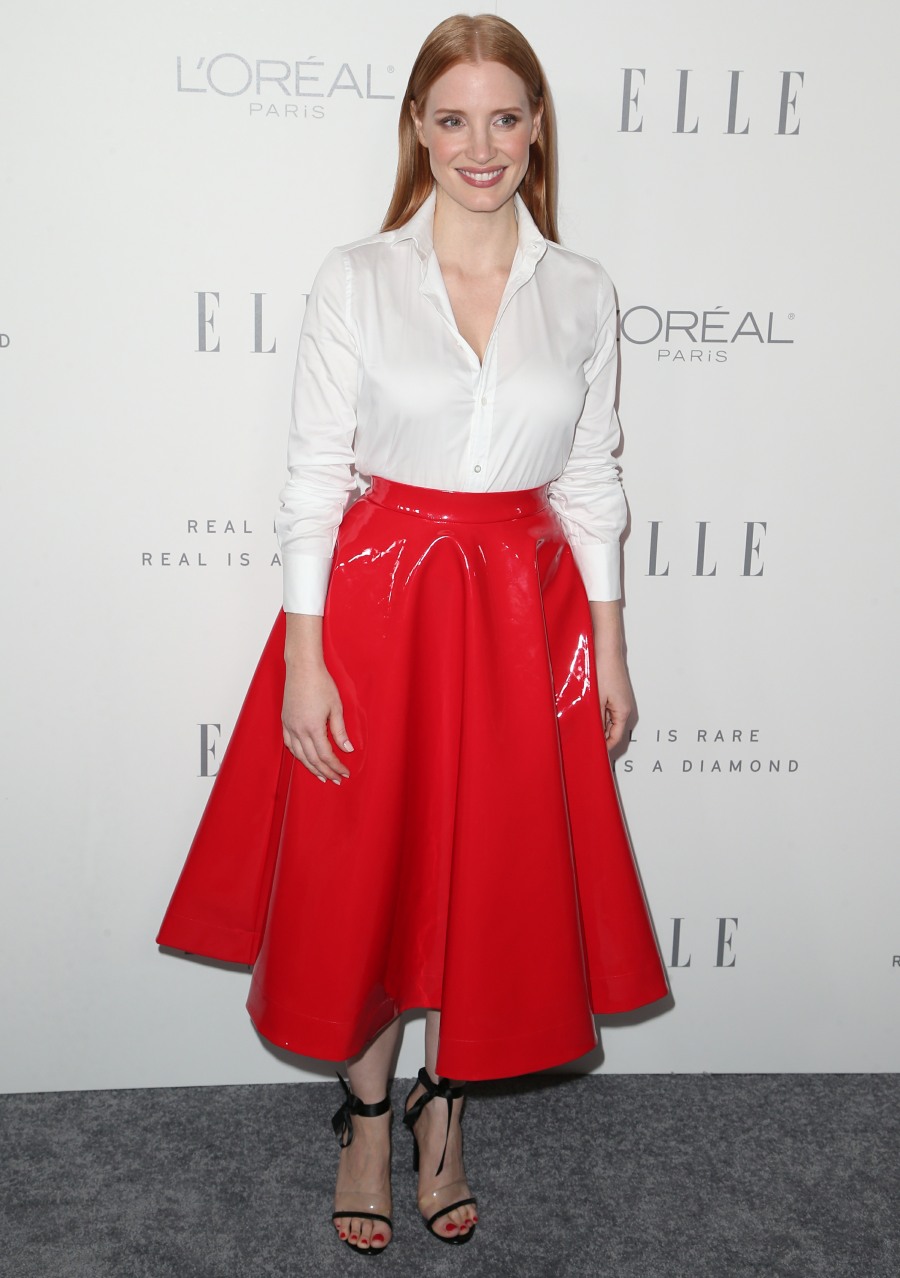 Nina Dobrev in Prabal Gurung Resort 2018. The dress is fine, although it seemed out of place at this event. My problem is with her bangs though. Just say no to bangs, people.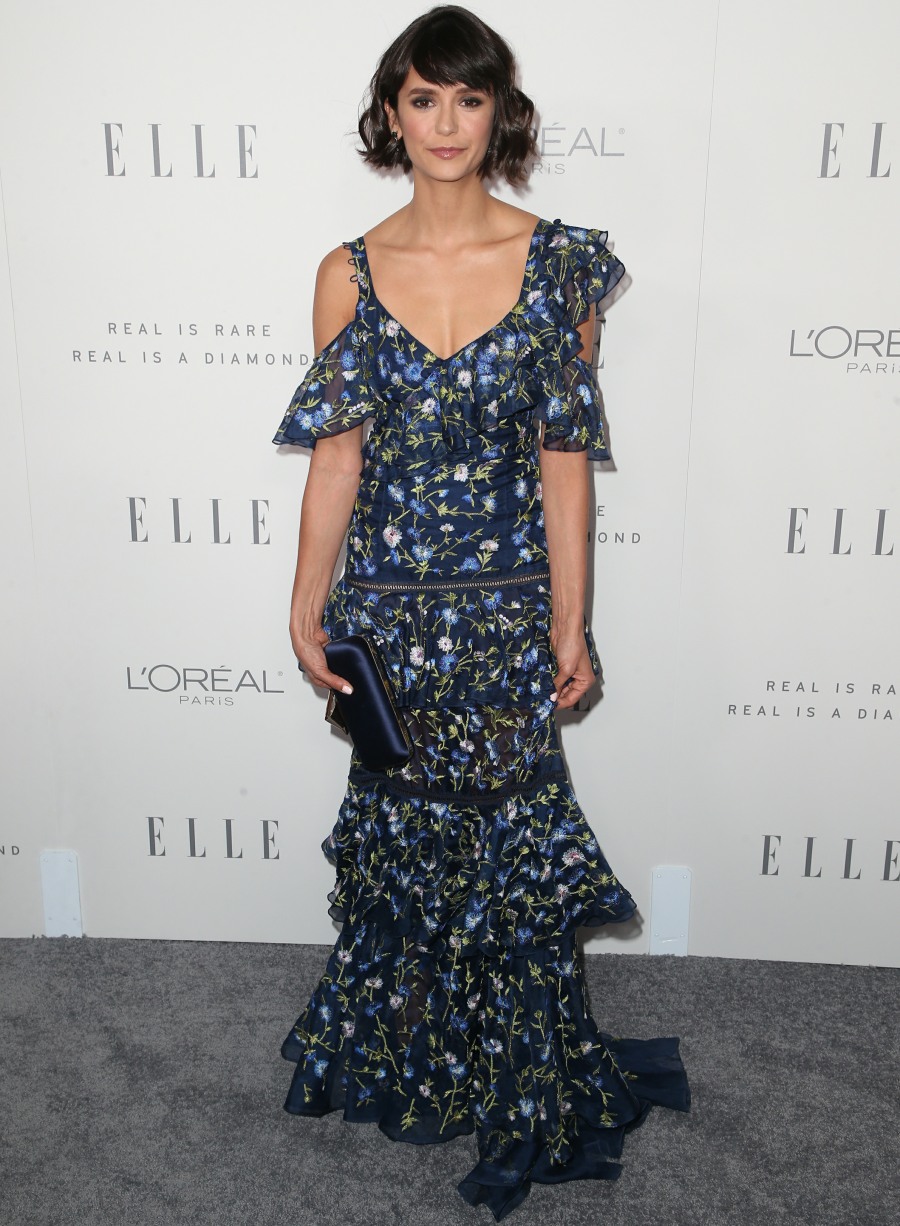 Photos courtesy of WENN.