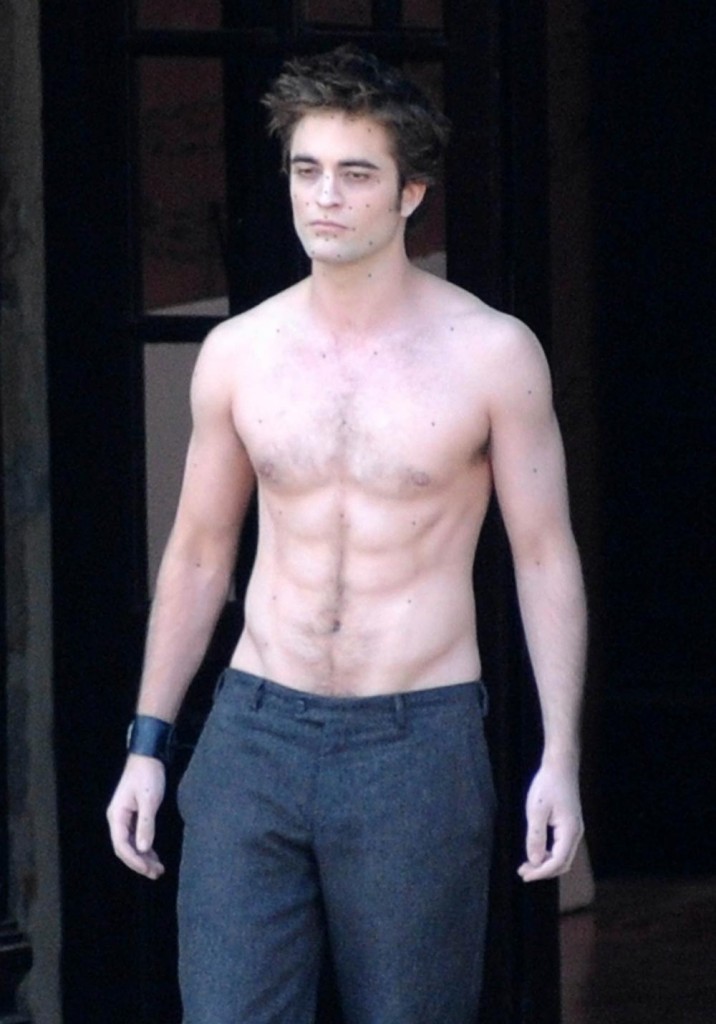 A few weeks ago, paparazzi caught Robert Pattinson and Kristen Stewart filming New Moon in Italy. We got lots of pictures of Robert looking really cute and surprisingly buff in several shirtless shots. Pattinson seemed to have been working out – the six-pack abs looked great, although it wouldn't have killed the boy to get a little sun (just in general, I know he was playing a vampire, but Pattinson is a very pale guy). These hot shirtless pics may have ensured Robert Pattinson the undeniable lead on Vanity Fair's most handsome man poll, but it looks like we may have been duped! Star Magazine is reporting that Pattinson's six-pack abs and defined pecks were just a trick of makeup and lighting. Gasp!
Ab-solutely awesome! Robert Pattinson is considered one of the hottest men on the planet, and fans are still swooning over shots of the shirtless New Moon hunk filming in Italy.

Sorry, ladies, the 23-year-old's ripped abs aren't real!

"Rob had a team of makeup artists working on his stomach to make it appear as if he had a six-pack," one set source tells Star.

"They used all their tricks – including liquid body paint, shading and airbrushing – to make his torso look toned. Whenever they stopped filming, Rob would duck back inside to get touched up by the makeup team."

And that's not all! "The lighting team helped to accentuate the shading and highlights," the source adds.

"Rob is definitely not that in shape. He hates the gym and will never really be a muscle man!"
[From Star Magazine, print edition, June 22 2009]
Star is also reporting that Kristen Stewart has no problems with Robert's less-than-cut physique. Apparently, the tabloids are tired of running the same old "Kristen won't break up with her boyfriend and just give it up to poor, obsessed R-Pattz" angle, so now they're making Kristen beg for R-Pattz's attention. Star claims that not only are Kristen and Robert together now, but that Kristen is totally jealous and freaking out over Robert's newest pretty costar. Pattinson's about to start work on a drama called Remember Me, costarring Australian actress (and Lost alum) Emilie de Ravin. Kristen is "nervous he'll fall for Emilie." And Emilie apparently has a habit of "going after her costars, even if they're taken." Cue angst -ridden dramatic teen music.
Kristen Stewart knows all too well that her Twilight: New Moon costar Robert Pattinson is a sucker for his leading ladies. Now Rob is set to spend the summer in NYC shooting the romantic drama Remember Me opposite gorgeous Emilie de Ravin, and Kristen is in an absolute panic that she's going to lose him.

"Kristen's been calling him nonstop since he's been in New York and gets uneasy when he doesn't answer," a source tells Star. "She's nervous he'll fall for Emilie. She thinks it's only a matter of time before he hooks up with another girl."

Making things worse, Emilie — who split with hubby, Josh Janowicz, in May — has a history of going after her costars, even if they're taken.

While on TV's Roswell in 2000, she cozied up to Jason Behr, who was then dating castmate Katherine Heigl, says an insider.

"Rob could be Emilie's rebound guy," says a source. "He's her type, boyish, with chiseled features."

It's no wonder Kristen, who cooled it with longtime beau Michael Angarano to be with Rob, is already planning to visit Remember Me's set, though Rob has said he wants to focus on his work.

"Kristen doesn't want to smother him, but she doesn't know what to do," says a source. "She's petrified he's going to break her heart."
[From Star Magazine]
Ah, the tabloids just have to make Kristen sound desperate, don't they? Even when all evidence points to the contrary – that Kristen is the one totally in control of whatever she and Pattinson have going. I really don't think K-Stew is worried at all. In fact, I wonder if she's even given it up to Pattinson yet.
Photos are from 5/27/09 credit: Ciao Pix/INFphoto.com and VENTURINI/bauergriffinonline.com. Photos of Kristen Stewart's Joan Jett hair are from 6/11/09. Credit: SCOTT/LAURENT/bauergriffinonline.com