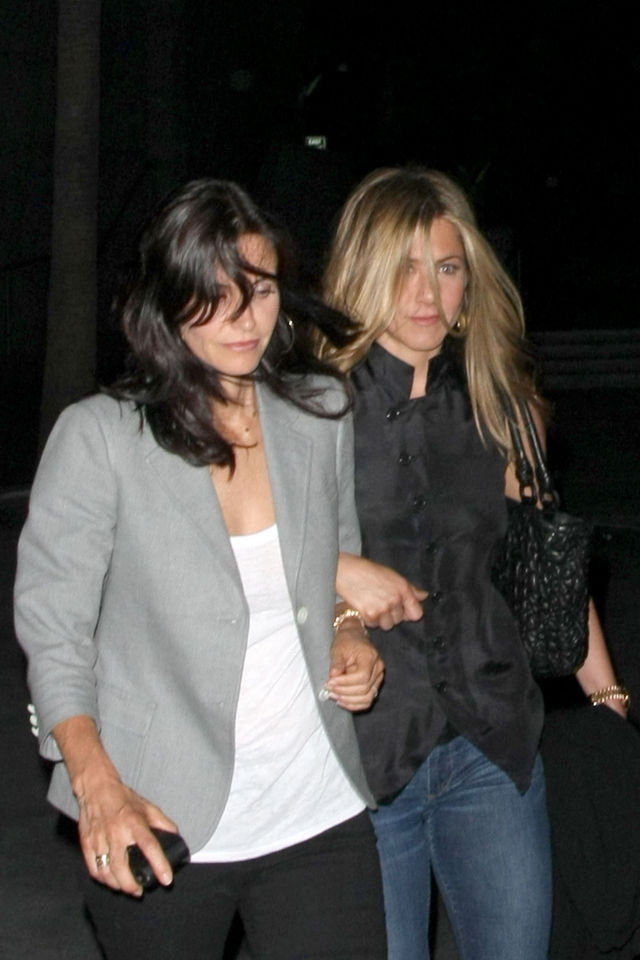 Jennifer Aniston, Courteney Cox Arquette and Sheryl Crow attended a party last night in Los Angeles to support a charity event called "Stamp Out Violence Against Women and girls of the Congo". Congolese human rights has become a larger cause celeb as of late, with Ben Affleck making multiple trips in-country and writing essays of support on behalf of Congolese refugees. Last night's party was sponsored by OmniPeace and Art of Humanity, and it was all for the launching of one $78 t-shirt. Twenty-five percent of the profits (the profits, not the proceeds) will go towards OmniPeace's Congolese community centers for women.
Three great friends stepped out Thursday night for a good cause. Jennifer Aniston, Courteney Cox Arquette and Sheryl Crow lent their support to pal and OmniPeace founder Mary Fanaro and her night to "Stamp Out Violence Against Women and Girls of the Congo."

"I am extremely lucky," Aniston tells PEOPLE. "But these women and girls need help – it makes you think."

Continues Cox Arquette, "We can do something about this. I want to bring awareness to this."

"I know I have a responsibility," adds Crow of son Wyatt. "As a mom, the biggest thrill for me, but most humbling role is raising my kid as a humanitarian. I want him to grow up feeling he can do something for people less fortunate."

The trio of hosts – sporting T-shirts created for the Art of Humanity Foundation and OmniPeace and debuted at the event – mingled and laughed throughout the intimate dinner party, held at STK in L.A. and sponsored by Kitson.

"I couldn't imagine a better group of three musketeers to help me tonight," gushed Fanaro of her good pals.

A pregnant Nicole Richie, Marisa Tomei, Demi Moore, James Marsden, David Arquette and Kelly Lynch all showed their support at the event as well.

"I'm all about making people aware and showing them what the problem is. It's impossible to turn your back on something like this," says Richie. "It's really hard to complain about anything when you hear the stories of these women and children and their torture."

OmniPeace will donate 25 percent of the profits from the sale of the T-shirts to UNICEF & V-Day Foundation to build the City of Joy, a rehabilitation center and safe community for Congolese women girls. Tees are available on www.shopkitson.com for $78.
[From People]
I did a little research on the organizations sponsoring the event, and found that Art of Humanity is a charity that works almost exclusively with Central and South American poverty issues, like housing and education for Honduran families, and aiding recent immigrants to the United States. There is no mention of any Congolese issues on Art of Humanity's site, but what might have happened is that one of the charity's supporting artists simply designed the shirt being sold on behalf of OmniPeace, and their Congolese community support centers.
Courtney and Jen are shown outside a Fleetwood Mac concert on 5/28/09. Credit: WENN.com