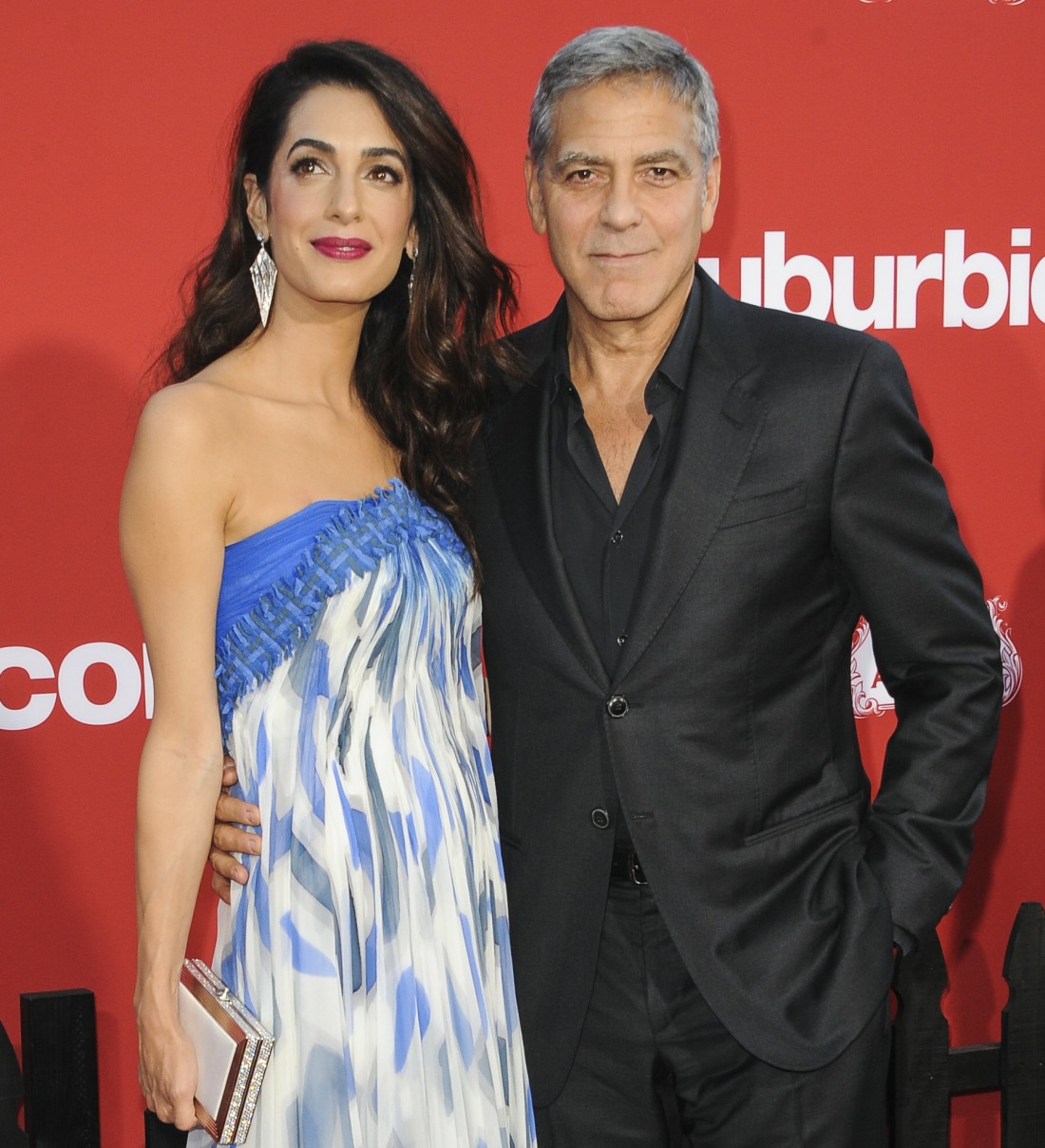 Thus far, George Clooney gets a very small bonus point for not invoking his baby daughter in his statements about George Clooney. There's a glut of statements from men in Hollywood, all invoking some variation of the phrase "as a father of a daughter," because apparently there's a significant percentage of men who only relate to women if those women are their direct heirs. But, as I said, Clooney didn't do that, so give him a slow clap. Then stop clapping, because Clooney did the second worst thing – he invoked the other stupid argument of "it happened to my wife/girlfriend." At first I thought it was an one-off, but no: it's George's new talking point, and he mentioned it in interviews to both Extra and Entertainment Tonight:
George Clooney is well aware that sexual harassment isn't just pervasive in Hollywood: His own wife, human rights attorney Amal, faced misconduct in her industry as well. He opened up about how his wife Amal has faced sexual harassment throughout her career as a human rights lawyer.

"She's faced those exact kinds of situations in law," he told Entertainment Tonight. "It's everywhere and so it needs to be addressed as if it's a problem for all of us. And we have to take it on full force because the kind of assault that we're talking about now is … it's so infuriating that this was allowed to go on as long as it did."

"My wife is a very smart, very together, very accomplished human rights lawyer and she said, 'There have been times in my life, in the law community, [that] I had to tell someone to knock it off,' so it happens everywhere," Clooney, 56, told "Extra" on Sunday.

The Oscar winner hopes that the women who came forward with accusations of sexual harassment and assault against Harvey Weinstein will shift show business toward exposing and expelling more alleged predators.

"This wasn't just guys hitting on girls, this is assault … If we don't address this and really go after Harvey, it will come back," he said. "There has to be some good that comes out of all of this and the good is going to have to be that women feel safe to speak up, that they are believed and hopefully be enough that it scares any man who would behave like that from doing it."

Clooney added that moving forward, "Let's stop having meetings in hotel rooms — you can have it in the restaurant downstairs."
I know he's not saying that he only came to Jesus on sexual harassment because his wife told him she had been harassed. I get that he's trying to make the point that it happens in every industry. But he needs to stop saying this. It makes him sound like he doesn't give a sh-t about it when it's just happening to his costars. It's all fun and games until someone harasses Mrs. Clooney, don't you know. Also: "My wife is a very smart, very together, very accomplished human rights lawyer…" Good, let's make sexual harassment into a class and education thing. Anyone can sexually harass a dumb, uneducated woman, but George's brilliant wife got harassed so it's even worse!
As for this: "Let's stop having meetings in hotel rooms — you can have it in the restaurant downstairs." He's been saying variations of that in several interviews too, and it was bothering me but it took me a second (actually, it took me a few hours) to work out why it bothered me. Like, the location is not the worst part. The issue of the hotel room is awful, of course, and yes, Weinstein manipulated dozens of women into being alone with him in hotel rooms. But the thing is… Weinstein is a sexual predator who abused and harassed women everywhere. Complaining about the "hotel meeting" aspect of all of this comes across as A) slightly victim-blaming, like the onus should be on women to refuse to meet with producers wherever those producers choose and B) not the most pressing issue, because if a sexual predator can't get you alone in a hotel room, he'll manipulate you into some other location. And then he'll jerk off in a potted plant.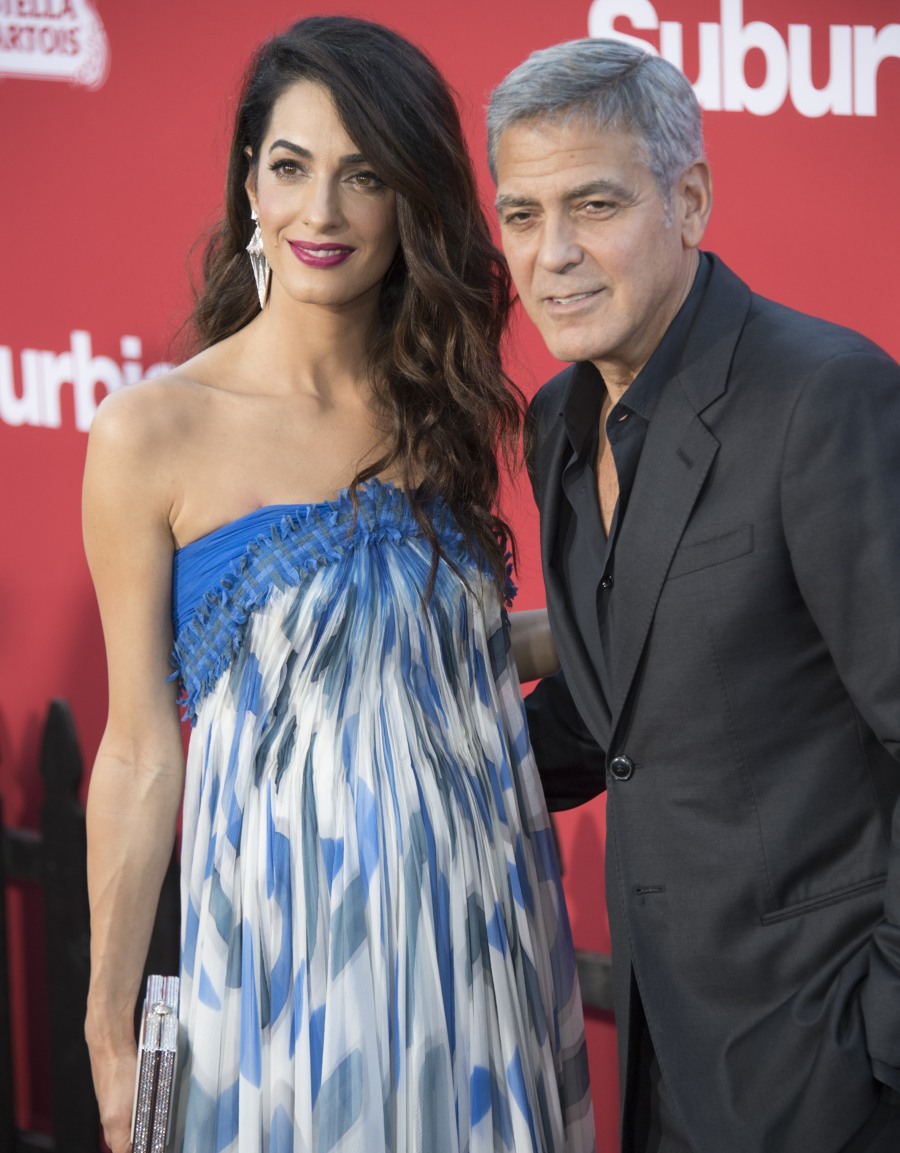 Photos courtesy of WENN.