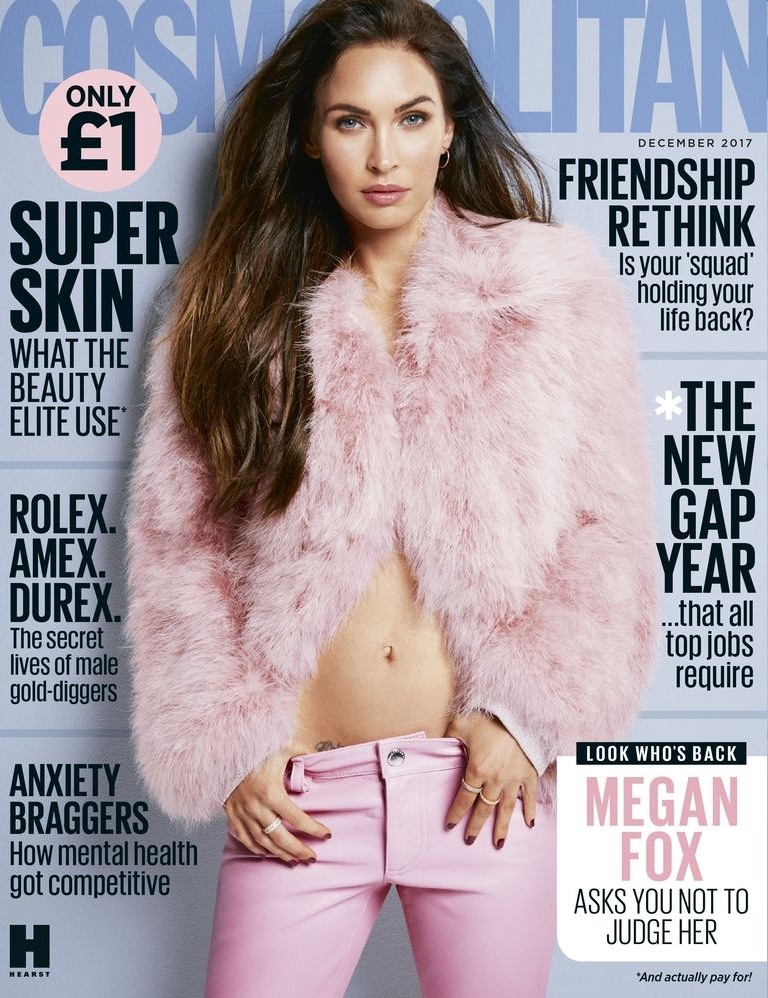 Megan Fox covers the December issue of Cosmopolitan UK. Is anyone else feeling more… friendly towards Megan these days? That's not the right word, but I feel like we should re-assess what she was trying to do back in 2009, when she used her platform as a celebrity to call out Michael Bay. In today's environment, Megan would be hailed as a heroine for telling her story of sexual harassment, but back then, she was fired from the Transformers franchise for being so "mouthy." If you remember, Megan said that Bay made her audition by ordering her to come to his house and wash his car in her bikini while he filmed her. It's still a shocking story, isn't it? Of course, Megan got in a lot of trouble for saying other sh-t too, like when she said that Bay was "like Hitler." That was the official reason why Steven Spielberg (who produces the Transformers franchise) wanted Fox out of the film. Anyway, Megan brought all of this up in her Cosmo interview:
What it was like to be fired from Transformers: "That was absolutely the low point of my career. But without – 'that thing', I wouldn't have learned as quickly as I did. All I had to do was apologise – and I refused. I was so self-righteous at 23, I couldn't see [that] it was for the greater good. I really thought I was Joan of Arc."

Her career was hurt in the wake of her firing: "It hurt me and a lot of other people. However, that darkness that descended caused enormous and brisk spiritual growth. Once I realised I [had] brought it on myself, it was an invaluable learning experience, looking back on it."

She's not really ambitious or career-oriented: "I would never pick work over life. I'm the least ambitious actress! I pick movies that'll be fun to make. I'm not here to suffer for the art of movie-making or 'bleed for the craft.' And I'm not going to be an actress forever… I've always known I have another calling."

She feels typecast in sexy roles: "I still get offered a lot of 'genius strippers' and 'funny escorts' by guys in the business. But I don't want to be involved with something genuinely degrading, or that encourages negative sexual ideals about women. Old-school male attitudes towards women, it's still in all the adverts. When my kids grow up, hopefully that attitude will be gone."

She's not ashamed of sex though: "I'm not ashamed of sexy poses or parts. Women shouldn't go out of their way to be dowdy. Being feminine is a very sexy thing. It's just a biological fact: sex does sell. But I wish it were more gender equal. I'm happy to buy some sex, too. It's not wrong; it just needs to go both ways. Women shouldn't have to carry the burden. And I think we have so far."
I appreciate how honest she is about thinking that she was "Joan of Arc" and refusing to apologize. I remember how she was back then – 23-year-old and believing that she could do no wrong. She spent several years after that in some kind of limbo, barely getting work and being "punished" for pissing off Spielberg and Bay. Bay did eventually forgive her – if he was even that mad at her – by casting her in Teenage Mutant Ninja Turtles. I believe they're still pretty close, actually, which is weird, right?
As for this: "Women shouldn't go out of their way to be dowdy." I will fight her about that. Some days, I don't give a sh-t if I look dowdy. Some days, I wear my wool clogs with embroidered felt "puppies" and my most unflattering fleece and those clothes just make me happy.
Cover courtesy of Cosmo UK, additional photo courtesy of Getty.