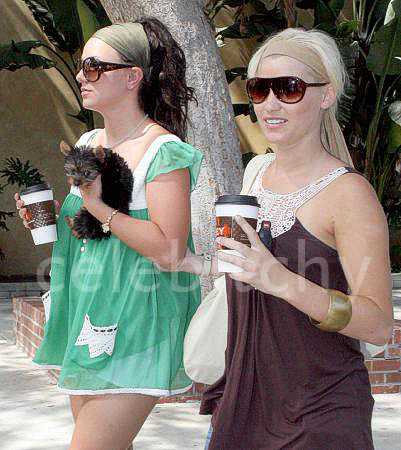 In the midst of all the recent terrible reports of famous people having a variety of problems with dogs (fighting them, abusing them, them possibly mauling people) coupled with all the recent terrible reports of Britney Spears doing stupid, senseless, and thoughtless things, it's good to see that the two terrible streaks haven't joined together: the SPCA has ruled that Spears didn't hurt her dog London, and was not responsible for the little puppy's recently broken leg. In fact, she actually took care of it, got it proper medical attention immediately, and has been very cooperative with investigators. If only the same could be said for the way she treats her children.
"The Society for the Prevention of Cruelty to Animals has exonerated Britney Spears of any supposed mistreatment of her pet Yorkshire terrier. The Los Angeles branch of the animal welfare organization was reportedly alerted last week that pop singer Britney Spears was not taking proper care of her pet Yorkshire terrier.

"'Access Hollywood' reported that SPCA received complaints from a number of people who maintained that they had seen the pup with a broken leg. Opinions differed though, with some saying the dog was wearing a cast and others saying it wasn't. SPCA president Madeline Bernstein confirmed to People magazine that its employees attempted to contact Britney and verify the nature of the complaints. The organization contacted Britney's veterinarian. He confirmed that London, the terrier, had suffered a mild fracture when someone accidentally stepped on the dog as it made its way into one of Brit's closets. The veterinarian proved that London had received proper care.

"The SPCA released a statement Monday, confirming the well-being and safety of London. The organization said it 'has received written confirmation from a veterinarian that Britney Spears's dog London has received proper medical attention for a leg injury. SPCA LA would like to thank Ms. Spears for her cooperation on this matter as well as members of the public for their ongoing concern for the welfare of animals," the group said in its statement."
[From eFluxMedia]
I don't really like purse dogs, but that terrier is really cute. It's a shame it will have to live the rest of its life in mortal fear of being stepped on by a drunken blond (or baldie, as the case may be) but at least it can rest easy knowing that it will get medical care, and probably won't have coffee/juice/soda/alcohol poured into its water dish. Probably. I'm a huge animal lover, so I say this not to offend or belittle their importance, but it really does bother me that Britney can do right by her dog but not by her kids. I can't wait until Sean Preston and Jayden James can start talking back and giving her some shit. Those two are the result of Britney Spears and Kevin Federline coupling. You know they're going to have some trashy mouths on them.
Picture note by JayBird: Here's little London, pre-injury. Header image of Lance Britney with fired assistant Shannon Funk and pup. Images thanks to WENN.