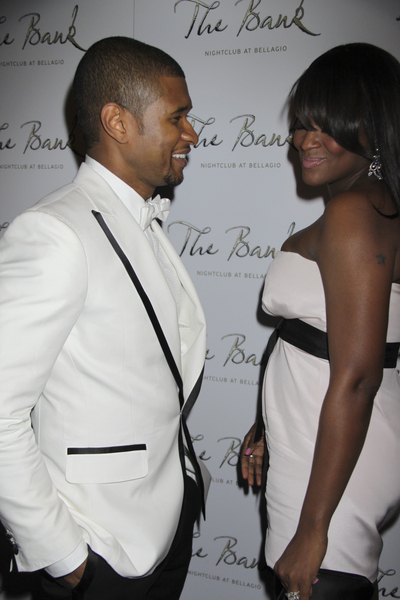 Over the weekend rumors of an impending split were confirmed when the news came out that Usher had filed for divorce from his wife of two years, Tameka Foster. Outlets reported that the two have been separated for about a year, with the birth of their second son sixth months ago only delaying the inevitable. Now RadarOnline is reporting that Usher, 30, has been carrying on with an "older female industry executive." Tameka is somewhere between 37-39 (reports vary) so he seems to have a preference for older women:
RadarOnline.com has uncovered the secret behind Usher's pending divorce with stylist Tameka Foster.

Sources tell us that the R&B star has "fallen" for a female industry executive.

As Usher is preparing to dissolve his rocky marriage with 38-year-old Foster, his family and friends sit elated with the choice–one they say is long overdue.

"He can't dump Tameka fast enough. No one likes her. Since the day it became known he was dating Tameka, friends and family have been telling him she's not right for him," a source tells us.

None more than Usher's mother, Jonetta Patton–who boycotted Foster and her son's planned August 2007 wedding after her future daughter-in-law attempted to have her fired from her post as Usher's manager.

"And Tameka threatened to ban her own mother from the ceremony because her mom had lost her false teeth," says the insider.

The ceremony in question never took place. A week after the scheduled date, Usher and Foster exchanged vows in an attorney's office in Atlanta, GA.

It's been downhill ever since. A shady criminal past on Foster's part skewed their trust–she's been busted for petty theft and even welfare fraud when in her teens and early twenties.

Last fall, rift rumors really heated, making Foster desperate.

"Tameka was fighting to save the marriage," our source says. Even recently, when the singer "traveled to Cleveland for basketball play-offs last month, Tameka followed him. You had the farcical situation of Tameka running around town trying to find him and Usher ordering friends not to tell her where he was staying."

Friends were all happy to oblige in concealing his whereabouts. It remains unseen how they feel about his new, and older, lady love.
[From RadarOnline]
These two called off their planned lavish wedding in June, 2007 at the last minute and eventually married in a civil ceremony. Usher was said to have been upset that Tameka never told him about her criminal past, which was exposed in The National Enquirer just a few days before they were originally set to wed. There was also a lot of family drama with these two, with some claiming Tameka made Usher fire his mother as manager so she could step in and control his career.
In February, Tameka had life-threatening complications from elective plastic surgery in Brazil just two months after giving birth to a second son with Usher. (She also has three other sons from previous relationships.) She suffered cardiac arrest and had to be revived. Usher rushed to be with her and sent a specialist down to care for her. He was said to have been upset that Tameka never told him that she was going to Brazil to get liposuction. Maybe he wasn't around enough to realize she was gone.
Usher and Tameka do have a prenuptial agreement, according to People Magazine, so Tameka is not likely to come away with a large portion of Usher's earnings. She'll probably get some excellent child support though.
Usher and Tameka are shown on 12/31/08. Credit: PRPhotos