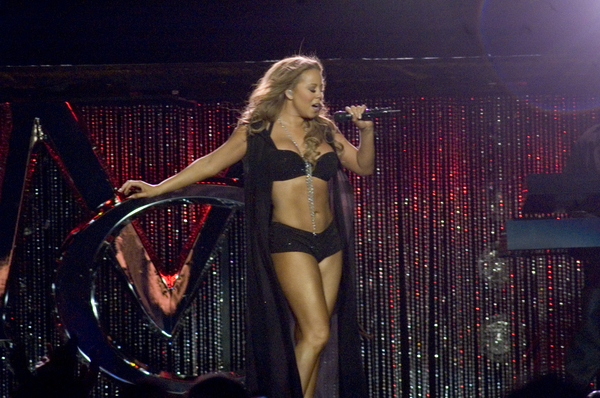 Now, Mariah Carey giving a publicist-censored interview may not be news, but this is the woman who had this to say about famine.
"When I watch TV and see those poor starving kids all over the world, I can't help but cry. I mean, I'd love to be skinny like that, but not with all those flies and death and stuff."
Actually, she didn't really say it, but I wish she had. Still, describing sleeping as 'tough' would have to be up there on the 'strange statements to make' list.
"It's a fun record – it's been my obsession. Look, to me, that I'm able to do what I love for a living is a gift from God. I could be doing something I hate every day. Yes, sometimes it's tough because I've got to sleep 15 hours to sing the way I want to. It's not easy because my vocal chords are different than most people's. But that aside, this album has been so much fun because I'm writing with a lot different people but mainly a lot of rappers and I will bring something to the table that they wouldn't have and vice versa."
Maybe that's what's holding me back from singing like a diva, as opposed to like a cat with a stepped on tail. I just need to get 15 hours of sleep a night. How much I would love to get fifteen hours a night. I don't think I'd find it tough at all.
I wonder if Britney could ever make a comeback like this? Remember when Mariah was a pariah, having made Glitter and the accompanying bad soundtrack? And then suddenly, she was back, number one everywhere and looking damn hot. Britney, you could do this.
Picture note by Celebitchy: Mariah Carey is shown performing on 9/11/06. Thanks to PRPhotos.