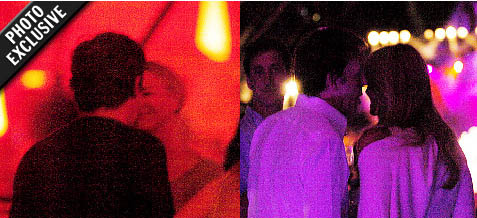 I think that all these magazine surveys that list Britain's eligible bachelors, the Princes William and Harry, Jude Law, the guys from big brother, are thinking too young. Wouldn't an ex-Beatle be a catch too? Apparently Renee Zellweger thinks so. And Christie Brinkely.
Zellweger, 38, spent some animated face time with Beatle Paul McCartney on Saturday jamming to Tom Petty and the Heartbreakers.

As Zellweger smiled, laughed and hung on the 65-year-old musical icon's every word, our lensman spotted Brinkley casting what appeared to be less-than-delighted glimpses in their direction – and no wonder.

After all, it was just two weeks ago at a James Taylor concert in the same East Hampton venue that Brinkley, 53, sparked romance rumors when she and Sir Paul, who is estranged but not yet divorced from Heather Mills, cut a rug.

They were even seen slow-dancing to "How Sweet It Is to Be Loved by You."

A witness at Saturday night's Petty concert at the Hampton Social insisted that they're all just friends.
Now, I myself think that old Macca would be quite a catch. Despite two previous marriages, he's not suffering financially. My mum would like him. He's got a nice accent. Not bad looking. I mean, if Pete Doherty can get a supermodel than I think Paul McCartney, the 1960's ultimate heart throb, should be able to date Hollywood actresses and ex-supermodels. He might be – we've all heard the 'just good friends' line before, haven't we?