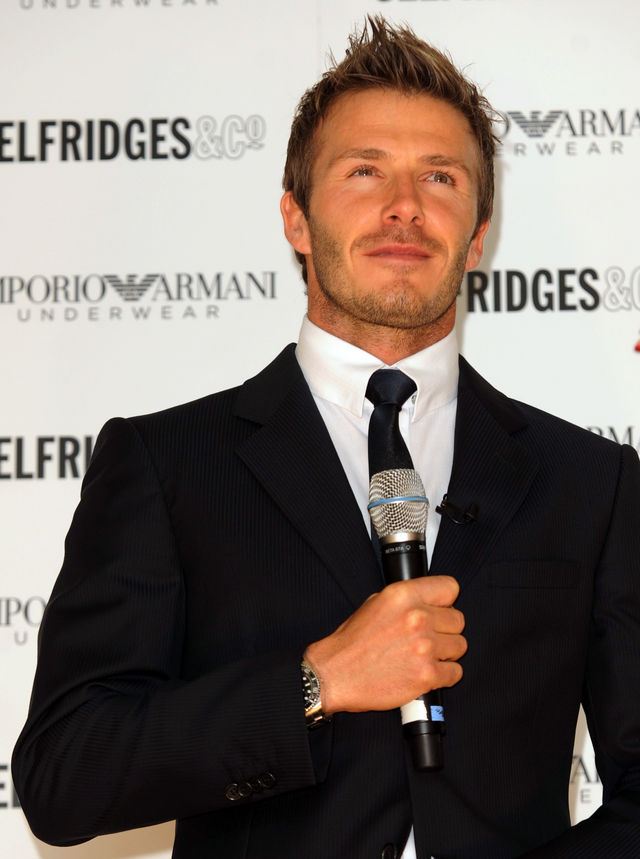 To promote the newest ad campaign for Armani underwear, David Beckham sat down with the UK's Sunday People, and talked about his family. David and Victoria have famously weathered many storms in their marriage, and they honestly seem pretty strong right now. They seem look good parents to their three sons – Brooklyn, Romeo and Cruise, ages 10, 6 and 4 respectively. Now David Beckham seems to be putting some public pressure on Posh to give him a daughter, telling People "I want a little girl." He also says that he thinks Posh always looks amazing. Interesting.
David Beckham is desperate to have baby No4 with wife Victoria and admits: "I want a little girl."

Becks, 34, spoke to The People about his baby plans last week as he launched his new trendy underwear range.

The dad of three sons – Brooklyn, 10, Romeo, six and Cruise, four – said: "I really want more kids and I hope it happens soon. I want a little girl. That would be amazing."

The England and LA Galaxy star turned up at London's Selfridges store last Thursday with Posh, 35, who looked sensational in a see-through sheer black top.

Fascinating David – who played in England's 6-0 thrashing of Andora last week at Wembley – said: "My wife looks just amazing. She always does. Whenever she tries something new she manages to pull it off."

Chaos hit Oxford Street, the capital's busiest shopping strip as Becks turned up for the unveiling of an enormous poster showing him promoting his new Armani pants range.

Becks also gave his verdict on Cristiano Ronaldo's astonishing £80 million move to Real Madrid. The superstar who made the same switch from Manchester United six years ago said: "I think Ronaldo will love it in Madrid, especially the shopping.

"Madrid is a fascinating city, with so many things to do there. And the nightlife is pretty good too."
[From UK's Sunday People]
I'd imagine that it's the fantasy of many women to have David Beckham talking about how much he wants to get you pregnant. I'd also bet that it probably gets Posh hot – but I still doubt she's going to get pregnant again. I think Posh decided she was done with having babies, after giving David three beautiful, healthy sons. Still, how cute with a little Beckham girl be? Posh has to pass on all of those exquisite purses to someone, you know. If not a daughter, it will probably be a daughter-in-law. I would totally date a Beckham boy for access to those purses.
David Beckham is shown at Selfridges promoting his new underwear with Armani on 6/11/09. Credit: WENN.com