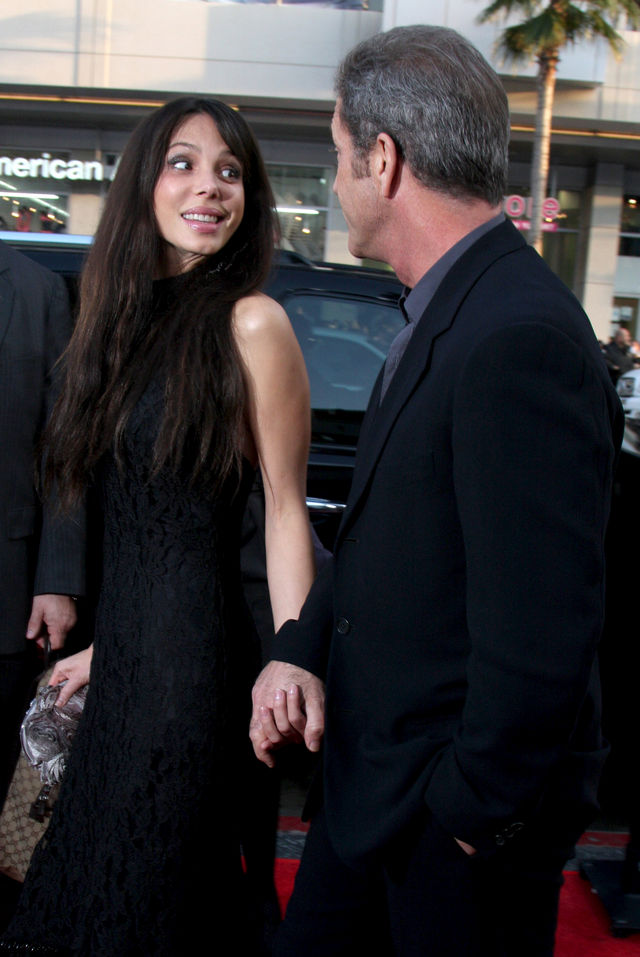 [audio:http://www.celebitchy.com/OksanaGrigorievaSayMyName.mp3]
Mel Gibson's baby-mama wants us to know she's not just some clever golddigger who gets pregnant any time some rich, crazy dude gives her a second glance. No, Oksana Grigorieva wants us to know that she's a "singer". And People magazine has the evidence to prove it. Oksana has released her first single to People, and it's one of the most awful things I've ever heard. The song is called "Say My Name" – but, no, it's not a Destiny's Child cover. What's weird is that if someone with a great voice did the same song, it might be pretty good. But Oksana's voice is just… horrible. The word that came to mind was "screeching".
Until now, Oksana Grigorieva's name has been more associated with Hollywood gossip than with musical chops – the Russia-born singer and pianist is pregnant with Mel Gibson's child – but Grigorieva hopes that will change starting with Monday's release of "Say My Name," the first single from her forthcoming album, Beautiful Heartbreak.

A classically trained pianist who hails from Saransk, Russia, Grigorieva, 39, penned every song on the album except for "Say My Name," which exclusively debuts on PEOPLE.com – for that she collaborated on the lyrics with none other than Gibson himself.

"It is the first and one of the simplest songs on the album, but also one of the most intimate," says Grigorieva, whose baby with Gibson, 53, is due in late fall. "It is naked, intimate, raw emotion, little more than piano and voice as if it is a cry from the soul."

Signed to Gibson's record label, Icon Records, Grigorieva first stepped out with the Oscar-winning filmmaker at a Los Angeles screening of X-Men Origins: Wolverine on April 28, two weeks after Gibson's wife Robyn filed for divorce. Gibson, who has said that he and Robyn have been separated for three years, announced the pregnancy on the May 25 Tonight Show with Jay Leno.

Starting at 9 a.m. EST "Say My Name" may be downloaded at www.oksana.fm, where more free downloads of new tracks from Beautiful Heartache and videos will be available each week.
[From People]
I find two thing odd. First, Oksana seems hellbent on proving that she's actually got a career, which may come in handy if it turns out the baby she's carrying isn't Mel's. Except that I really believe that Oksana's not dumb enough to get pregnant by another guy and try and pass the kid off as Mel's. So why does she need a career? Oksana could just sit there and be a golddigger. Enjoy the credit cards and the crazy, Oksana. Secondly, since when did People magazine become the go-to outlet for releasing a song? People has been pushing a more family-friendly version of Mel and Oksana's relationship for a while now, even getting exclusive interviews with Oksana's mom in Moscow. Methinks Mel wants to give his golddigger some legitimacy.