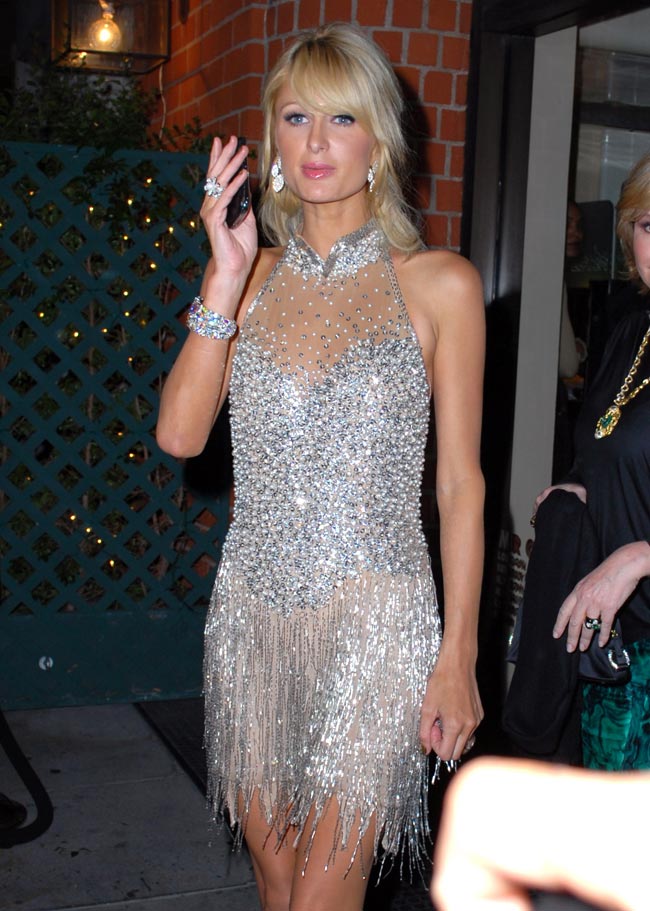 Shocking no one, some etiquette-book writer is complaining about the effects of Paris Hilton and Lindsay Lohan on society. Jordan Christy, master of the obvious and author of How To Be a Hepburn in a Hilton World, claims in a chapter titled "Stupid Girls" that "we can't rely on the girls splashed across Page Six to hold up their feminine honor and reputation." Page Six has the basics of the etiquette lesson:
PARIS Hilton and Lindsay Lohan are dissed big-time in a new etiquette book, "How To Be a Hepburn in a Hilton World," out in August.

In a chapter called "Stupid Girls," author Jordan Christy laments how "smart, classy and successful ladies' slots on the local news have been supplanted with a play-by-play of Paris' clinkworthy antics and Lindsay's spiral into rehab."

She urges society to embrace "real women with brains, beauty and self-respect" because, "we can't rely on the girls splashed across Page Six to hold up their feminine honor and reputation."
[From Page Six]
Good advice, I suppose. Girls should not look at Paris or Lindsay as any kind of role model. But what about the guys who think Paris and Lindsay are some kind of quality girlfriend? Last week, Jaybird gave a word of warning to Paris Hilton's newest guy, Real Madrid soccer player Cristiano Ronaldo, saying "rampant syphilis can knock any man off his game." I think Jaybird should stitch that on a pillow and hand it out to Paris Hilton's prospective boyfriends. Perhaps Ronaldo was already warned, though, because he seems to be done with Paris after a particularly disturbing night in which Paris threatened to move to Madrid with Ronaldo just so they could be the younger, cooler, more famous version of Posh and Becks. Of course, this is according to News of the World – but I tend to think it's in line with what I already think of Paris, and anyone dumb enough to be seen in public with her:
Paris, 28-who spent Wednesday and Thursday night with Ronaldo-wants to kick-start her flagging career by moving back to Madrid with him. The fame-hungry professional party-girl has designs of them becoming the new Posh and Becks.

She dumped her US TV star and baseball ace boyfriend Doug Reinhardt on Tuesday, when she heard mega-bucks Ronaldo was in LA, we can reveal.

Then she brazenly pursued her goal of scoring with the footballer by telling him within a few hours of meeting him: "We could be great together, you know."

"We're both so famous we'd become even bigger than David Beckham and Posh Spice. We're way hotter and younger than them anyway!" She was overheard at her sister Nicky's house, where the pair spent the night.

Afterwards Paris giggled to a friend: "I told him I'm going to move to Madrid to be with him. I promised."

The pal told us: "Doug was just a washed-up reality TV star. All of a sudden there wasn't as much interest in Paris, and her appearance fees were cut dramatically. She was working like a dog to make the same amount of money as before. She knows if she wins over Ronaldo she'll be one of the hottest properties again."

Don't put money on that just yet . . .
[From News of the World]
So, was Paris really attracted to Ronaldo, or was she just a fame-seeking whore-missile after her "relationship" with Doug "Budget Ryan Reynolds" Reinhardt ended? I'd never really thought of Paris as the girl who was even conscious of upgrading and downgrading guys, I've always thought she was just happy to spread her legs for whatever guy was around. Her dating history doesn't really read like a Who's Who of "catches" but maybe there's some method to Paris's madness. Or maybe she's just ridiculously stupid, and we're the ones over thinking this.
Paris is shown outside Mr. Chow with her family on 6/12/09. She looks like she's going figure skating. Credit: Horizonpix/Fame Pictures