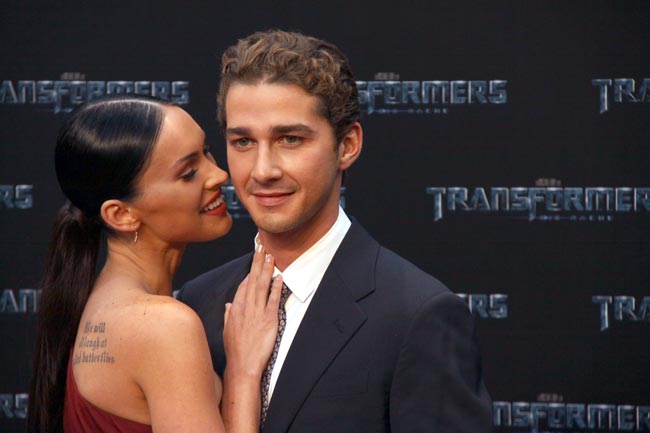 Megan Fox, Shia Labeouf, and the rest of the cast of Transformers: Revenge Of The Fallen attended the German premiere in Berlin yesterday. Megan donned a provocative red-maroon dress with a thigh-high split and a little metal snake thing on the side. Red is a really good color for her, but she needs to figure out something different to do with her hair. The tighter or more slicked-back the hair style for Megan, the "harder" she looks. If I was her hair person, I would suggest soft waves around her face for most public outings.
While walking the red carpet, Megan confirmed to The Sun that she and Brian Austin Green are officially dunzo. In her words, she really said, "I'm currently what you would call single I guess." Well done, Megan. Even I thought you could do better:
JUST when you thought she couldn't get any hotter, MEGAN FOX goes and pulls this little number out of her locker.

The stunning actress wowed crowds at her latest premiere in this sexy red dress that revealed a little too much.

And there's good new for all the men, and women, out there who'd like to date the bisexual star – she's single again.

The Sun can reveal that Megan has dumped actor fiance BRIAN AUSTIN GREEN for the second time this year and already has her sights set on meeting someone new.

The actress, in Berlin to promote Transformers: Revenge of the Fallen, said: "I'm currently what you would call single I guess."

When asked who she'd like to go out with next, Megan replied: "Oh I don't know. There is this Korean JUSTIN TIMBERLAKE named RAIN and I'm really on his situation now. I'm trying to fix this up. I'm working hard."
[From The Sun]
Uh-oh – there are going to be some pissed off Rain fans if Megan gets her hands on him. But I think that was just Megan being Megan, her normal ridiculous self. I really think her single status is why she and Shia look like they're already getting it on in these pictures. It looks like they're trying to avoid looking too happy with each other - the surest sign they're already getting hot and heavy. I guess Megan reminds Shia of his mother after all.
Photo credit: Fame Pictures