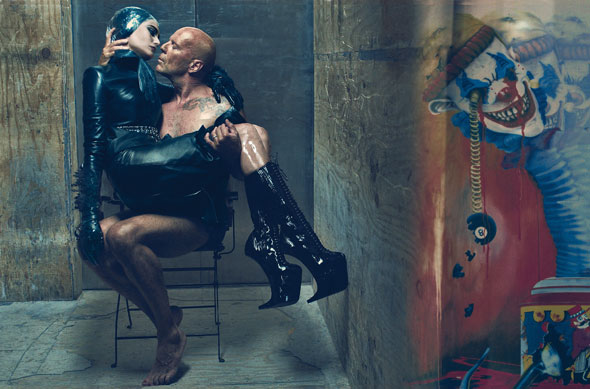 Bruce Willis and his new wife model/actress Emma Heming decided to pose together in W Magazine. It's one of the freakiest photo shoots I've ever seen. The whole thing's very "dark," dirty, industrial, and trying-too-hard weird. Emma's topless in some of the pictures, Bruce is wearing red leather gloves in some, there are a couple of images of deranged clowns and the whole thing seems like "Scenes From The Post-apocalyptic Dystopian Hellscape… With Naughty Clowns and Good Boobs". Perhaps this is why Bruce and Emma decided to do the photo shoot? To show us all that they like it freaky, with some red leather gloves, topless, with a clown, during the apocalypse. As CB muttered, perhaps Emma needs some modeling work.
The interview is pretty interesting, bruce and Emma both talk a lot about their life together, their careers, and about politics. Bruce, famously an outspoken Republican, says that he voted for Obama last year, and talks more about his tireless advocacy on behalf of reforming the foster system in America.
Regarding their marriage, Bruce sounds like an old fart and Emma sounds like she's very happy to do whatever Bruce wants. Oh, there's also this little tidbit: "Emma has since concluded that acting is not her thing—something that her husband finds 'refreshing.' Instead, she plans to stick to modeling." I read that as "Now that they're married, Emma doesn't have to pretend to be an actress any more." Here's the full interview from W, and I pulled some of more interesting parts:
Bruce's new political philosophy: "[Bruce] says he voted enthusiastically for Barack Obama in the last election, and his musings on politics the day we meet sound like those of a bona fide bleeding heart. "There are 500,000 kids in the foster-care program at any given time, and it could all be helped by money," says Bruce, who became the national spokesman for children in foster care during George W. Bush's presidency and will continue in that role during the current administration. "Just give us half a billion, and the foster system could be enormously helped. Just like education could be helped by money. When you're talking about $800 billion to bail out people who made automobiles, when you could be helping kids, things need to be reprioritized."

Bruce on marriage and love: "I went from 'F-ck love' to 'Love is truly the answer.' I spent the last 10 years single and, for the most part, unhappy. In a dark place. I never thought that being with someone else was the answer. I would say, 'I'm alone, but I'm not lonely.' But I was just kidding myself. Then I started hanging around Emma, and on a day-to-day basis my life became much happier."

Emma on their compatibility: "We have so many things in common. We're self-made, we came from the same background, and we went to work and became self-sufficient… I'm laughing from morning till night with him."

Bruce on his daughters: "They're such smart kids. Way smarter than I was. They campaigned for Obama. They're involved in the world, in politics. They know exactly what Hollywood is, and they know what it's not, and they don't take any of that very seriously."

On His Feelings Toward Emma: "I hear so many people in relationships say, 'I just need a couple of days away, or even an hour away.' But I don't want to be away from Emma at all. It's the most singular relationship I've ever had in my life."
[From W Magazine]
Even though it would be easy to make a couple of cuts about the age difference between Emma and Bruce, they sort of make sense together. I don't think either of them has illusions about who the other person is, and I think they knew what they were getting. Perhaps it's not the stereotypical image we have of an older, rich man and his young golddigger wife. Or maybe it is, and it just works for them. I think the marriage will probably work out in the long run – in fact, the only thing not working for me is this photo shoot.
Photos are by Steven Klein for W, where they have many more.