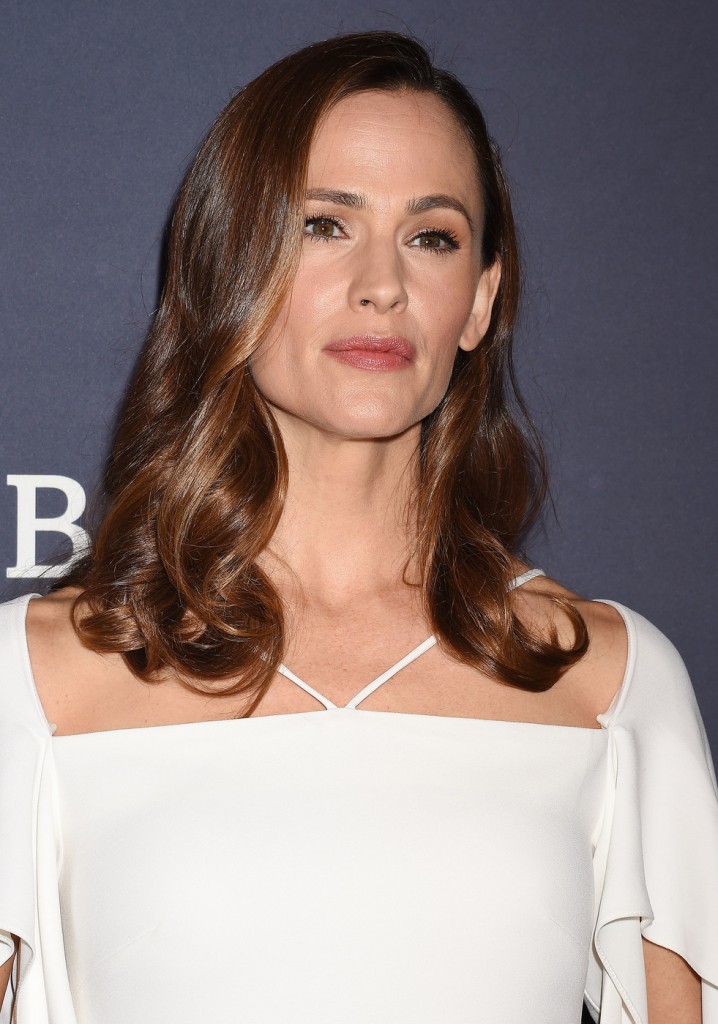 The Baby2Baby Gala, presented by Paul Mitchell this year, had an incredible turnout with plenty of celebrity women in beautiful gowns and some in suits. I was impressed with the fashion overall. Baby2Baby is a Los Angeles-based charity that distributes basic necessities to impoverished children and families including diapers, clothing, furniture and school supplies. They have a lot of celebrity support. Last night Gwyneth Paltrow was given "The Giving Tree Award" "for her commitment to low-income children." I wasn't familiar with her charity work but apparently she's done work for non-profit LA Kitchen and she is the "charity ambassador" for a luxury watch brand named Frederique Constant. She's also on the board of the Robin Hood Foundation, which focuses on poverty in NY City.
I wanted to start with Jennifer Garner as I was so impressed with this white Roland Mouret gown she wore. At first I thought that was a built-in cape but it's really just two split sleeves. It's gorgeous and this is a great look for her. She is so strikingly different on the red carpet versus her everyday style.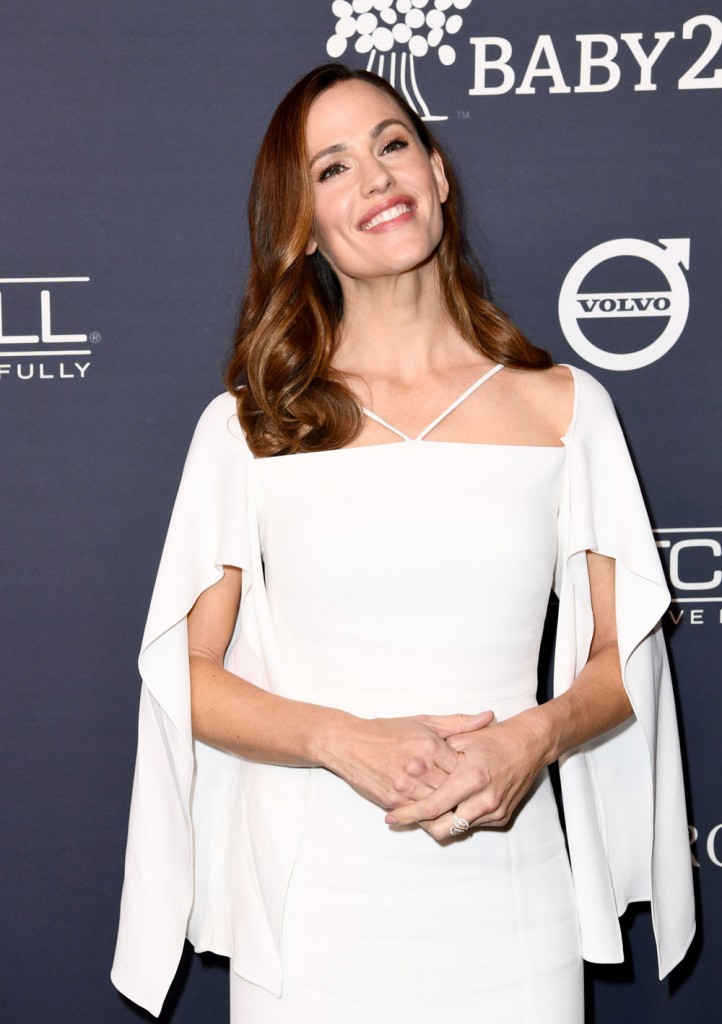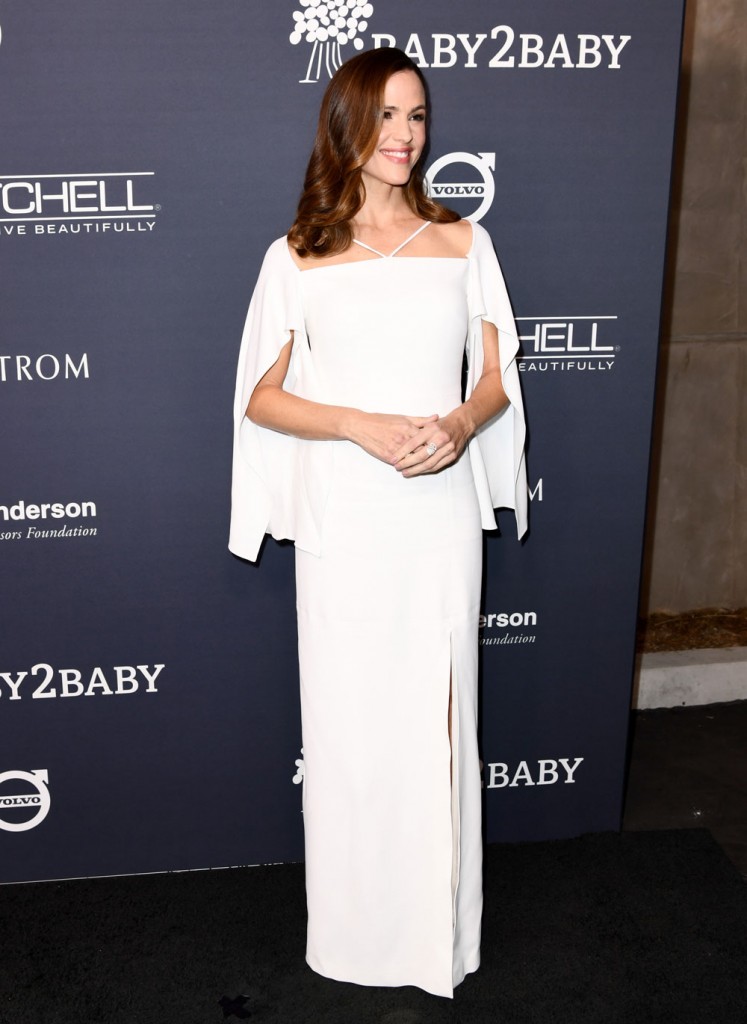 Here's Gwyneth in a Tom Ford black tuxedo suit. I love this suit but her smudged blue makeup is awful and I would assume she did it herself. In case you think I'm shading her unnecessarily, she's admitted she is useless at doing her own makeup. She apparently hasn't improved in the six years since she said that.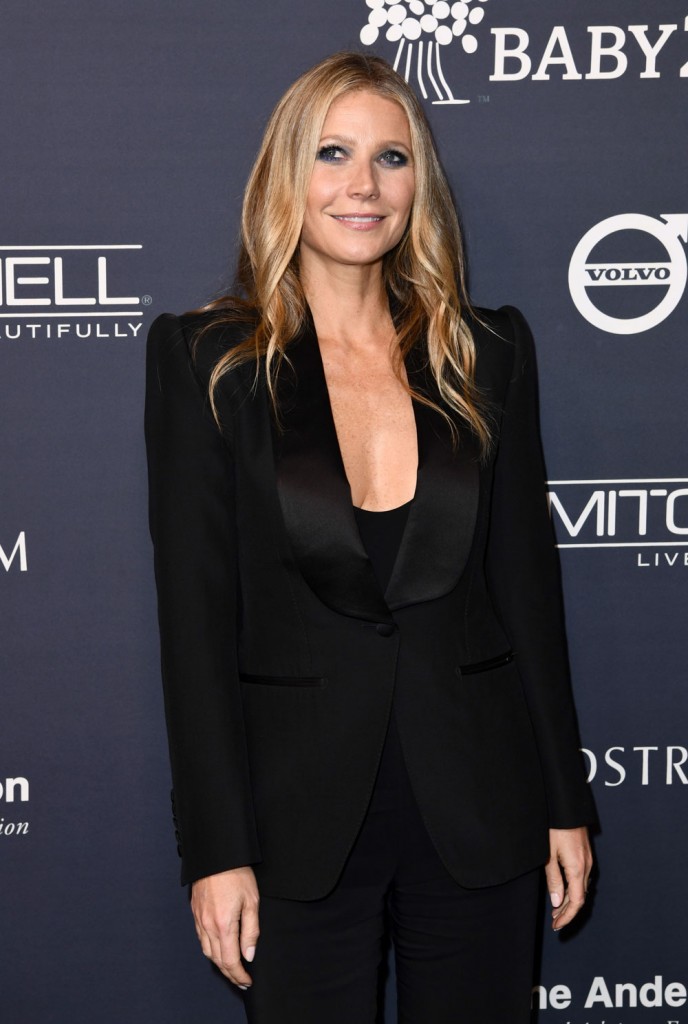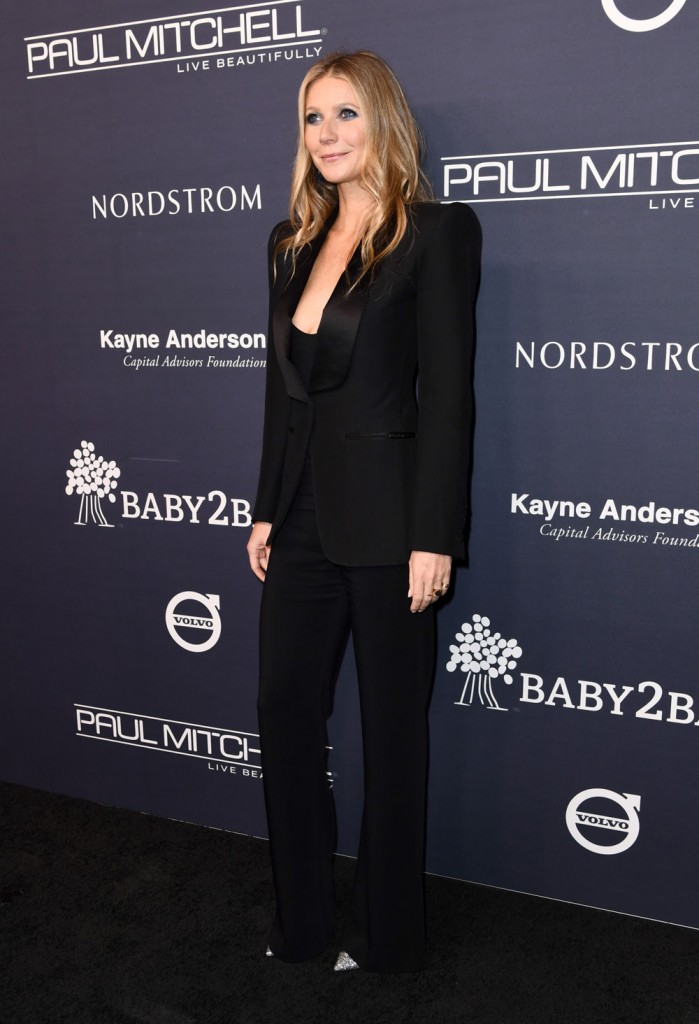 Zoe Saldana was in a bizarre black dress with a wide collar, 3/4 length sleeves and a split skirt with a few buttons thrown in for good measure. This is by The Row, which I guess you can tell by how shapeless it is. Zoe and her husband, Marco Perego, seem solid and I like them together.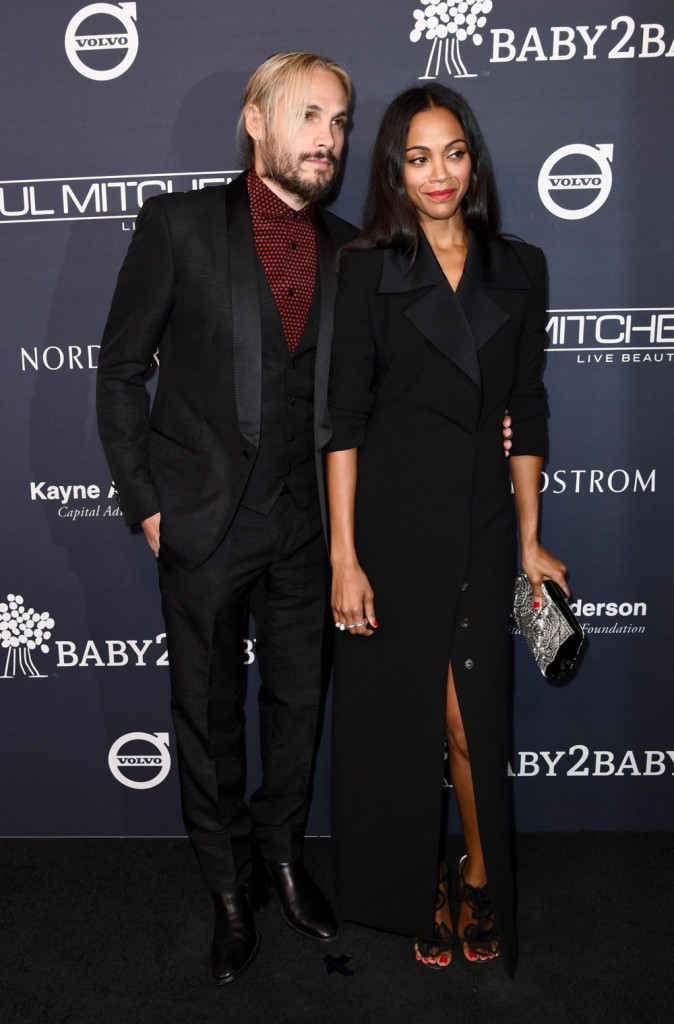 A very pregnant Jessica Alba was in a black and lace Brock Collection gown. She and her husband are also so cute! I think he was messing around on her years ago, but hopefully he's changed.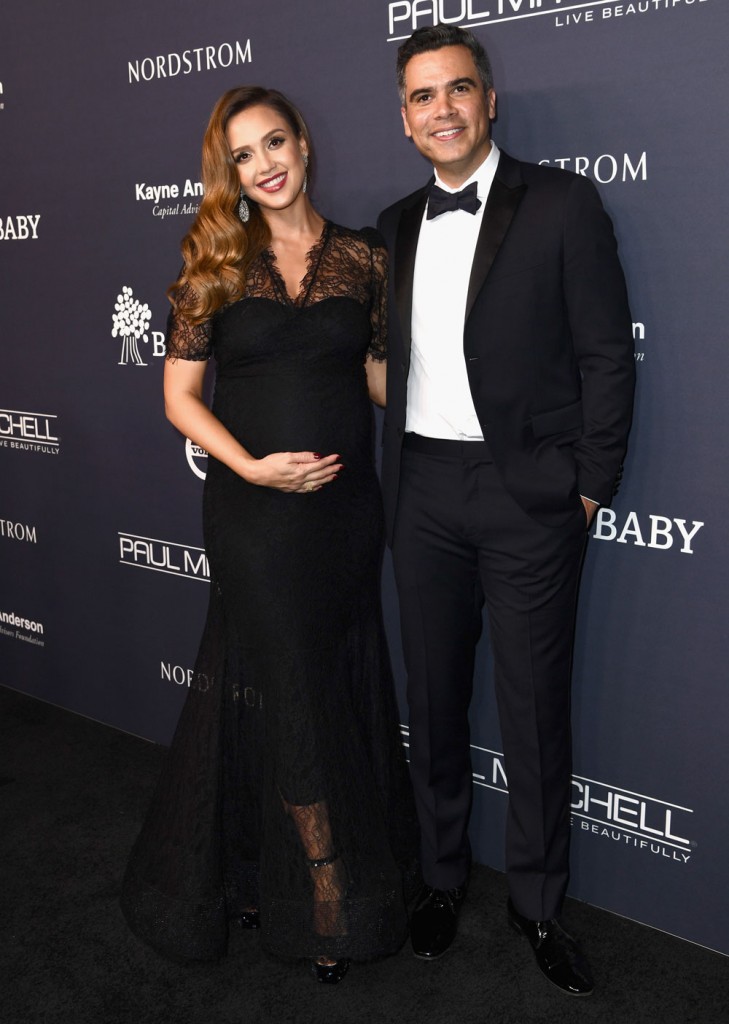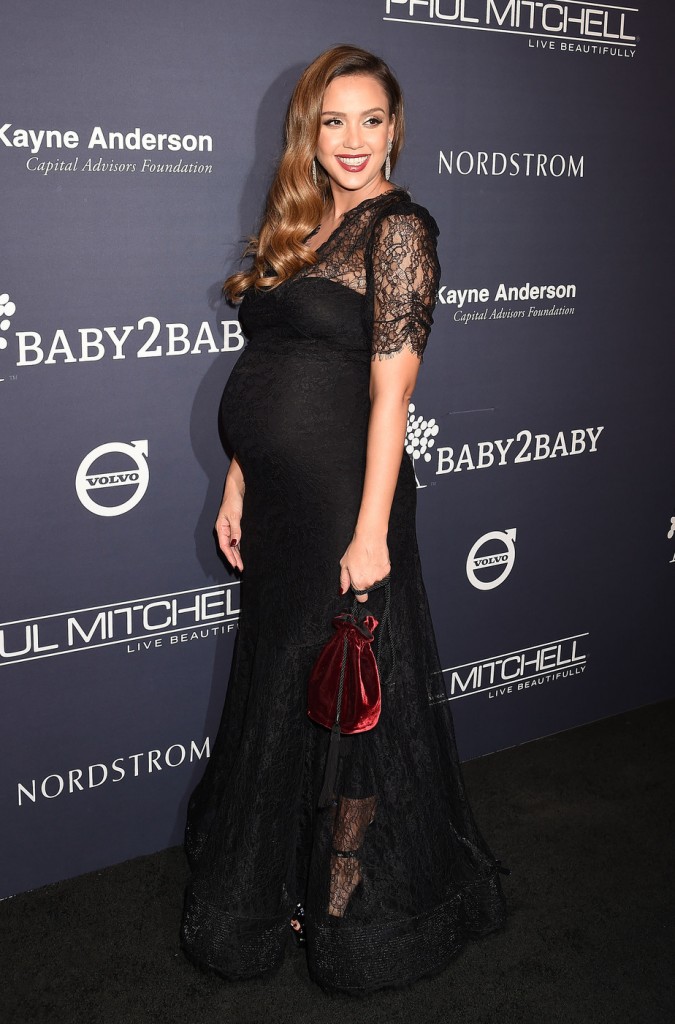 Nicole Richie and Joel Madden, still going strong after 11 years together. I don't have an ID on Nicole's leopard print dress but I assume it's House of Harlow. It may be this dress, the X-Revolve Lafayette, which retails for $298.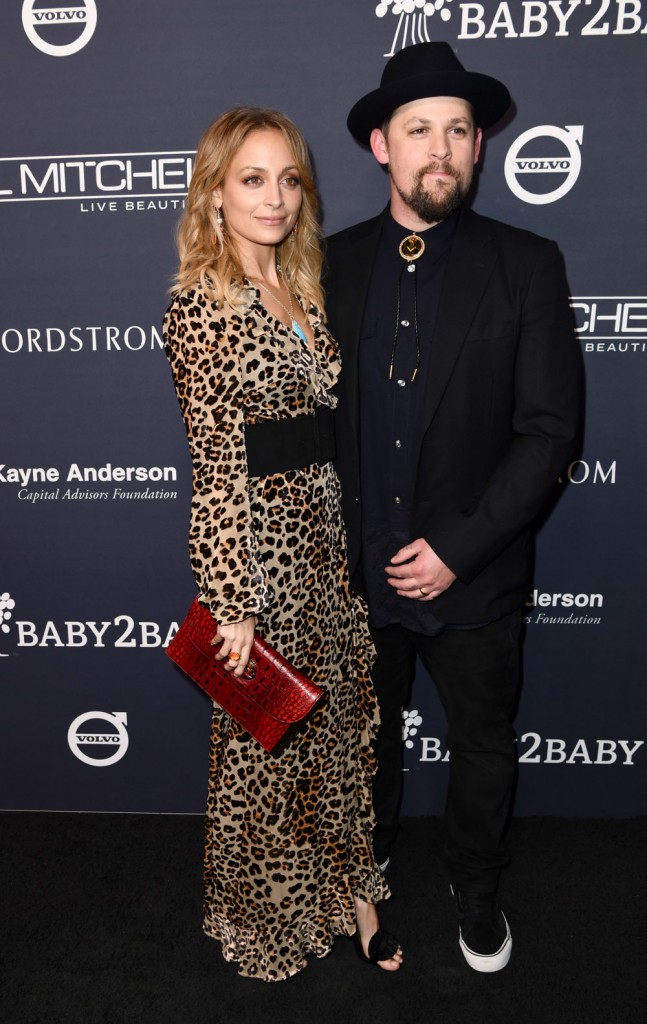 In "what the hell were you thinking?" we have Jessica Biel in a Giambattista Valli with see through honeycomb netting over granny panties and a bra. Just no. Maybe this would fly at an MTV event or the Grammys but not at a charity gala.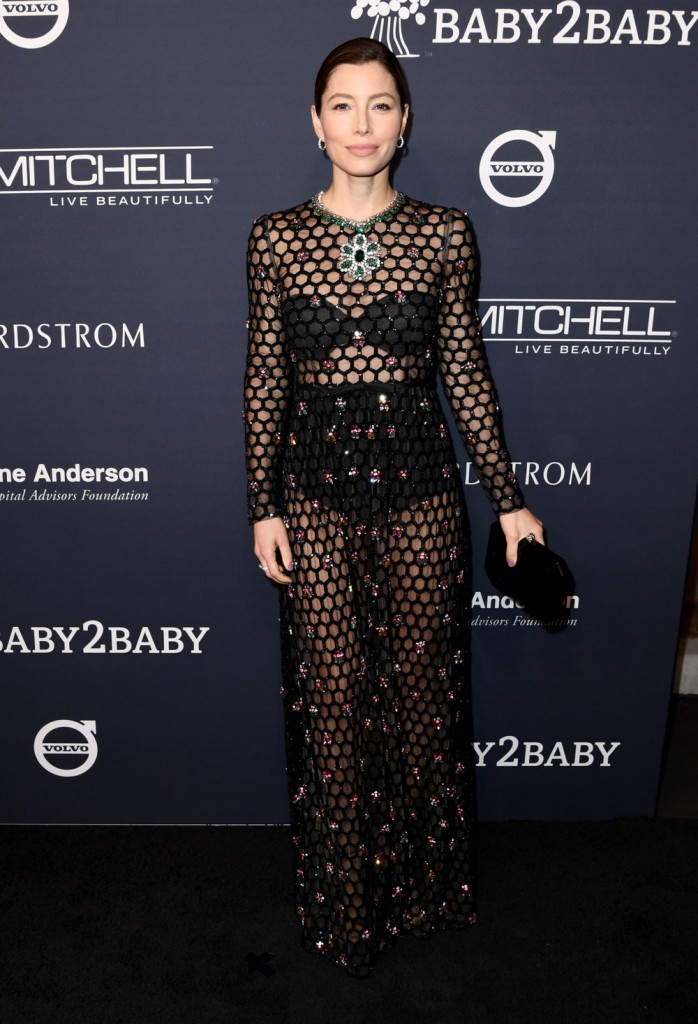 Also fug we have Kristen Bell in a regent st. blue (I cheated, I've never even heard of that color) Vika Gazinskaya dress with giant structured ruffle sleeves. I would say she looks like a sexy alien from the original Star Trek but she's too covered up for that.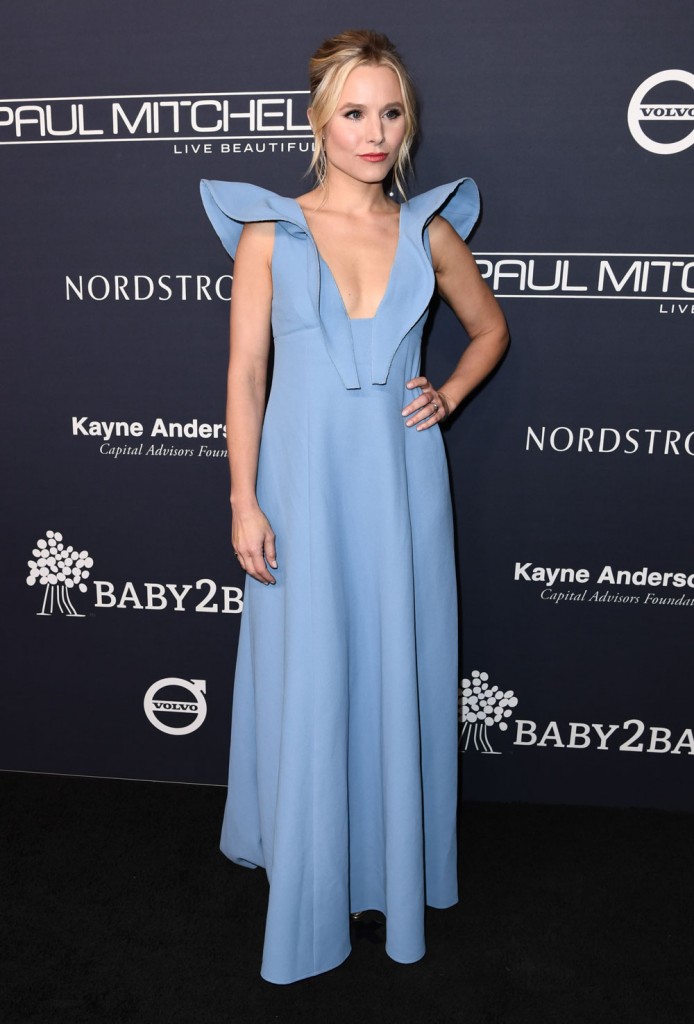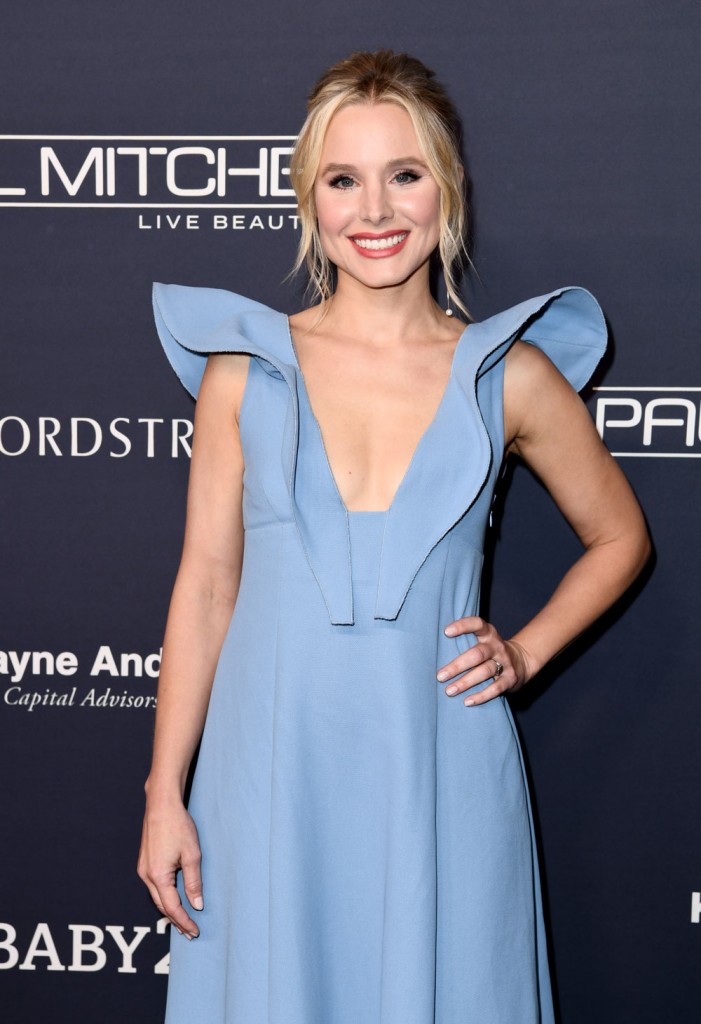 Poor January Jones was in a flutter sleeve v-neck top that tied at the bust paired with a floor length polka dot skirt. Look at the skirt closely. It's see-through but only at the top until halfway down her thighs. Awful, but she looks like she doesn't care, which is halfway toward pulling this off.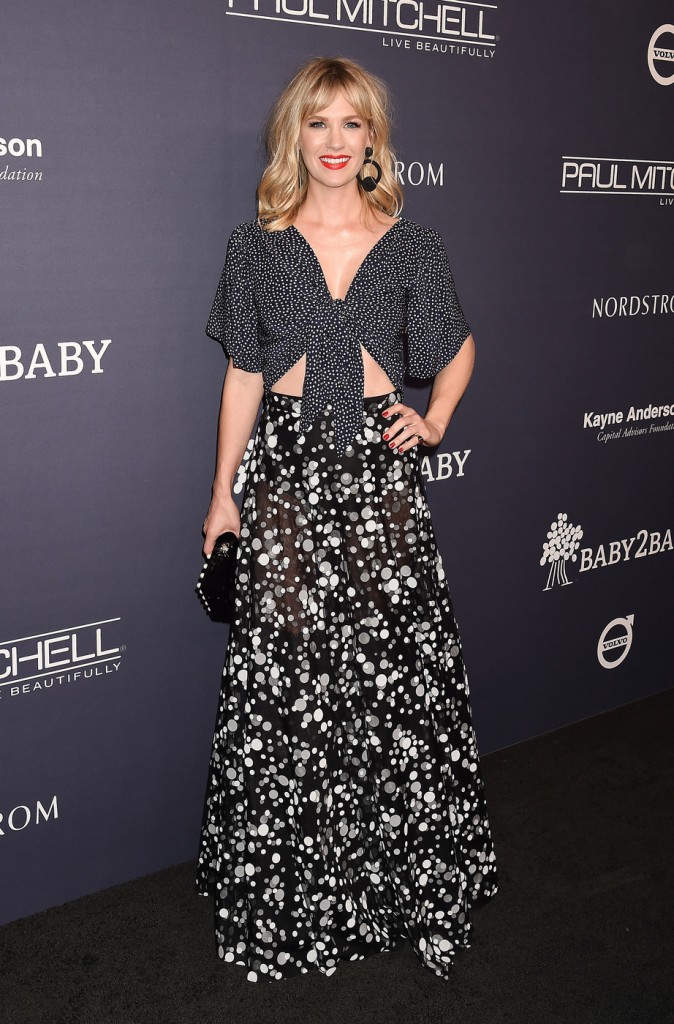 Rachel Bilson looking super cute in a floral print tapestry Brock Collection ankle length dress. I like this apart from the frayed threads around the bust. It would look more polished without those.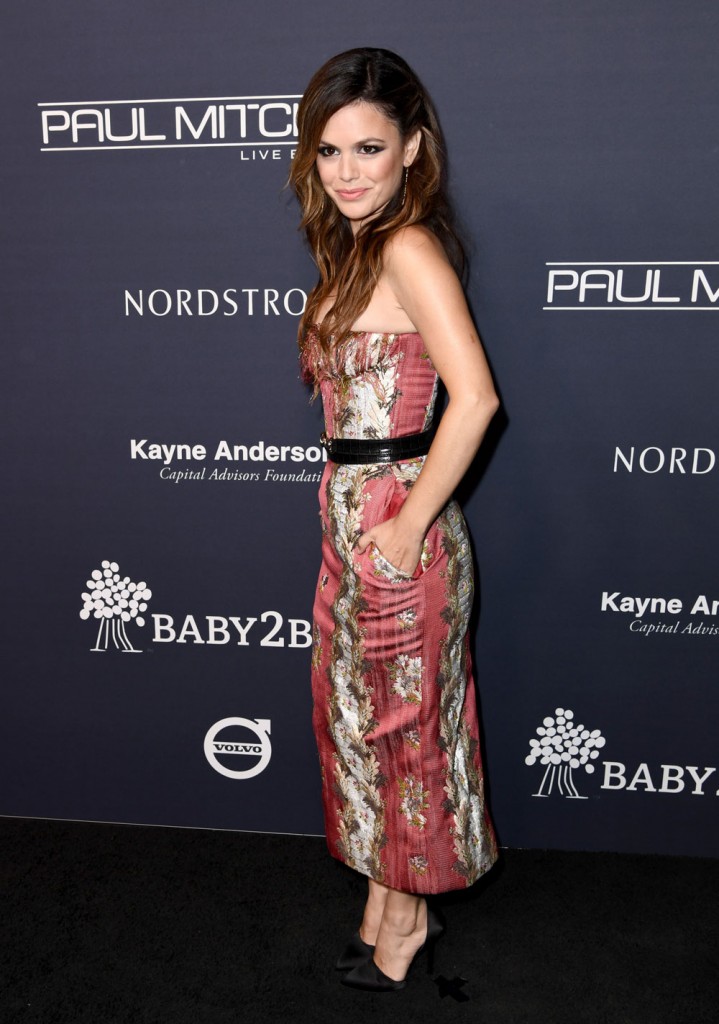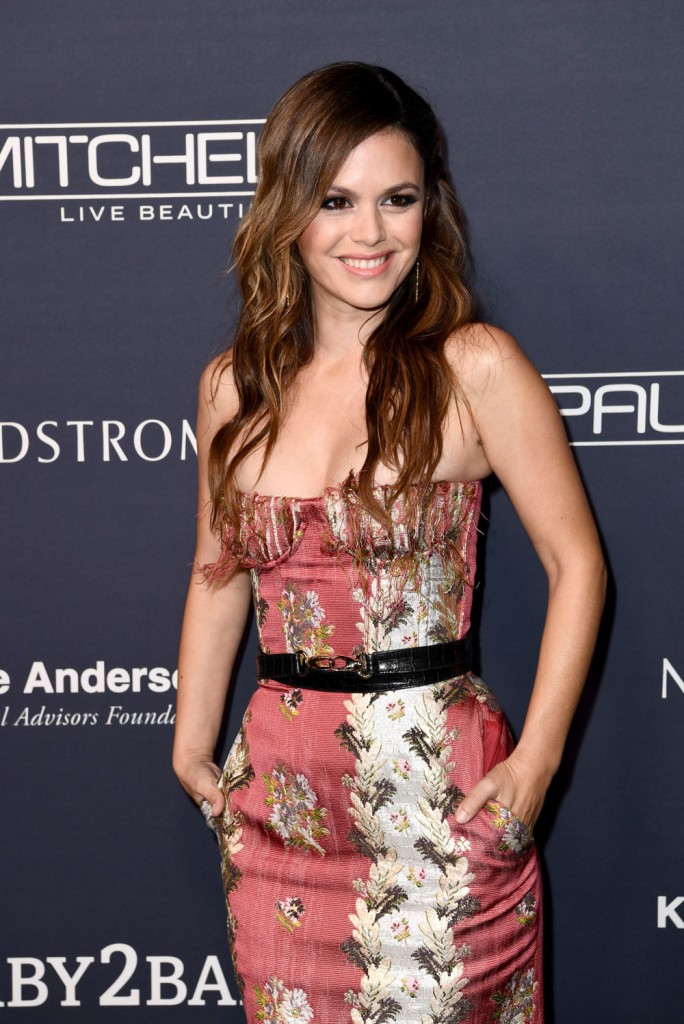 Julie Bowen in Fabiana Milazzo Spring 2017. This dress is amazing. It may seem like it's about to cross the line into "too busy" but I think the wavy horizontal lines at the top and the Japanese maple design work well together. I would love to wear this gown.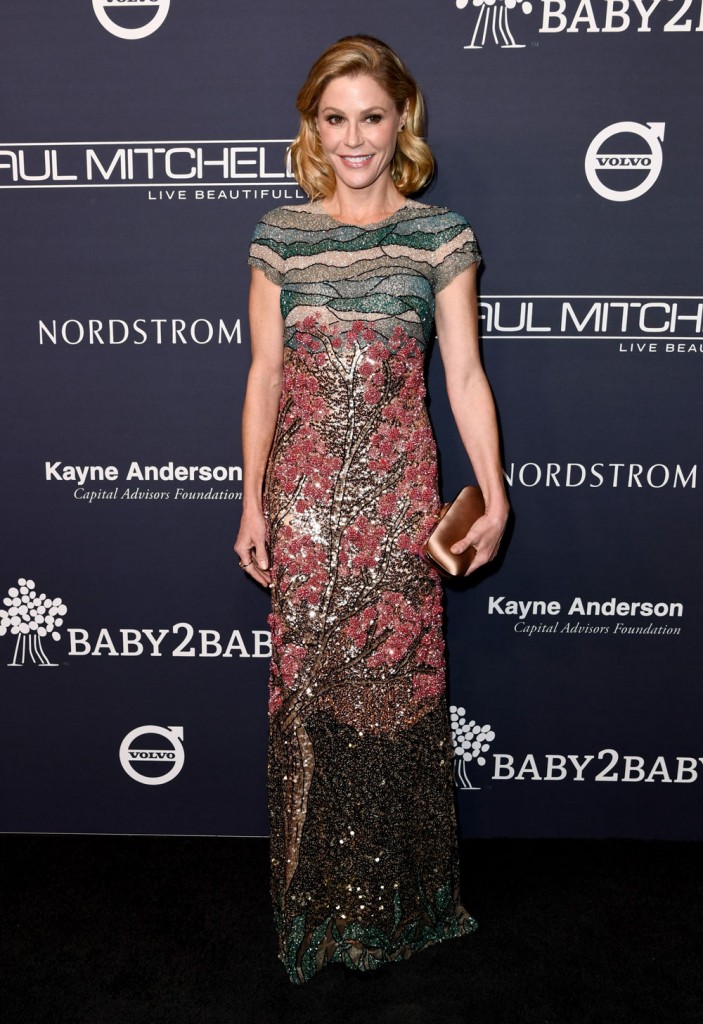 I don't have an ID on Selma Blair's dress but she looked so amazing I wanted to include her. This dress is a perfect mix of contemporary details (the asymmetric panel across the bust, the multicolor v-striped skirt) and a classic silhouette. Her styling is gorgeous too.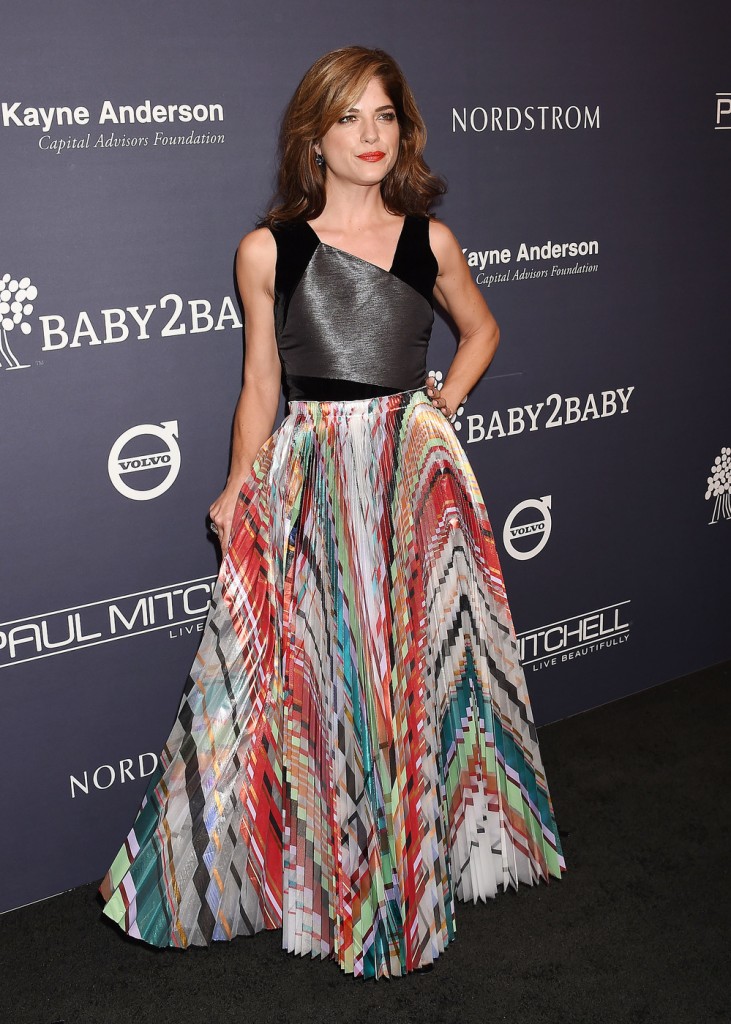 photos credit Getty and Pacific Coast News