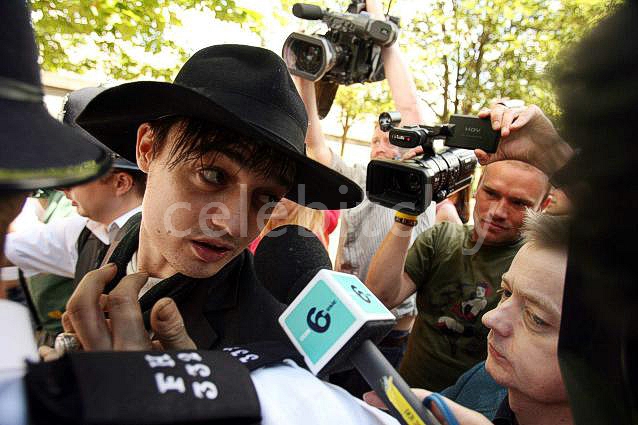 Oh holy grossness. Kate Moss is dating Pete Doherty again. We thought we'd heard that last week, but then found out the next day that he was seeing model Irina Lazareanu. Well now they're together again. Supposedly. You know how everyone knows some couple that's forever breaking up and getting back together? Normally by the time they hit their mid-twenties to early thirties, they've matured enough to stay together or stay apart. This isn't the case for these two, who are far too crazy and unbalanced to ever make a decision and stick with it. The two have reconciled and been holed up in a London hotel together for over a week. Will someone please tell me what is so irresistible about this guy? I could pick apart his physicality, but that isn't really the issue. It's the poor hygiene, drug-addict-beyond-all-belief coupled with the terrible he'll-squirt-vials-of-his-own- blood-on-people-because-he-thinks-it's-funny personality. Those things make him look more repulsive. I'm sure if he wasn't an unrepentant drug addict with jerky tendencies, we'd be all "Oh, how cute, he's a sweet dork," or whatever. I mean he'd never win a modeling competition, but no one would lay in bed at night, unable to sleep because they were so confused by Pet Doherty's appeal. I'm pretty sure he has bugs. Okay I'm done now.
"English supermodel Kate Moss has run back into the needle-scarred arms of Pete Doherty. Our man in London spotted the co-dependent couple at Claridge's hotel last week, having a weepy reunion. Since then, against the wishes of her family and handlers, Moss has been holed up with the Babyshambles rocker in a $4,000-a-night suite at the Mayfair hotel for five days.

"Apparently, Kate has forgotten that Doherty told the Mirror – which reportedly paid him $80,000 – that she was "jealous and suspicious" and "a nasty old rag."

"Now they're said to be talking about a wedding and children. This, after Doherty's umpteenth arrest last week for suspected drug possession. Not to mention those British reports that a vet discovered a sickly kitty – born to Pete's cat Dinger (slang for syringe) – had cocaine in its system. Surely, he'll make a great dad."
[From Rush & Malloy]
Remember back in the day when Tom Cruise said he was going to eat the placenta after Katie Holmes gave birth? I could totally see Pete Doherty doing that. He really would make a great dad to Kate Moss's kids. "Hey kids, who wants to play pin the tail on the donkey with these hypodermic needles?" And then somehow all the needles would end up in the kid. "Who wants to drink their own blood?" And "Let's play find Daddy's heroin implant and rip it out of his stomach with a carving knife we've sterilized by licking!" Speaking of sterilized, can enough drugs do that to your system? Because if there's any justice in this world, if nothing else Pete Doherty should be sterile by now.
Picture note by JayBird: Here's some random, sexy Pete Doherty. Images thanks to PR Photos. Header image of of Pete leaving court in London on August 7th. Images thanks to Splash Photos.