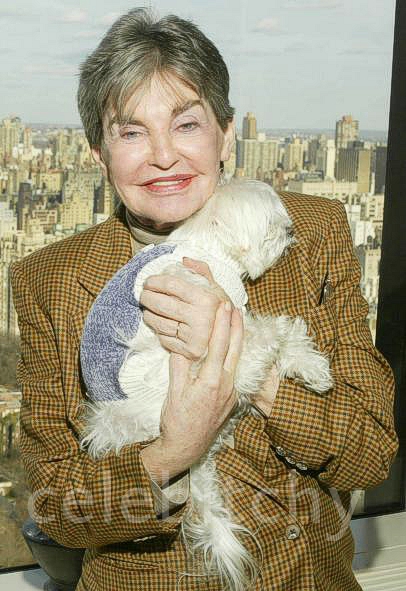 Rich people do the craziest things. Crazy rich people do even crazier things. I remember ten years ago when some person left all their money in their will to their dog, and it got a lot of press, but amounted to about half a million at most. Well Leona Helmsley, the billionaire who passed away last week – and was known since her 1988 tax evasion trial as the "Queen of Mean" – left $12 freaking million to her dog Trouble. She left $5 million to two of her four grandchildren, and cut the other two out completely "for reasons which are known to them," according to the will. Ouch. You know how they say, "You can't take it with you"? Well apparently you can't, but you can be mean well beyond the grave. The two grandsons who did get money only get it on a contingency basis – they have to visit their father's grave at least once a year. I wonder how they're going to verify that?
"Real estate billionaire Leona Helmsley left $12 million in her will for her dog Trouble but cut out two of her four grandchildren entirely. Helmsley, the "Queen of Mean" who was famously quoted as saying "only the little people pay taxes" before going to jail for tax evasion, died August 20 at 87. The 14-page will was made public in Surrogate's Court on Tuesday and reported in New York media on Wednesday, with the New York Post headlining the story "Rich bitch," referring to the female dog.

"Trouble, a white Maltese, will be cared for by Helmsley's brother Alvin Rosenthal, who was left $10 million. Two grandchildren, David and Walter Panzirer, will be left $5 million each as long as they visit their father's grave at least once a year — Helmsley's son, Jay Panzirer, died in 1982 — and her chauffeur will get $100,000. 'I have not made any provisions in this will for my grandson Craig Panzirer or my granddaughter Meegan Panzirer for reasons which are known to them,' Helmsley wrote. The will calls for Trouble to be entombed alongside Helmsley and husband Harry Helmsley, who died in 1997, in their $1.4 million mausoleum, for which Leona Helmsley set aside $3 million for upkeep including annual cleanings."
[From Reuters]
Talk about a big bag of crazy. I'm not sure how old trouble is, but let's say for argument that she's 7 years old, and super healthy and could miraculously live another twenty years (because dogs fed diamonds can live a really, really long time). That would provide Trouble with $600,000 annually to live on. I'm not sure if dogs have to pay inheritance taxes. Now if Trouble invested that money wisely in a diversified portfolio with some good mutual funds, she could easily garner twice that a year and have more than enough to secure all her puppies futures. Though I'd stay away from those other two Helmsley grandchildren – something tells me Trouble is more than a little hated right now.
Images thanks to Splash Photos.