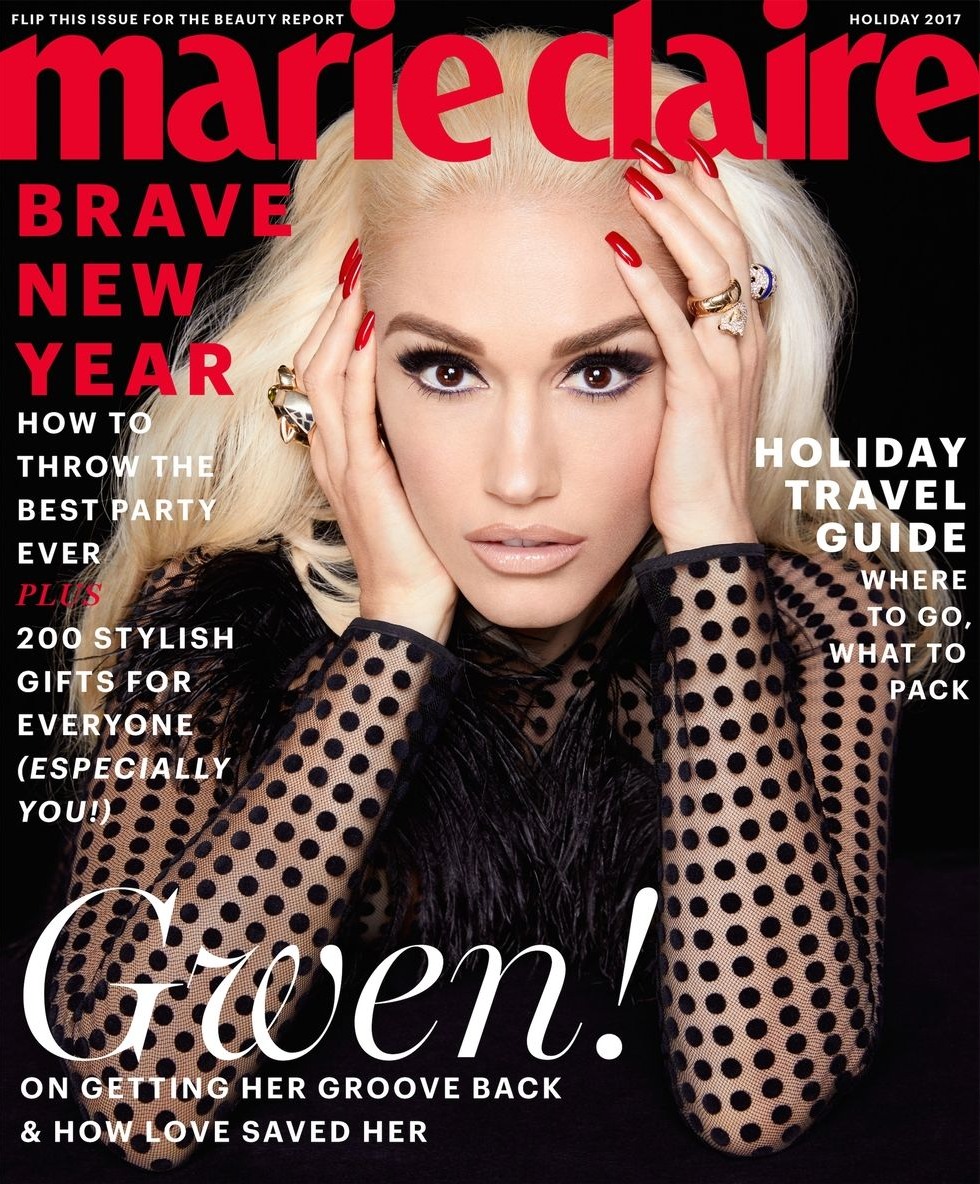 Post-Gavin Rossdale, Gwen Stefani has changed up her look. It's not a complete transformation, but I appreciate the fact that it's almost like she's drawn a line in the sand with her style, the Gavin Years vs. the Blake Years. The Blake Years have been about slightly more conservative clothing, a little bit of "country" mixed in, and some phasing out of the red lips. She's weaning herself off of the red lipstick, and she's been doing this "nude lip" which always makes me double-take. It looks good though. (Left unspoken: Gwen has been jacking her face for years.) Anyway, Gwen and her nude lipstick cover the holiday issue of Marie Claire. She chats about Blake, about heartbreak and about spending so much time in Oklahoma now.
On Blake: "He's my best friend," says Stefani simply, and though she claims not to want to talk about their relationship "too much," she really doesn't have to.

She didn't understand her bad luck with men: "For a long time, I could not understand why I'd had so much heartache in my life," says Stefani, who'd been in only two serious relationships before Shelton—one for seven years with No Doubt's Tony Kanal, the other for 20 years with Rossdale, the father of her three boys. Both men broke her heart. "I have parents who are still married and in love. I had such loving role models. I didn't understand it."

On what heartbreak taught her: "What I learned was that my heartbreak was supposed to happen, that it was my purpose to write about and share my story. I met at least 50 to 100 people before each show on my tour and got to hear that my truth and my story translated, and I feel very lucky and honored knowing that."

On finding spirituality: "…Spiritual exercise got me somewhere. Some people like to meditate, do yoga, or just take quiet time, but for me – instead of how you talk to yourself, you pray. You surrender and ask for guidance. It's not all about you."

On life with Blake Shelton – recently named People's Sexiest Man Alive – and how they spend their time on Shelton's ranch in Oklahoma: "It's very tribal. Blake has a sister, she comes with her kids. We cook and get muddy and dirty. There are ATV's. Being a mother of three boys, it's kind of the perfect place. Everything is real now, whereas before, things didn't seem so real."
I felt a little pang for her with this: "I had such loving role models. I didn't understand it." I think that's the answer for why she stayed with Gavin for so long when other women would have gotten out. Gwen believed in marriage, she believed in "forever," and she believed that people who get married will stay married. She didn't know how to get a divorce and do all of that. I also felt a pang for her with this: "Everything is real now, whereas before, things didn't seem so real." Is it wrong to hope that Blake and Gwen actually are for real? Because I think Blake adores her sons and he's already doing the step-dad thing. Those kids are attached to him now.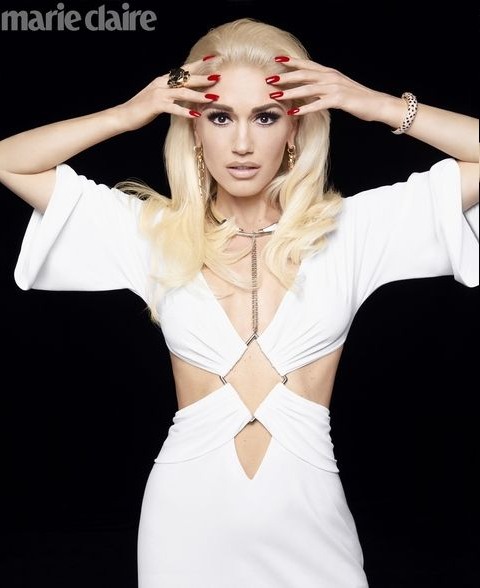 Photos courtesy of Kai Z Feng for Marie Claire.