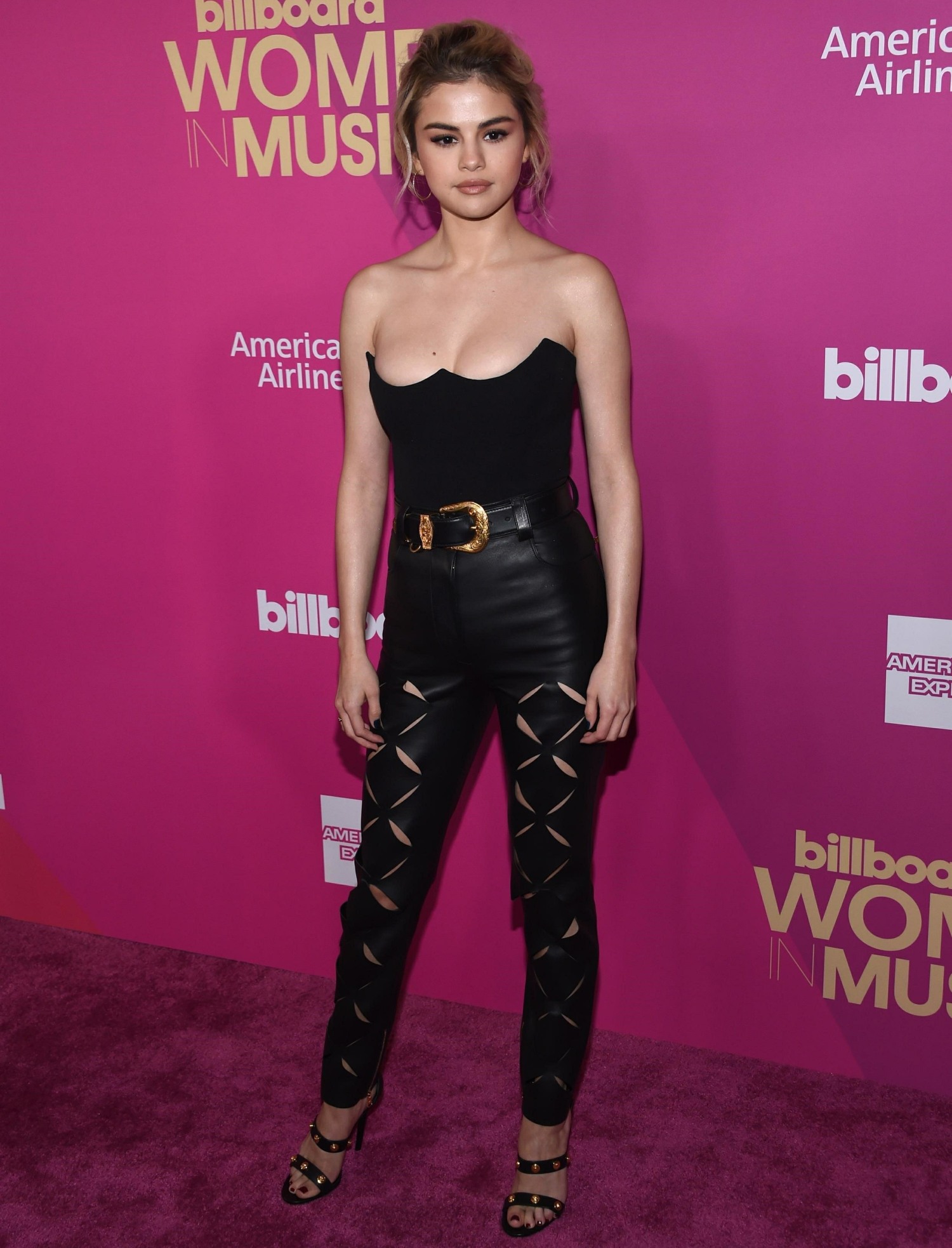 Selena Gomez is Billboard's Woman of the Year. One of the best tweets I saw about that announcement was (and I'm paraphrasing) that it's Peak 2017 to honor Selena Gomez as the Woman of the Year in the same year that Ariana Grande put together a massive charity concert in a matter of, like, one week to honor the victims of a terrorist attack targeting her concertgoers. Like, how was Ariana Grande NOT the Woman of the Year? I'm not even an Ari stan, but Ariana was and is MY Woman of the Year.
Anyway, these are some photos of Selena on the carpet for the event last night. She wore black leather Versace. Her hair is tragic. She was introduced by Elle Fanning, her costar in Woody Allen's A Rainy Day in New York (sideeye) and she was presented the honor by Francia Raisa, her friend who gave her a kidney. Selena told the audience:
"I feel incredibly lucky. Honestly, I couldn't be more grateful for the position I've been given in my career. I want people to know I respect the platform that I have so deeply. Specifically this year, I would like to thank my amazing team and my family because they stuck with me through some really hard times. I got to do a lot this year, even though I had a couple of other things to do. I'm so grateful for the older women who have lifted all of us up. I don't know how I'll ever repay it, but maybe I'll make an epic album next year."
I used to really care about Selena Gomez and want her to do well and make good choices. But I'm sort of over her, mostly because of her dumb man drama. She doesn't make good choices at all. Selena also sat down with Billboard for a cover story/interview, which you can read here. She says little about Justin Bieber (with whom she is definitely back), but here are the most interesting quotes:
Whether Woody Allen's past gave her pause: "To be honest, I'm not sure how to answer — not because I'm trying to back away from it. [The Harvey Weinstein allegations] actually happened right after I had started [on the movie]. They popped up in the midst of it. And that's something, yes, I had to face and discuss. I stepped back and thought, "Wow, the universe works in interesting ways."

Whether she feels hopeful or depressed about Sex-Predatorgate 2017: "I feel all those things. I've cried. But I definitely feel hopeful. As people speak out, I hope that feels powerful to them, because they deserve to feel that. I'm fortunate enough not to have experienced some of the traumatic things that other women have had to go through. I've known people in my family who've gone through those things. I try to let people come to me and open up, to make a safe environment for them to do so.

The best part of being single: "The best part? It's actually… you know what, though? Something that I'm really proud of is that there's such a true friendship [between me and The Weeknd]. I truly have never experienced anything like that in my life. We ended it as best friends, and it was genuinely about encouraging and caring [for each other], and that was pretty remarkable for me.

What brought Justin back into her life: "I'm 25. I'm not 18, or 19, or 20. I cherish people who have really impacted my life. So maybe before, it could have been forcing something that wasn't right. But that doesn't mean caring for someone ever goes away. And [that goes for] people in general. I mean, I grew up with Demi [Lovato]. Nick and Joe [Jonas] and Miley [Cyrus] — we've gone through seasons in our lives. I don't think it's as serious as people make things out to be half the time. It's just my life. I grew up with all of these people, and it's so cool to see where everybody is. It comes back to the idea of me remaining full. I think a true representation of love is beyond just yourself.
Selena's going to need to work on her answers to the Woody Allen questions. I mean, what is she supposed to say though? "I understand that Woody Allen hired me because I'm 25 years old but I look 14 years old and Woody likes that"? Ew. As for her answer about Bieber… GIRL STOP. Just because you had a lot of drama with a guy when you were 18, doesn't mean you need to go back to him. It doesn't mean you have to "cherish" that drama. He's a sucky baby and you need to stop backsliding!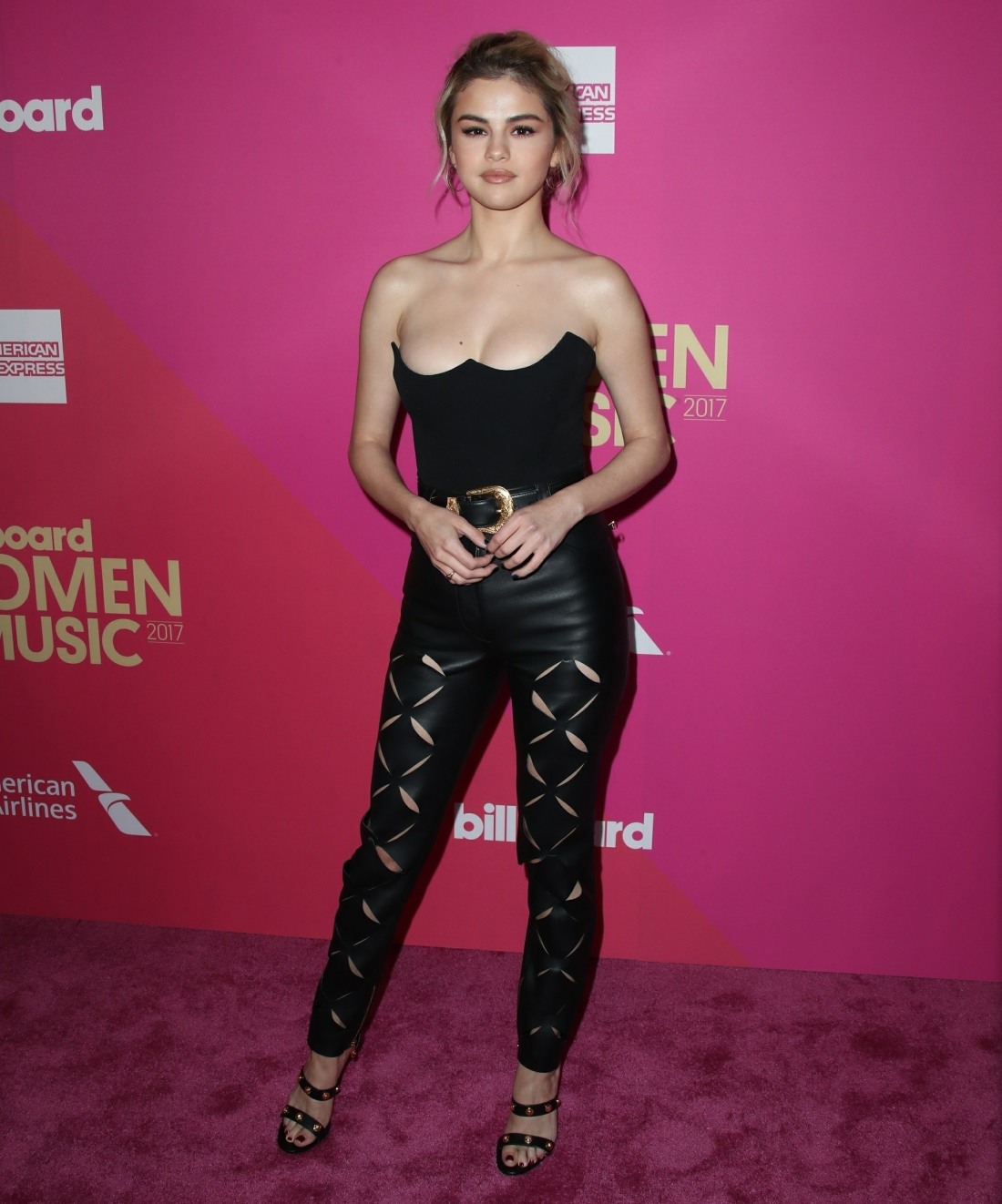 Photos courtesy of Backgrid.