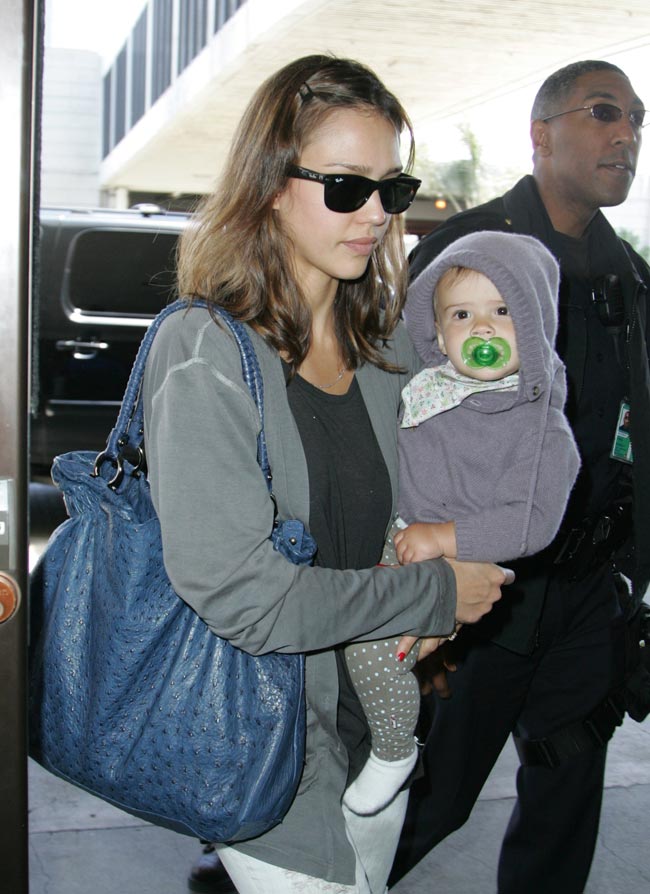 Jessica Alba was involved in a head-scratching incident of guerrilla activism in downtown Oklahoma City, Oklahoma last week. Alba somehow met up with an activist named White Mike, who tries to bring awareness to the issue of illegal shark fin hunting, which is wiping out the population of great white sharks. The huge predator is a key part of the oceans' ecosystems and if the great white shark population is diminished the rest of the oceans, and the planet, will suffer. Alba tried to make this point with White Mike in landlocked Oklahoma City by pasting posters of the menacing-looking sharks on public property and on a billboard for the United Way. The shark posters had no text and could have been advertisements for a film or aquarium. They were pasted on with industrial glue that made the confusing posters hard to remove.
Alba issued an apology after pictures surfaced featuring her posing triumphantly by the posters, and stated in part that she "made a spontaneous and ill-advised decision to let myself get involved with the people behind this campaign." The police in Oklahoma city said at the time that an investigation was underway, but they announced yesterday that it has been dropped and that no charges will be filed:
Jessica Alba will not face any criminal charges for plastering shark posters all over Oklahoma City on behalf of a conservation group.

"The decision has been made to close the case," police Sgt. Gary Knight says in a statement. "The case will not be presented to the district attorney's office."

Alba found herself in hot water last week when photos surfaced of her papering over a United Way billboard as part of a guerrilla-style campaign for White Mike, an L.A.-based group aiming to raise awareness of the endangered great white shark. She quickly apologized for the "spontaneous and ill-advised stunt."

The 28-year-old Fantastic Four star could have faced a felony vandalism charge and possible jail time over the incident, but the property owners targeted by Alba and pals declined to press charges. As a result, Knight says there's no reason to pursue the case.

There has been no comment from Alba's camp on whether she will pay for the damages.
[From E! Online]
That last sentence is key: "There has been no comment from Alba's camp on whether she will pay for the damages." If Alba really wants to make it up to Oklahoma City, she'll compensate them for having to clean up the posters. It probably would have happened without her involvement, as White Mike has pasted posters in other cities. She brought awareness to it though and it would be wise to make a gesture to show that defacing public property is not acceptable. She could also lend her celebrity to a campaign for the United Way. Maybe she just wants this embarrassing incident to go away, though. The OK City police probably feel the same.
Jessica Alba and her daughter Honor, 1, are shown at LAX on 6/6/09.