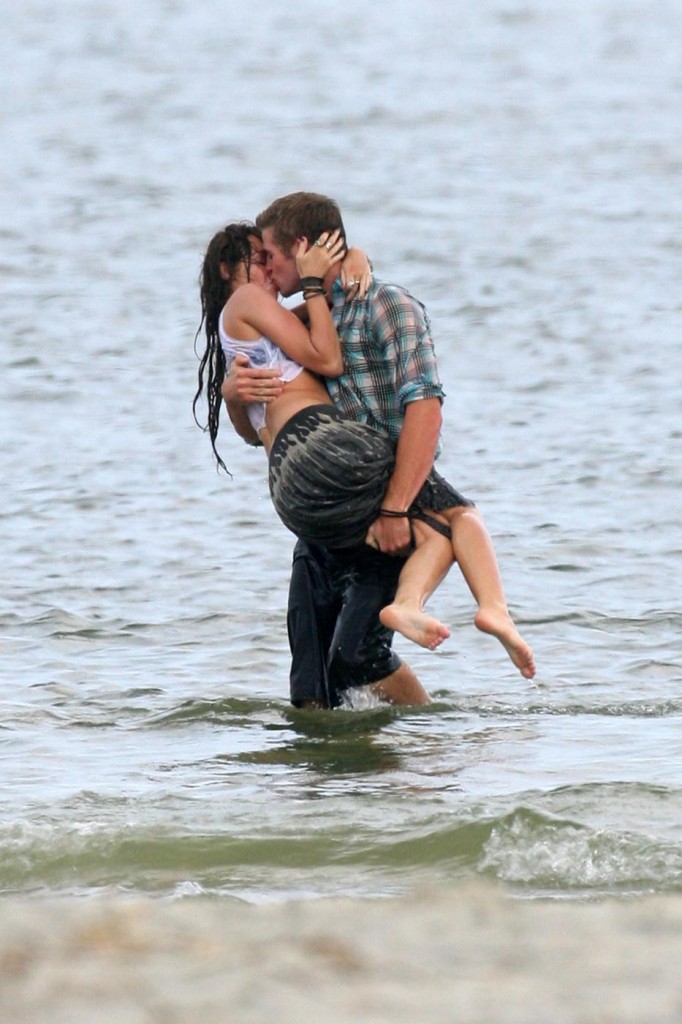 If Miley Cyrus is feeling any pain over her breakup with first love Justin Gaston, her day job is probably helping her get over it. Cyrus was photographed making out with her on-screen costar in a scene for her upcoming film based on Nicholas Sparks' novel, The Last Song. Drenched in water and wearing a white t-shirt, Cyrus looked a little too grown up for her franchise's tween fan base. She's no doubt branching out into more adult roles.
Miley Cyrus was caught kissing a boy today!

Nope, not Nick Jonas or Justin Gaston. She puckered up to Liam Hemsworth. But it's no real-life romance…
It was all business. The 16-year-old Hannah Montana star was spied locking lips with the Australian actor while filming a scene for their new movie The Last Song, a drama from The Notebook author Nicholas Sparks about a rebellious teen girl who is sent to live with her estranged father.

Yeah, Hemsworth plays Ms. Miley's love interest. The two kissed while Hemsworth lifted a wet Cyrus out of the water and into his arms. Shooting began today in Savannah, Georgia.

"I got a hot boy," Cyrus said of Hemsworth when I talked to her last month.
She added, "Not bad to look at for the summer."

When asked at the time if they had any kissing scenes, she smiled, "I don't know. Maybe."
Guess we know the answer to that now.
[From E! Online]
Yesterday Miley tweeted that she wasn't dating her co-star Liam but that her job definitely didn't suck. She also said she was in love… with Savannah, GA where she's filming, and sent a secret message to someone she's thinking of. Nick Jonas, maybe? It's hard to tell.
Miley Cyrus
i am not dating liam! we have a kissing scene on the beach today 🙂 im just working 🙂 not a bad job huh? haha
Updated about 9 hours ago via mobile web Permalink

I smiled today. I'm making progress. =] I'm… happy! GA is wonderful! I think I'm in love all over again – with Savannah =]
Updated about 8 hours ago via web Permalink

I can't sleep….. I miss you… yes YOU. Not the "you" that you think i "love" but YOU….
Updated about 3 hours ago via web Permalink

The one who sing's to me Dave Barnes while I put on make- up that you think I DON'T I need. YES, YOU.
Updated about 3 hours ago via web Permalink
[Miley's tweets in reverse order via Celebrity Tweet]
Ah, to be 16 again. It also wouldn't hurt to have a billion bucks in the bank and a job where you get to make out with hotties. Maybe it was really cold and she had to do a bunch of takes, though. It couldn't have been as easy as it looked.
Miley's dad Billy Ray Cyrus has confirmed that her popular Disney show, Hannah Montana, will be concluded next year and that filming for the final season will start in January. Billy Ray praised his daughter for the work she's going to put into ending the series for fans:
Quite frankly, I give a lot of credit to Miley for taking it to another year," Cyrus said. "She didn't want it to just end with whatever was the last episode we did. She wanted it to build to where there's a moral to the story, to where it doesn't just end and go away and that's it. She wanted there to be an official ending to 'Hannah Montana.'"
[From MSNBC]
Miley seems to be aiming for a film career that helps her escape from her teen star image. She's been heading in that direction for some time. I like Miley and hope she's successful. She seems to be a little too flippant at times, but that just goes with the territory when you're a teenager.
Photo credit: Bret Thompset/Pacificcoastnews.com