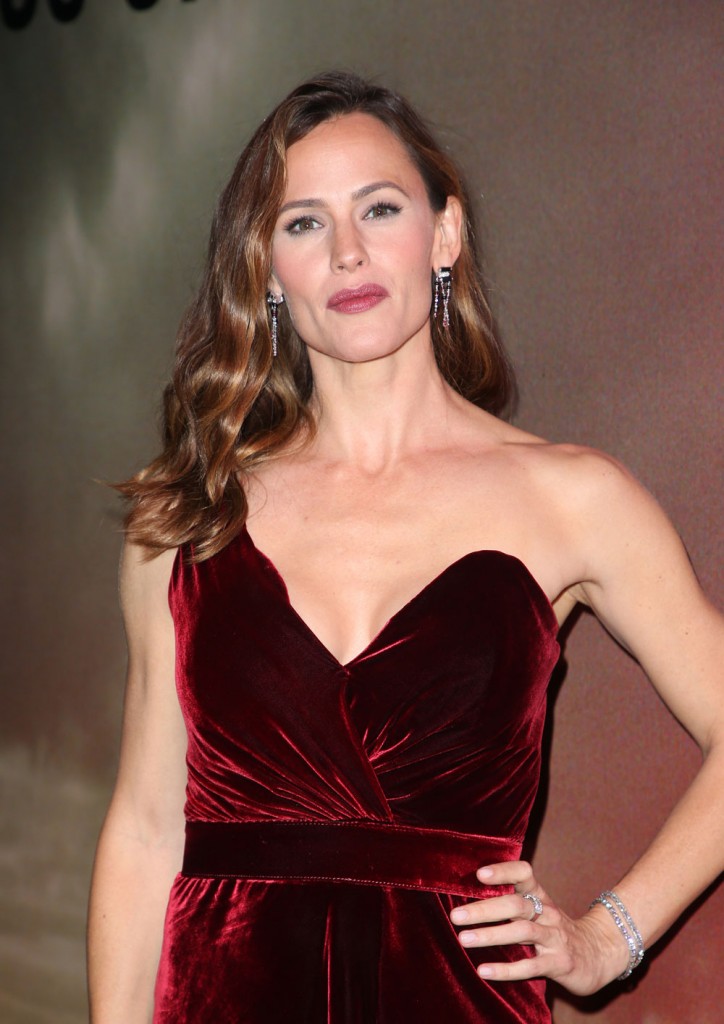 Above is a photo of Jennifer Garner at premiere of her film The Tribes of Palos Verdes over the weekend. She's wearing a cranberry velvet Johanna Ortiz gown with several edits, as you can see from this Instagram by The Fashion Court. The original dress had an entire right sleeve instead of just one wide strap and it was also even at the hem instead of asymmetric. Plus it had a giant bow at the waist instead of a belt. All of these changes made the dress so much more staid and it's a lovely look apart from the green velvet platform shoes. Garner could have chosen worse shoes and she often does, but the green and red are a little too Christmasy for my tastes. Still this is a gorgeous showing from her.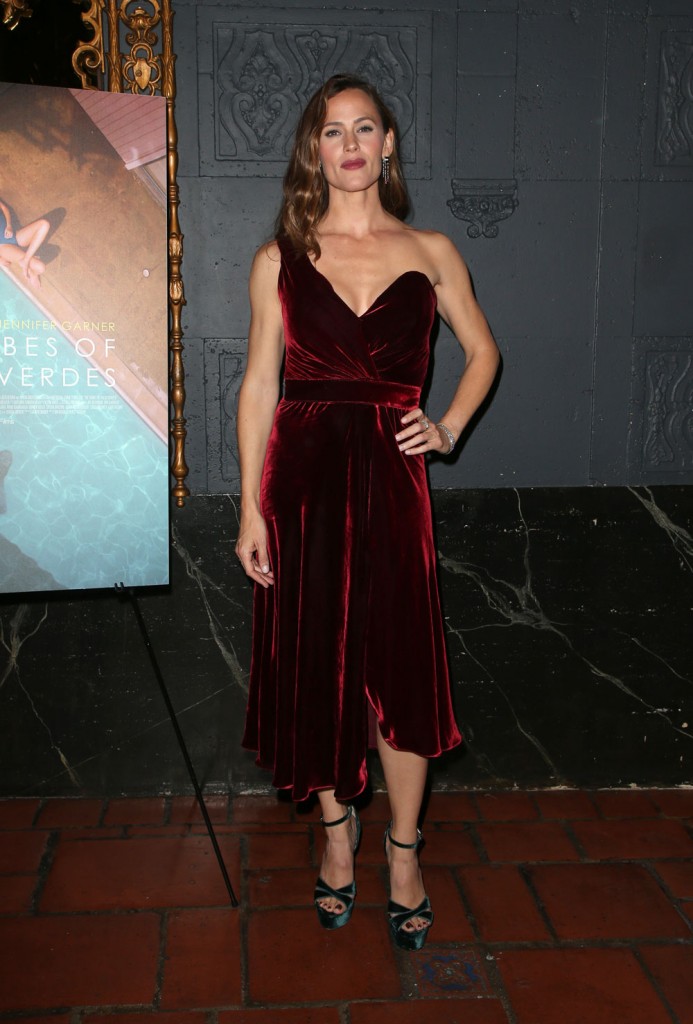 Garner did an interview with News.com.au that a tipster sent us. It's hard to tell the context as there are no questions listed in the text and I wonder if some of these quotes are embellished. It just seems too candid for her. (People magazine has picked it up as well.) She allegedly goes into depth about the issue of sexual assault and harassment in Hollywood. Part of what she says is point on, but then I found myself shaking my head "no" at some of it. Read what she told them and see if you have a similar response.
"I would not have chosen this life for myself or for my kids. I would not choose to be single or be in this position. It's something that we are working through. I haven't been on a date and I am not interested in dating," she tells news.com.au, shaking her head. "People want to set me up and I am just like, 'No thank you!'"

The estranged couple are co-parenting their three children: Violet, 11, Seraphina, 8, and Sam, 5. With two daughters to raise, she must consider the conversations she will have about men.
"We can't lump all men into [the same category]. We can't just assume that every man has done something awful or that every man is guilty; due process is important and has to take place."

On the subject of whether we are at a sexual abuse and harassment tipping-point, Garner says earnestly, "Things have to come out in the open in order to be dealt with, and this is definitely one of those times. It's messy, it's not pretty, but a wound when it's healing is a horrible thing to look at and to be around," she says. "That is where we are. There are a lot of really smart people asking tough questions, and I feel excited to see what the outcome will be.

She leans forward, asking, "Did you read about the agricultural women workers? They said, 'We stand in solidarity with our sisters in Hollywood.' That really touched me because it felt, 'Okay, it's not just a bunch of solipsistic navel-gazing actresses.' It's really important conversation to be had.

"We need to be talking about how to educate and protect our young women and how women can do a better job of standing together. Women need to be there for each other so that we're a more of a force. When you are siphoned off or siphoned off by yourself, you're not that scary. Except for me." She smiles. "I am pretty scary…"

I tell her that Affleck continues to gush about her maternal skills, describing her as the best mother in the world. She says simply, 'That's nice.'" But on the subject of being a 'super mum,' she adds, "I don't know about that. You'd have to ask my kids. If you had the Affleck kids here, they would say, 'Well, first of all, she was with you today instead of picking us up from school!'" She laughs. "Kids are tough on you."

Despite how she feels about her estranged husband, her family comes first. "We will all be together for Thanksgiving. I love Ben, I wouldn't want him to…." she trails off.

"We will be together with our kids and give them a special Christmas. We get along really well and it's not an issue. We are friends; we can manage it."
Notice when the topic of her family and kids comes up (presumably) that she goes into the "not all men" spiel and talks about men needing due process. There's video of her estranged husband, Ben Affleck, behaving wildly inappropriately with two different talk show hosts, the evidence of which he now refuses to acknowledge. (He did apologize for one incident but has since mischaracterized it as grabbing a woman's breast while hugging her. I'm just saying.) Also, I read that letter of solidarity with Hollywood victims that the women farmworkers wrote too and I found it touching. It would never occur to me to denigrate the actresses while describing how women of less privilege are supporting them. Garner says that the farmworkers are "not just a bunch of solipsistic navel-gazing actresses." These actresses are not only her peers, they're telling harrowing accounts of assault, harassment and rape. This is not the time to call them out for being egotistic. She knows how to couch all the rest in the right language and sentiment so it sounds like she's saying the right thing. She's somewhat like her ex in that way. They made a great team and still do. Again, if this is a legitimate interview, she's still pulling for him and his image.
Garner also discussed her holiday plans in an interview with Extra and how she walks her chickens. Of course she walks her chickens on harnesses and loves to cook and bake. She's just like us, right?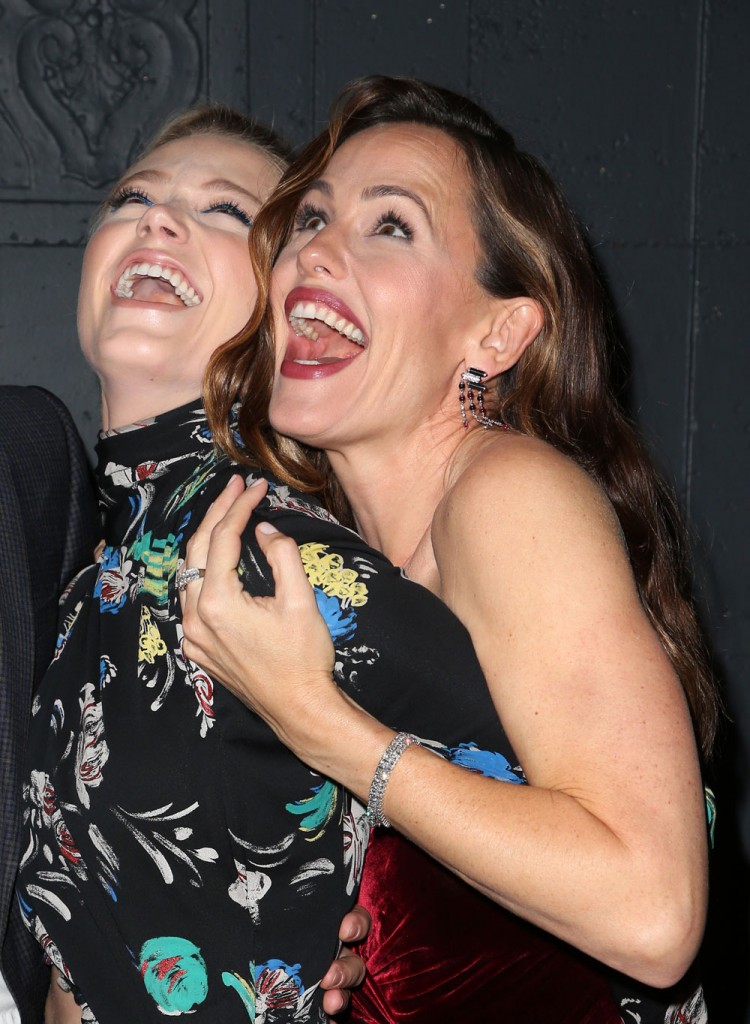 photos credit: WENN.com and Instagram/Jennifer Garner