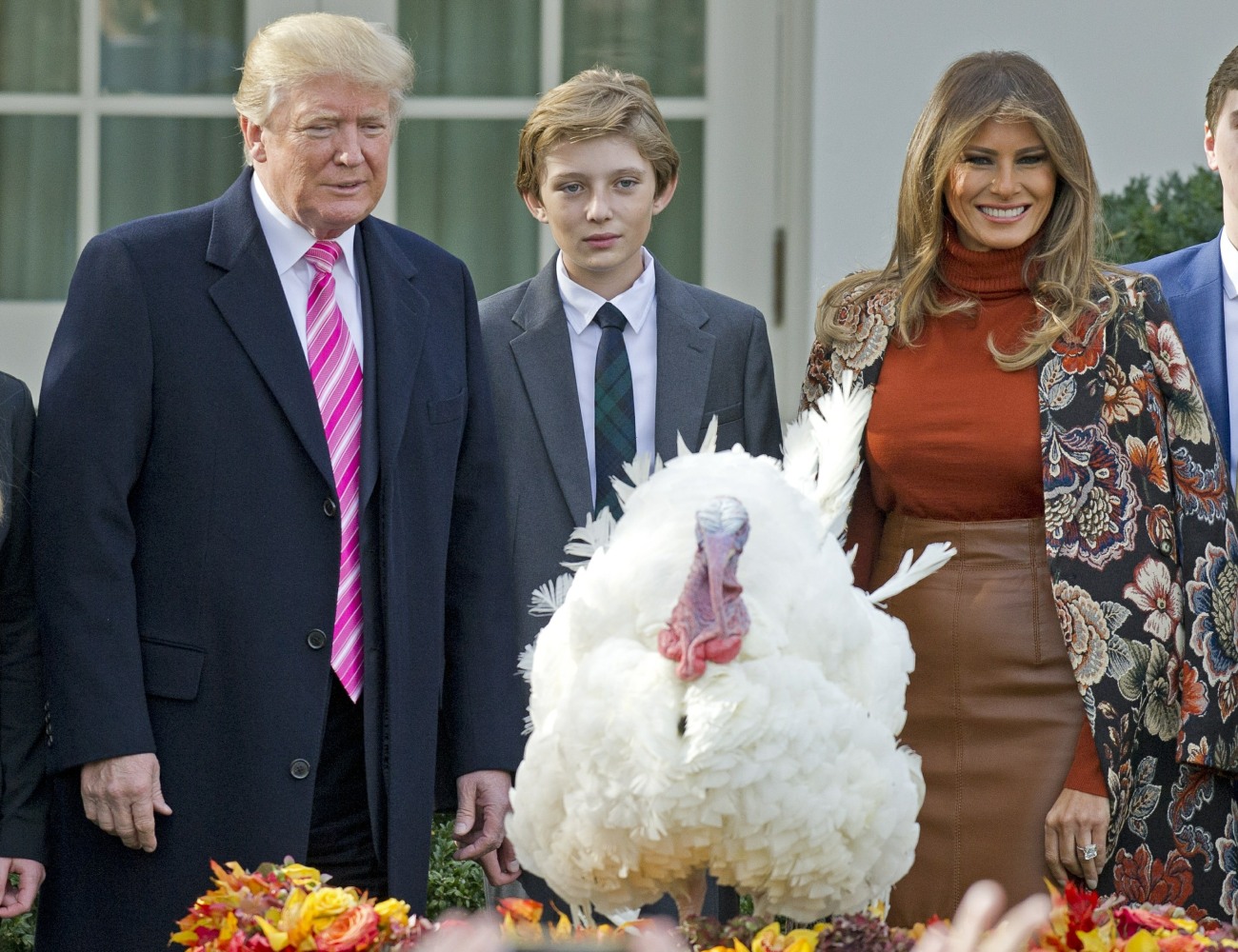 The White Supremacist Turkey known, at times, as Emperor Baby Fists, Bigly, Agent Orange, The Bloated Dumpster Fire and Donald Trump pardoned a large fowl at the White House yesterday. It's an annual tradition now for presidents to "pardon" one or two turkeys before the Thanksgiving holiday. The turkeys are sent to a farm to live out their days in peace, without being eaten. The last pardoned Obama turkeys, Tater and Tot, are still on the same farm, Gobblers Rest, which sounds like some kind of clever euphemism for The Turkey Is Dead, Kids. Anyway, because The White Supremacist Turkey is awful in every single way, the turkey pardon became something awful and awkward, because of course.
The best quote was probably, "I feel so good about myself doing this," which is what he said after he asked the turkey handler if he could touch the turkey. He was literally stroking the turkey (not a euphemism) as he praised himself and talked about how good he felt. I'm surprised Melania didn't shiver and then barf a little bit into one of the bushes. There were also some awful jokes about "strange birds" coming in and out of the White House (should have been "strange Russian birds") and a "joke" about dismantling every Obama initiative.
On Tuesday, the White Supremacist Turkey also took a moment to endorse a child molester for higher office.
President Donald Trump discounted allegations of sexual assault against Alabama Republican Senate nominee Roy Moore and said Tuesday that voters should not support Moore's "liberal" rival. Trump addressed the swirling controversy surrounding Moore for the first time since top Republican leaders called on Moore to step aside more than a week ago.

"We don't need a liberal person in there," Trump said of Moore's rival, Democrat Doug Jones. "We don't need somebody who's soft on crime like Jones."

Trump said he will announce next week whether he will campaign on Moore's behalf. Trump spoke to reporters Tuesday at the White House before leaving for a Thanksgiving break at his Mar-a-Lago estate in Palm Beach, Florida.

Trump dismissed questions from reporters about him backing a man accused of sexual assault over a man who is a Democrat. He pointed to Moore's assertion that the candidate did nothing wrong. "Roy Moore denies it, that's all I can say," Trump said. "He denies it."

He also noted that the allegations came from behavior alleged to have happened decades ago.

"Forty years is a long time," Trump said, questioning why it took so long for Moore's accusers to come forward.

Trump was also asked if he had a "message to women in this pivotal moment on sexual assault." His response, as compiled in the pool report and other accounts: "Women are very special. I think it's a very special time, a lot of things are coming out, and I think that's good for our society and I think it's very, very good for women, and I'm very happy a lot of these things are coming out. I'm very happy it's being exposed."
I really feel like I'm in the Twilight Zone sometimes, don't you? The fact that this known and admitted sexual assailant, a man who brags about sexually assaulting women, is endorsing a child molester is really f–king bad. But he's endorsing Roy Moore by claiming that Moore's Democratic opponent, Doug Jones, is "soft on crime." CHILD MOLESTATION IS A CRIME. SEXUAL ASSAULT IS A CRIME. Roy Moore committed multiple criminal acts according to multiple victims. Donald Trump committed multiple criminal acts of sexual assault, according to multiple victims. But no, Doug Jones is the one who's soft on crime.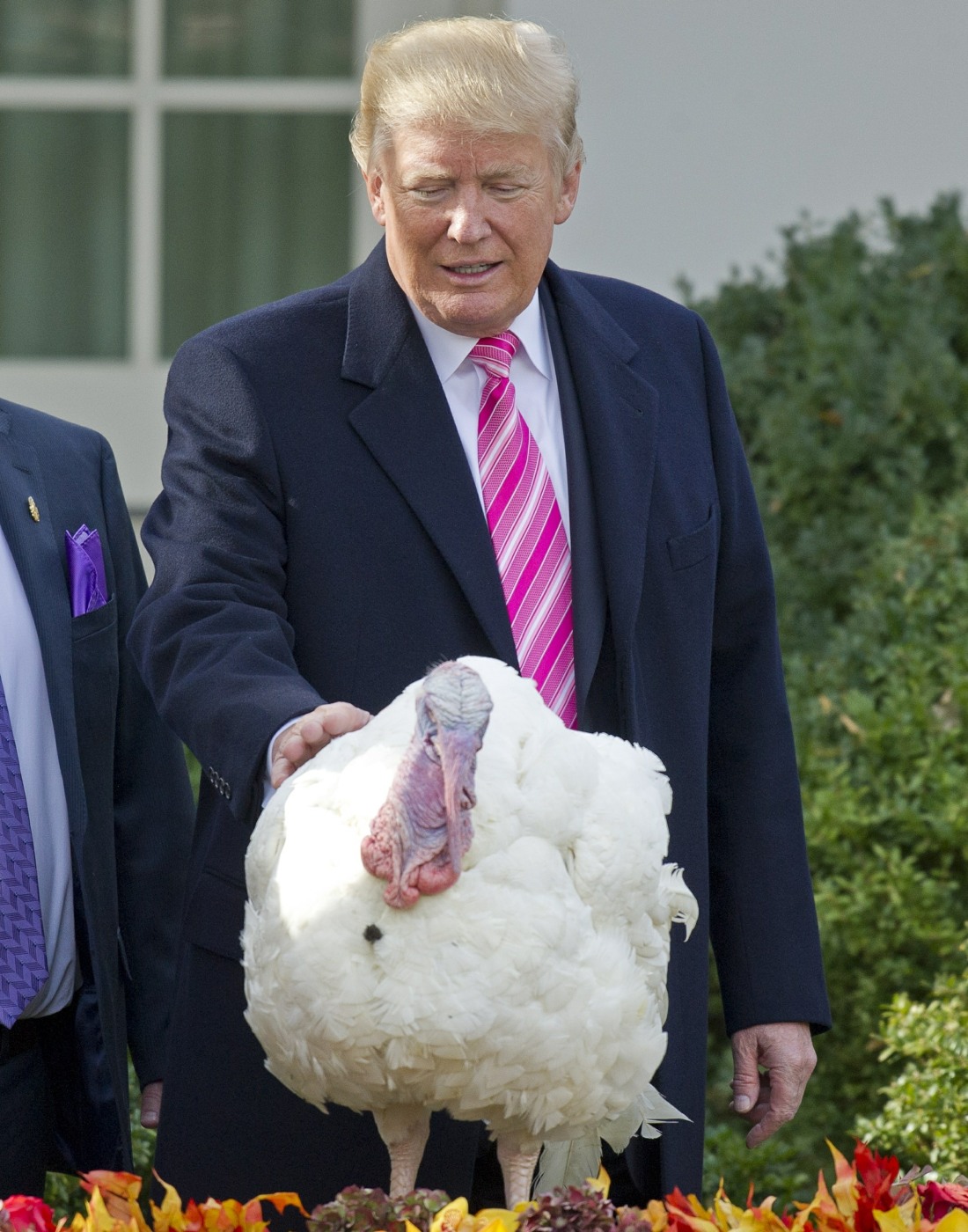 Photos courtesy of Backgrid.