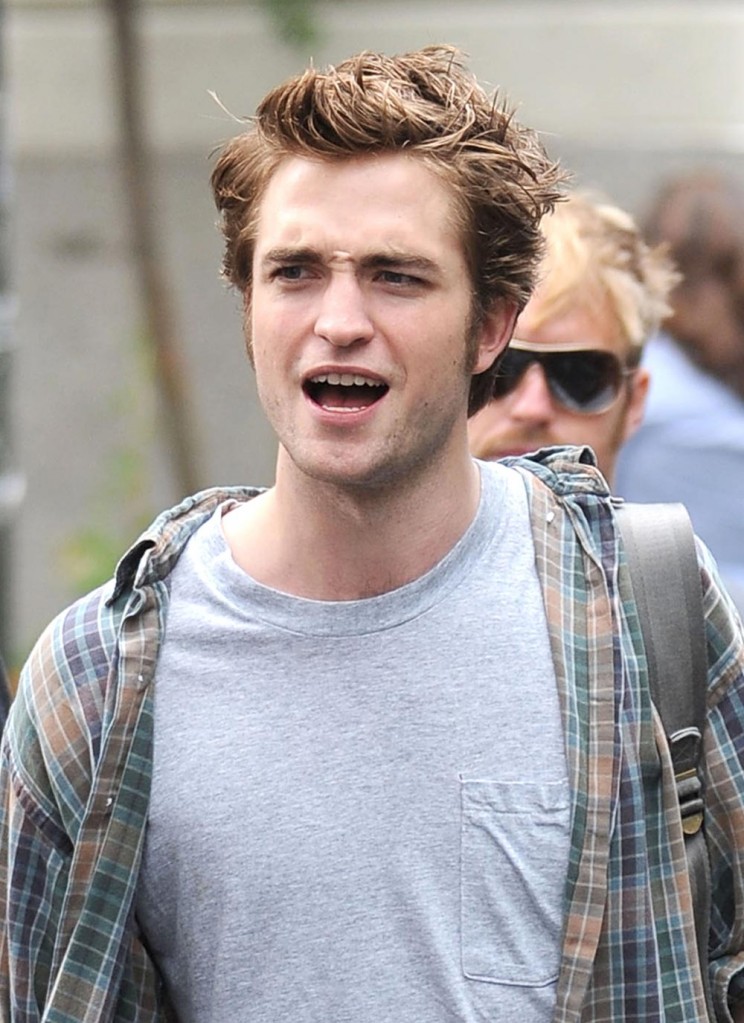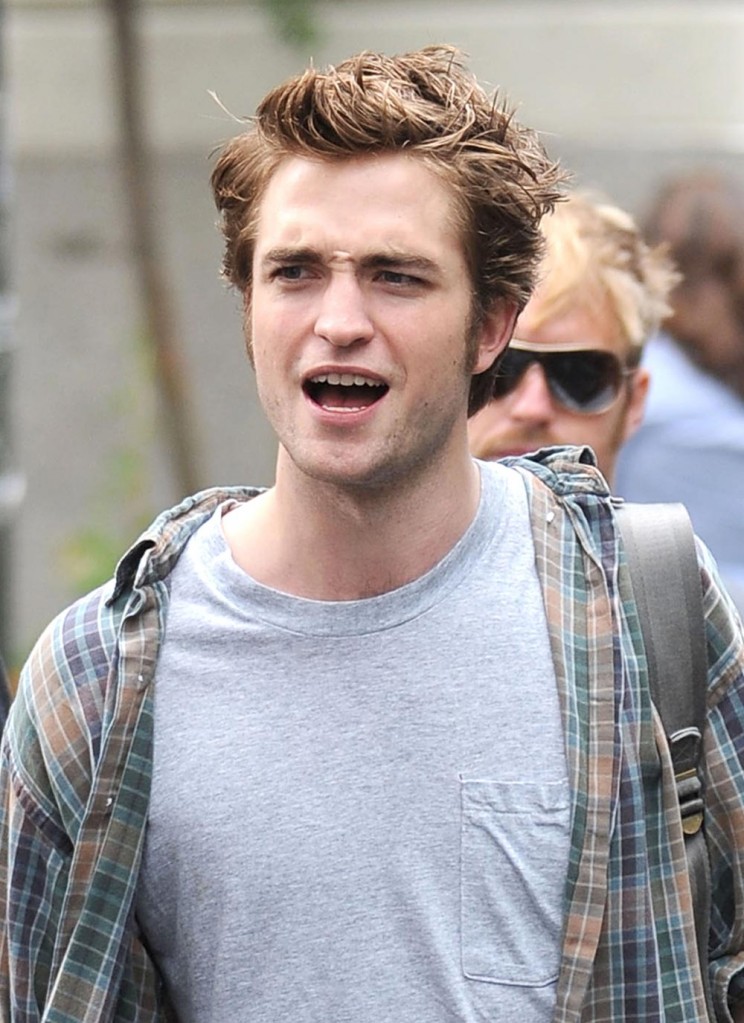 Poor Robert Pattinson. The Twihards have found their Teen Beat heartthrob, and they are going to stalk the young man into an early grave. It seems Robert Pattinson officially arrived in New York last week, and he began filming his new drama Remember Me (with cutie Emilie de Raven) on Monday. It seems over the weekend there were some mixed R-Pattz sightings, but once Robert got to the set Monday morning, the Twihards were out in full stalking force.
According to OK! Magazine, Robert was "overwhelmed" by all of the girls (and probably a few guys). The Twihards were heckling him, trying to get closer, trying to get his attention, trying to touch his filthy hair. While Robert was walking with his bodyguards, a random Twihard even got close enough to Robert to lunge, grabbing him around the neck in a haphazard embrace.
Dozens of photographers trying to get a shot… Adoring fans screaming out his name in the middle of a scene… Minor technical difficulties and an undersized crew… Considering all that could have gone wrong on the first day of shooting for Robert Pattinson's new film, Remember Me, things seemed to go pretty well on Monday. But that didn't seem to stop the superstar from becoming more than a bit overwhelmed by it all.

"You could tell it was all starting to get to him, especially the hecklers," one on-set source reveals to OK!. "He's been as friendly as possible to everyone; he even nicely brushed off a swarm of girls trying to get a picture with him, but after all the commotion, he needed to take a break for some personal time."

Indeed, at one point between takes, Rob walked off by himself for a breather. "He sat down by himself, put his head between his legs and took a few deep breaths," says the source. "But after that, it was right back to work — very professional."

Monday was only the first of more than 30 days of shooting for the film, almost all of which takes place in Manhattan. Later this week, the cast and crew will be moving indoors where they can hopefully get some more peace and quiet… so long as they don't go out for lunch!
[From OK! Magazine]
Poor kid needs a Valium. I should note that in every report I've read, Robert comes across as a real gentleman. Most outlets are reporting that if he has the time, he stops for pictures and gives autographs to fans, and is generally a really nice guy. I feel Manhattan Twihards will destroy my boy's gentle countenance, though. Especially if they keep lunging at him.
Robert Pattinson is shown on set yesterday in NY. Credit: FPZ/Fame Pictures. The crowd picture is credit: ANDERSON/VILA/bauergriffinonline.com