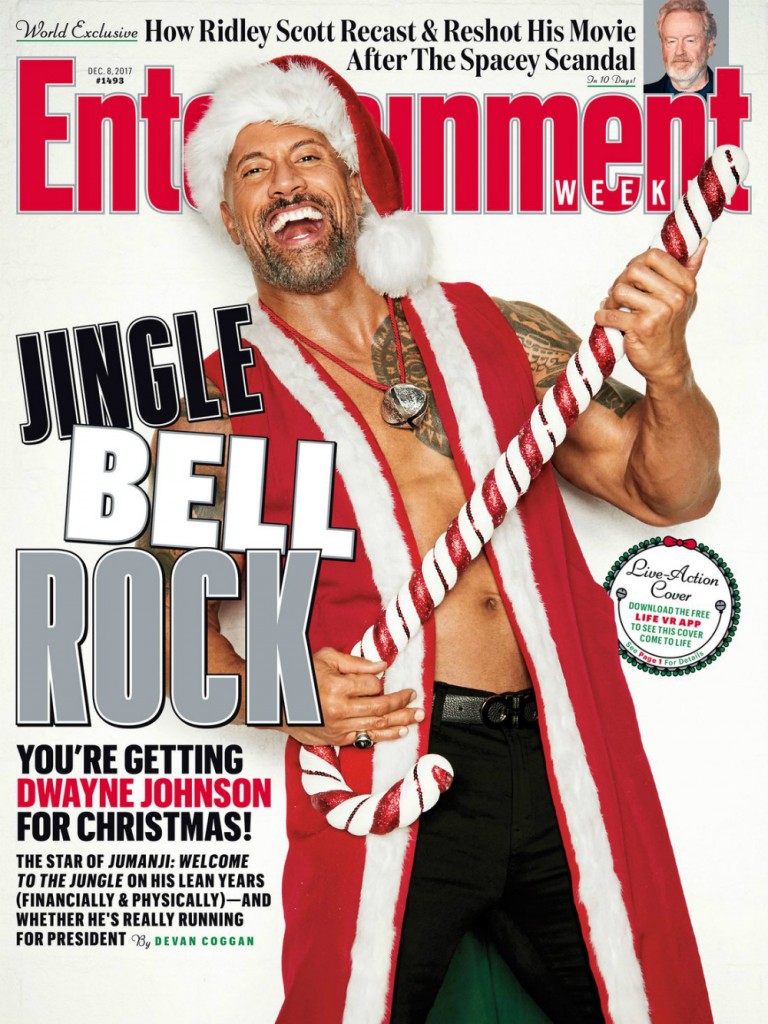 Who would like The Rock rocking out in the privacy of their own home? Show of hands. Okay, so maybe you don't get your own 6'5" clone of Dwayne Johnson but if you follow the steps listed in the video below, the new Entertainment Weekly cover comes alive and it's pretty cool. Once you are done with having The Rock serenade you, you can read his new interview promoting his latest film, Jumanji, that opens Dec 20th. In it, he talks about what motivates him and how he's evolved throughout his life to become the person he is today.
Whether he's blowing up the box office or just your social media feed, Dwayne Johnson has earned a reputation as Hollywood's happiest and hardest-working leading man. Now, he's spreading holiday cheer as the star of EW's new cover, opening up about his past struggles, current triumphs, and future plans.

"I've realized that the No. 1 thing that keeps me motivated and positive is operating like my back's against the wall," Johnson tells EW. "Because when my back is against the wall, I feel like there's only one way to go: You've gotta go forward."

"I feel like these days, having lived a bit, I'm on my fourth level, and I have a little bit of experience underneath my belt," he says now. "There's a greater level of self awareness that I have. Who I present to the public and who I am at home, I try to make sure they're as closely connected as possible because I realized some time ago that the greatest and most important thing that I can be is just me."
I get what he's saying about working with your back against a wall. I can't say I stay positive but I become a lot more efficient in my solutions. I've always worked well under stress – some think better – but at my age now, I can feel the effects of it so I try everything I can to avoid it. But I love what he said about understanding that the best version of himself is when he is truly being himself. I swear realizing this is why my 40s have been my best decade yet. And I do think this works in everyone's favor. Like with The Rock's humble-bragging – I believe that's who he is and it makes it a little less eye-rolly. Plus, his stories always hit me in the feels so I hope he never stops. Speaking of The Rock making me emotional, he posted this on Thanksgiving:
Wow – see? Feels *pow*
In other news, The Rock's daughter, Simone, has been named the very first Golden Globes Ambassador, which is the new name of the former Miss/Mr. Golden Globes that hands the statues to the presenters during the ceremony. I kind of like the new title. Also, his skull tattoo is finished. It's an impressive bit of work and when you read his description of it, it becomes even cooler. I have no tattoos but I appreciate how personal they are to those who have them.
Here is how to make The Rock come alive:

What's that? You want a hug? Aw, okay – bring it on in
Embed from Getty Images
Photo credit: Entertainment Weekly, Instagram and Getty Images