Warning: this post contains major spoilers for the fall finale of This is Us
First off, whichever television executive came up with this "fall finale" thing needs to be strung up by their pinkie toes and left to ponder what they've done wrong. I, like many of you, have once again gotten fully, emotionally immersed in the trials and triumphs of the Pearson clan on This is Us. Right before the holidays, I'm left with so many unanswered questions. Thanks, NBC.
On Tuesday, we were treated to the last part of a three-part trilogy dealing with the "Big Three," both in the present and on that fateful night when Kevin sustained his football career-ending injury. This week's episode focused on Sterling K. Brown's Randall, and in my humble opinion, it was the best of the three. Heck, I could watch a whole season of Randall just telling dad jokes. Anyone else?
Unfortunately for Randall and Beth, their foster child, Deja, goes back to her birth mother, who was released from prison (the charges against her were dropped). Randall and Beth initially vow to lawyer up and fight the mom from That 70s Show in order to gain custody of the girl, but, thanks to a flashback, Randall changes his mind. He recalls how his father William stepped back and let Randall live his best life with Rebecca and Jack. He then bids a fond farewell to Deja.
Of course, no episode of This is Us can come without some pathos, so cue Kevin, who gets busted for a DUI with Randall's daughter Tess in the car (yes, he was unaware that she was hiding in the back seat, eager to talk about her family troubles wit her Uncle Kevin). Randall is not happy, and Beth is fuming, so I'm sure the Pearson Family Christmas is not going to be a festive occasion. On a lighter note, Randall and Beth haven't been put off by the fostering process to not do it again, so there's that – and an adorable little boy who just happens to be going through the system at the same time. Hmmm.
When asked by Vulture about the last episode, Sterling talked about having to say goodbye to Deja, played by the wonderful Lyric Ross. He also danced around what we can expect from This is Us in 2018:
Was it hard for Randall and Beth to let Deja go?
Oh yeah. I don't know how to engender an emotional response to someone outside of the way in which I authentically feel about them. Most of my job is developing a relationship off-camera and, in doing that, I have something that I can authentically play on-camera. I don't have to force it or anything. The relationship is there. I just have to say, "Sterling has to say good-bye to Lyric. Sterling doesn't want to say good-bye to Lyric. Randall doesn't want to say good-bye to Deja." That's how it works for me.

On that adorable boy in foster care:
He's very cute. He's a very cute little boy! And I do know that Randall is eager for the possibility of getting a little bit more testosterone in the crib. So, yeah, we'll see. That's pretty much all I can say. I tell you what, the payoff is gonna be worth it. It's gonna be good. It's a good payoff.

On how he feels the show is different in season two:
I feel like the show is really doing some wonderful things, and also making sure that everyone gets their shine. I personally herald my brother Justin Hartley and the tremendous work that he is doing this season with Kevin facing addiction and fighting through what that is all about.
As for Kevin, Justin Hartley, told Entertainment Tonight that his storyline isn't going to be tied up in a neat little bow anytime soon. He warned:
I will tell you that it's not in Kevin's personality to reach out and ask for help. It's Kevin's personality to bury things and try to deal them on his own. I know people who have gone through this kind of thing and this is not something that you can possibly kick on your own. You need a group, you need help. For him to think that he can kick this on his own is a bit much.
I can't believe we are going to be left hanging until 2018. Let's hope for more Randall, Beth and (a hopefully expanding) family when This is Us returns for the second half of the season – in a post-Super Bowl episode. At least we can all stock up on tissues before then.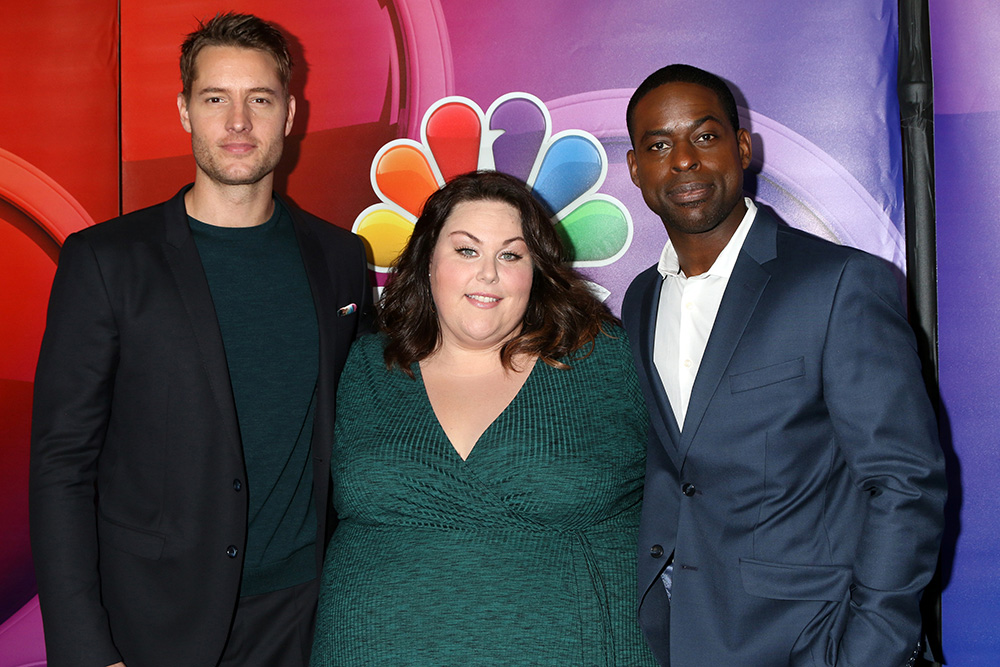 Photos: Getty Images, WENN.com