I don't know about you but I am loving Pink's Beautiful Trauma album. What About Us is so far my favorite but the titular song is making a strong run for #1 with me. Pink is out and about promoting the album. She recently spoke about how she and husband Carey Hart were trying to avoid the traditional gender roles for their two kids, calling their household "label-free." She also discussed her daughter Willow's nickname for our current president and how, like many of us, she cannot believe we are forced to live in Trump's America.
Little Willow has even come up with a nickname for the US President – who she calls Donald Duck Trumpet.

Pink said: "I don't correct her. And I should, because it's disrespectful, but it's like – 'f*** it'. I feel like we are all in this ¬permanent state of f*** it. I can't imagine being a third-grader and this being the first example of what it means to be President.

"I throw my hands up in the air every day. It's unbelievable. It's not funny at all. It's un-f***ing-believable. I want to skip ahead to the part that it's over and we start the clean-up process."
I completely understand where Pink is coming from. My husband and I, who were both raised by military officers, were always taught to respect the office if not the person who holds it. But we no longer stop our children from mocking #45, no matter how bitter they get. And yes! I just want to fast forward to the point when we are picking up the pieces from this administration *crosses fingers* please, please let there be enough left to put back together. It is such a challenge to coach your kids on how to behave when no one is holding the highest seat in the nation accountable for his behavior.
A few miscellaneous Pink tidbits: as Corey wrote about after the AMAs, Pink is over people trying to stoke a feud between her and Christina Aguilera. Apparently, they moved so far past their former feud that two years ago, they recorded a duet together for Christina's long-awaited album – oh! I can't wait. Also, if you haven't seen it yet, Pink loaned What About Us to Unicef for World Children's Day a few weeks back. Kids from across the world performed it in the video that ends with a group of them dancing in the UN. Lastly, Pink performed on Graham Norton on Friday. Also on the couch was fellow singer Robbie Williams whom she knows (now). I think I might be alone in this but Robbie Williams entertains the hell out of me, especially his interviews. He told the story of meeting Pink over email and she'd mistaken him for a chef: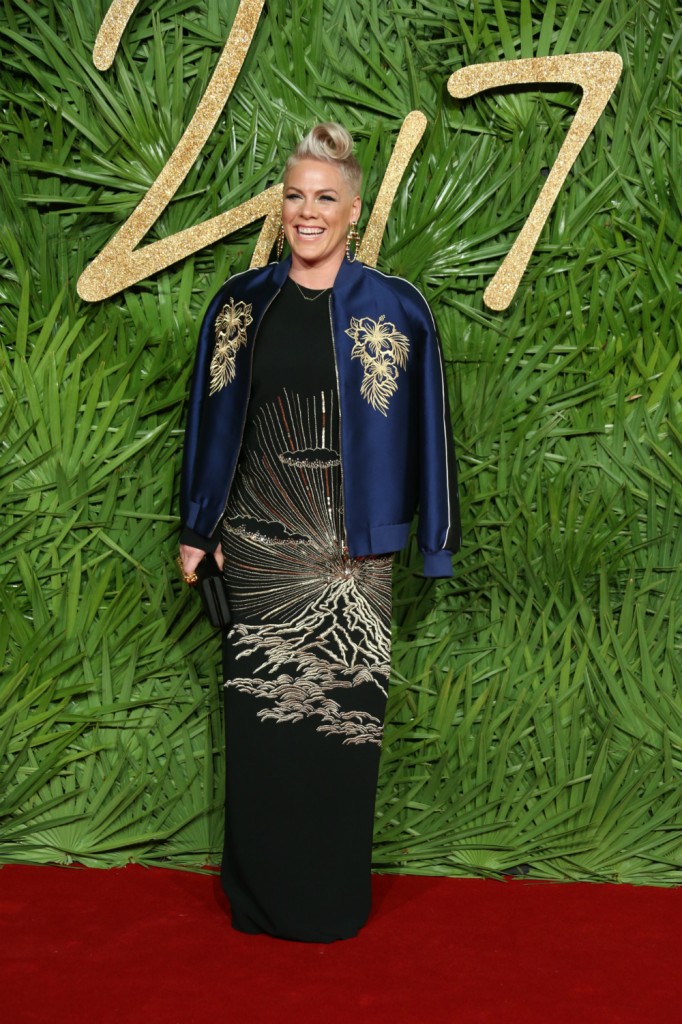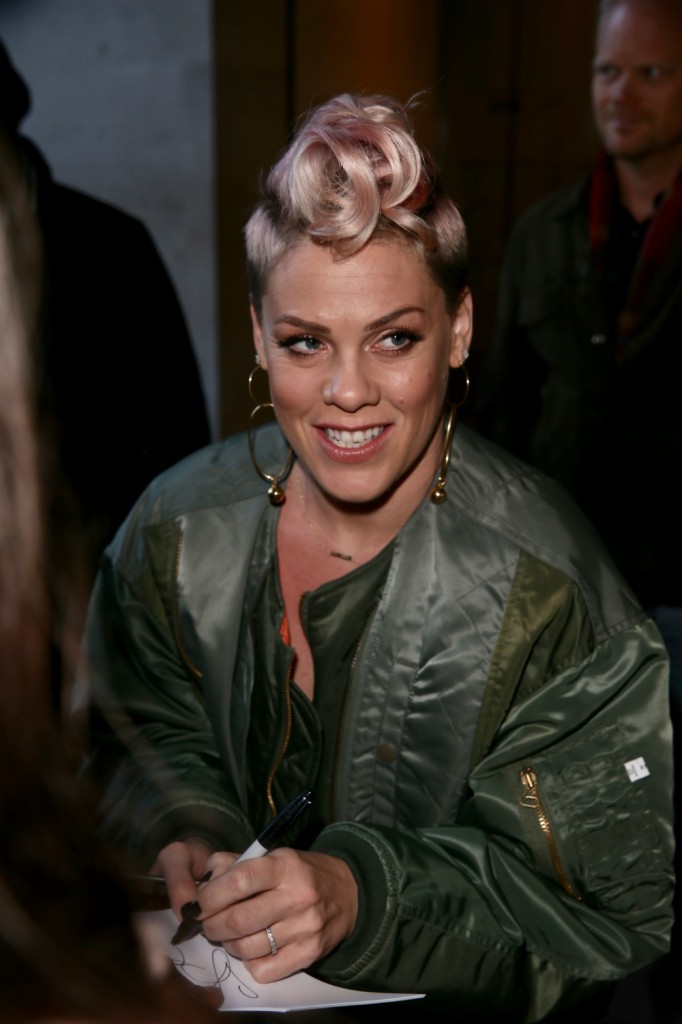 Photo credit: WENN Photos, Getty Images and YouTube