Embed from Getty Images
I'm really lucky that I don't have adult acne and that I only dealt with it as a teen. I'm pretty meticulous in my skincare but I think it's also largely due to genes and hormones. My son is at that age and I've helped him get into the habit of washing his face at night, I think that helps, and using extraction tools judiciously. (I credit Dr. Pimple Popper for teaching me about those, I know some people think she's gross but I've learned a lot about skin care from her. Incidentally you can get those tools much cheaper from Amazon. Ooh and I recently got this Retinol moisturizer in a lightning deal and I swear it is working, my skin is so nice now.)
That's all lead up to this story about Orange is The New Black's Ruby Rose revealing that she has acne just on one side of her face, from holding her phone up to her ear for hours at a time. That's awful and I feel bad for her, although I'm sure she doesn't mind the headlines. She apparently got flack from The Daily Mail and on social media after she stepped out at the Pitch Perfect 3 premiere in Australia. This all played out on Instagram stories and she's responding to criticism of her skin and her body, which The Daily Mail has reported. (I'm only going so far down the rabbit hole here, just FYI.) There are some of her posts about it below along with a recap, thanks to People!: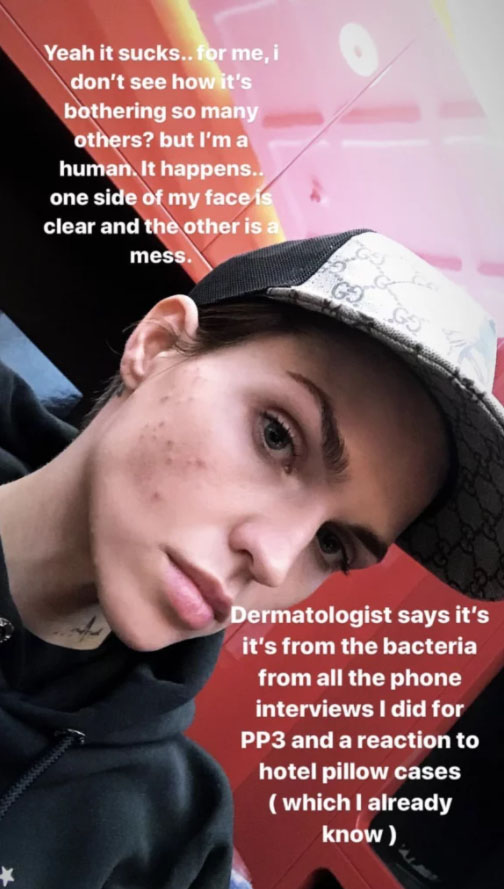 After receiving hateful comments about her skin at the Pitch Perfect 3 premiere in Australia, the star posted a series of of photos on Instagram stories Monday, sharing the reason behind her breakouts. "Yeah it sucks.. for me, i don't see how it's bothering so many others? but I'm a human. It happens.. one side of my face is clear and the other is a mess," Rose wrote.

But she already seems to know the reason behind the issue. "Dermatologist says it's from the bacteria from all the phone interviews I did for PP3 and a reaction to hotel pillow cases (which I already know)," she wrote on the photo.

And according to NYC-based celebrity dermatologist Dr. Whitney Bowe, these two factors have easy fixes. "Acne is caused by bacteria but also by friction," Bowe explains. "Rubbing anything against your skin such as your phone or a cotton pillow case can clog those pores and trigger a special form of acne called acne mechanica. A great way to avoid that is to go hands-free (Bluetooth or earbud) and to switch to copper or silk pillowcases. Copper is antimicrobial and skin slides better against silk. I suggest keeping one with you when you travel – Iluminage makes a travel pillow case. "

Rose went on to address her haters in another post that pointed out her breakouts. "This acne belongs to me, not them, and you are welcome to it," she wrote, adding that she was distraught after the Pitch Perfect 3 premiere in Australia. "I never thought I'd see the day I'd leave my beautiful country balling my eyes out … when I was so excited to come home."
One of my friends has acne and he touches his face constantly, which I assume makes it worse. I would feel like a jerk saying anything to him about it because he knows already and it's just a habit he's had forever. Plus everyone is different and a product or skincare routine that works for one person might not work for another. It's the same with things that irritate skin, some people have reactions to detergent or fabric softener used on pillows. You just have to experiment until you hopefully find something that works to treat and prevent it.
Ruby also got into it online about her body, after outlets (The DM) called her too thin and accused her of having an eating disorder. She's had this argument before and you can read about it on E!.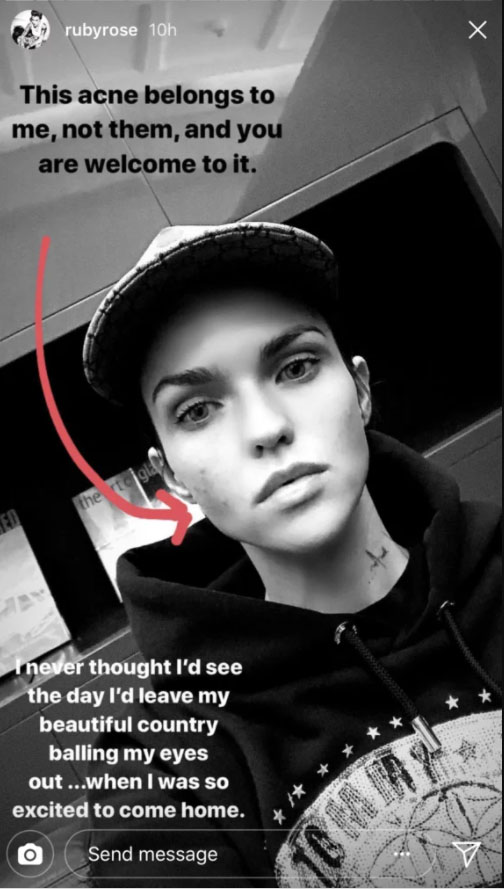 Look at the way her girlfriend, Jess Origliasso, looks at her!
Embed from Getty Images