Kate Winslet is working double-time for her Wonder Wheel Oscar nomination that probably won't come. Kate is everywhere for this film and no one else seems to be promoting it. Ah well, good luck to her on her hustle. One thing Kate will never not be asked about is Titanic, which is actually good for two reasons: 1) many people still love Titanic and want to hear about it and 2) there seems to be a lot of information we still have yet to learn. Every time Kate talks about the film, she has new stories to tell. She was on The Late Show with Stephen Colbert and he asked her some audience questions regarding the movie. One of them was about the fact that Matthew McConaughey was a frontrunner to play Jack (which I guess was known but I'd never heard that). Kate divulged, though, that she actually auditioned with Matthew for the role.
All right, all right, all right! Kate Winslet just dropped a major "Titanic" bombshell!

The Oscar winner stopped by "The Late Show with Stephen Colbert" on Thursday to answer some of the staff's burning "Titanic" questions, including whether Kate almost starred opposite an actor other than Leonardo DiCaprio.

"Paramount wanted Matthew McConaughey for the role of Jack but [James] Cameron insisted on Leo, how would that have changed things?" Colbert asked.

"I auditioned with Matthew, isn't that weird? I never said that in public before!" Kate replied.
Kate does not elaborate on how she thought Matthew would have fared in the role, which is probably wise on her part. I don't know, it's hard to think of anyone else in that role but when pressed, I could see Matthew as Jack as much as I could Leo. I have a confession though, I only half liked Titanic. I thought the stuff about the ship was great but the love story didn't do anything for me. So, they could have cast Billy Zane as Jack and I'd have felt the same.
Something else Kate said was that the famous sketch of Rose drawn by Jack in the movie was actually drawn by James Cameron himself. She said she posed for him to sketch it but she wore a bathing suit. That's kind of cool. Here is the clip where she is talking about it. I am including it because at the end, Stephen and Kate perform an alternate ending to Titanic that seems like it's impromptu and is kind of cute: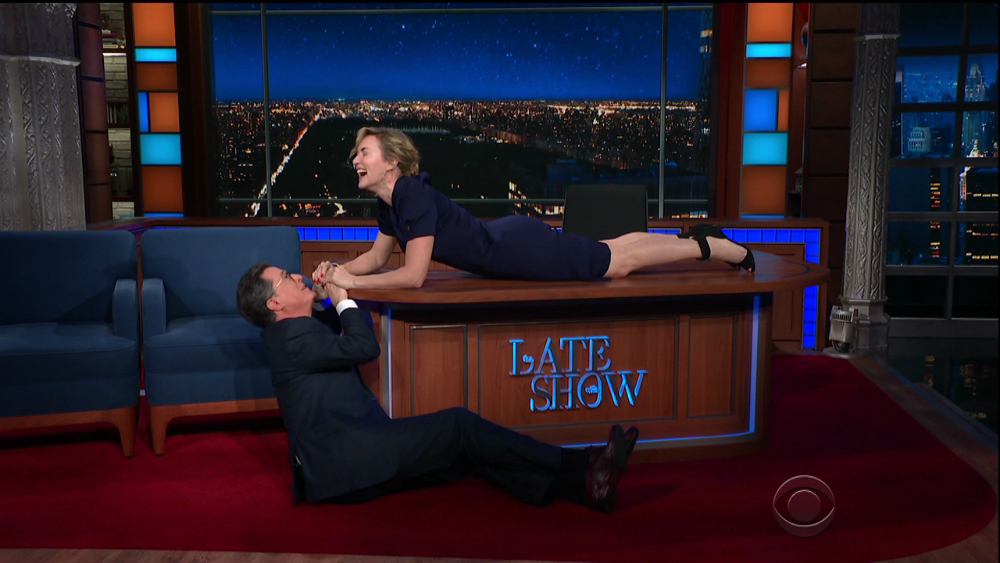 Photo credit: WENN Photos, Getty Images and YouTube