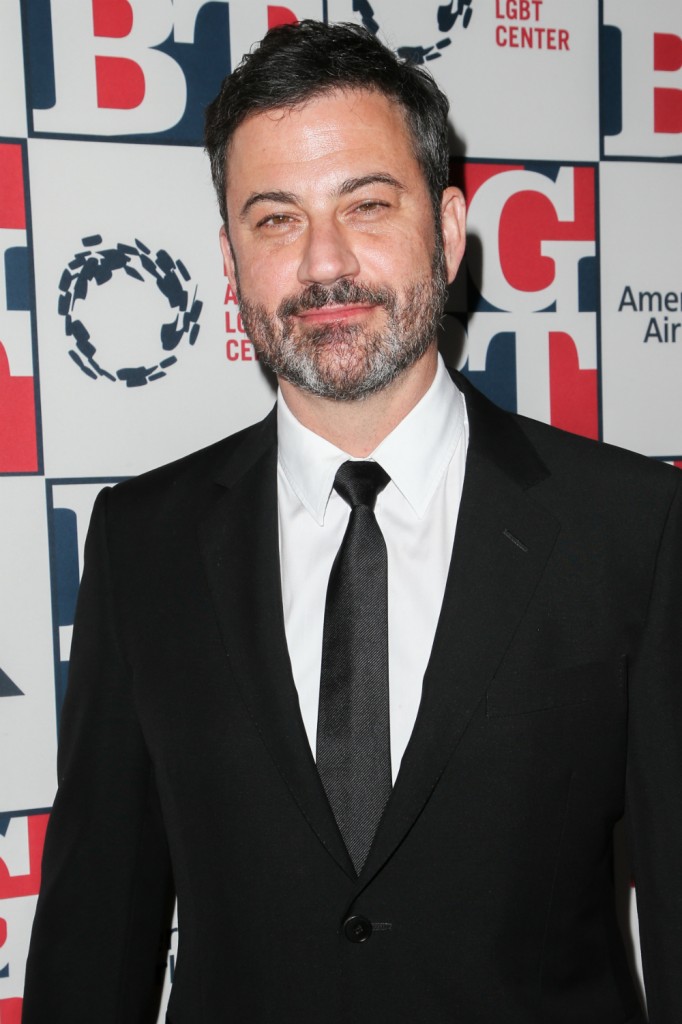 Yay! Good news. Boy, I don't know about you but I could use some this week. So, even though this has nothing to do with me, I'll take it. Jimmy Kimmel's son, Billy, was born last April with with tetralogy of fallot with pulmonary atresia. Simply stated, he has a hole in a wall of his heart. Fortunately, it was detected immediately and he had life saving open-heart surgery three days after he was born. As has been known since the beginning, Billy was going to need follow-up surgery. Originally, Billy's second surgery was scheduled last October but the family was sick so they postponed it to avoid any risks. Well, Monday ABC announced that Billy had his surgery and it was successful so, again – yay!
Jimmy Kimmel's baby boy William "Billy" John is a fighter!

ABC announced on Monday in a statement that the 7-month-old "had a scheduled and successful heart surgery this morning." The network also revealed that Kimmel is "with his family" and will have celebrity guests filling in as host of Jimmy Kimmel Live! for the week.

In Kimmel's place, Chris Pratt will kick things off Monday, and he'll be followed by Tracee Ellis Ross, Neil Patrick Harris and Melissa McCarthy. Guests include Margot Robbie, Chris Stapleton, Mary J. Blige, Amanda de Cadenet, Miguel, Vanessa Kirby, Jules Sylvester, Octavia Spencer, Dave Franco and Hanson.

Originally, Billy's surgery was scheduled in late October but had to be postponed "due to the common cold," the network said in a statement at the time.
That's a great list of guest hosts. I'm going to have to check out Melissa McCarthy's stint. Could you imagine two open-heart surgeries within seven months? All involved must be emotionally spent. Not to mention having to go through this with all the other bs going on in the world.
Speaking of the bs in the world, remember that Jimmy's wife, Molly McNearney's father lives in Puerto Rico. Turns out grandpa McNearney voted for #45. Apparently, #45's (in)action in PR changed his opinion:
My dad voted for Trump. My dad moved to Puerto Rico. My dad waited 3 hours to spend $60 on a gallon of gas to charge his phone to email me. pic.twitter.com/e7w1eQjPQ6

— Molly McNearney (@mollymcnearney) October 16, 2017
Over on Jimmy's Twitter things have been equally entertaining. Jimmy has been feuding with Alabama senatorial candidate, Judge Roy Moore. It all started when Jimmy sent a plant to one of The Judgophile"s rallies, which led to a debate between the two about Christian values:
Sounds great Roy – let me know when you get some Christian values and I'll be there!

— Jimmy Kimmel (@jimmykimmel) November 30, 2017
Despite D.C. and Hollywood Elites' bigotry towards southerners, Jimmy, we'll save you a seat on the front pew. https://t.co/z7n6uaeyCj

— Judge Roy Moore (@MooreSenate) November 30, 2017
OK Roy, but I'm leaving my daughters at home! P.S. – wear that cute little leather vest https://t.co/scweglm2Fg

— Jimmy Kimmel (@jimmykimmel) November 30, 2017
Keep up the good fight, Jimmy.
Here's the latest pic of Billy. I get that parents mostly post only flattering pictures but this kid, with everything he's gone through, is always smiling. I adore him and I don't even know him.
Photo credit: Twitter, Instagram, Getty Images and WENN Photos