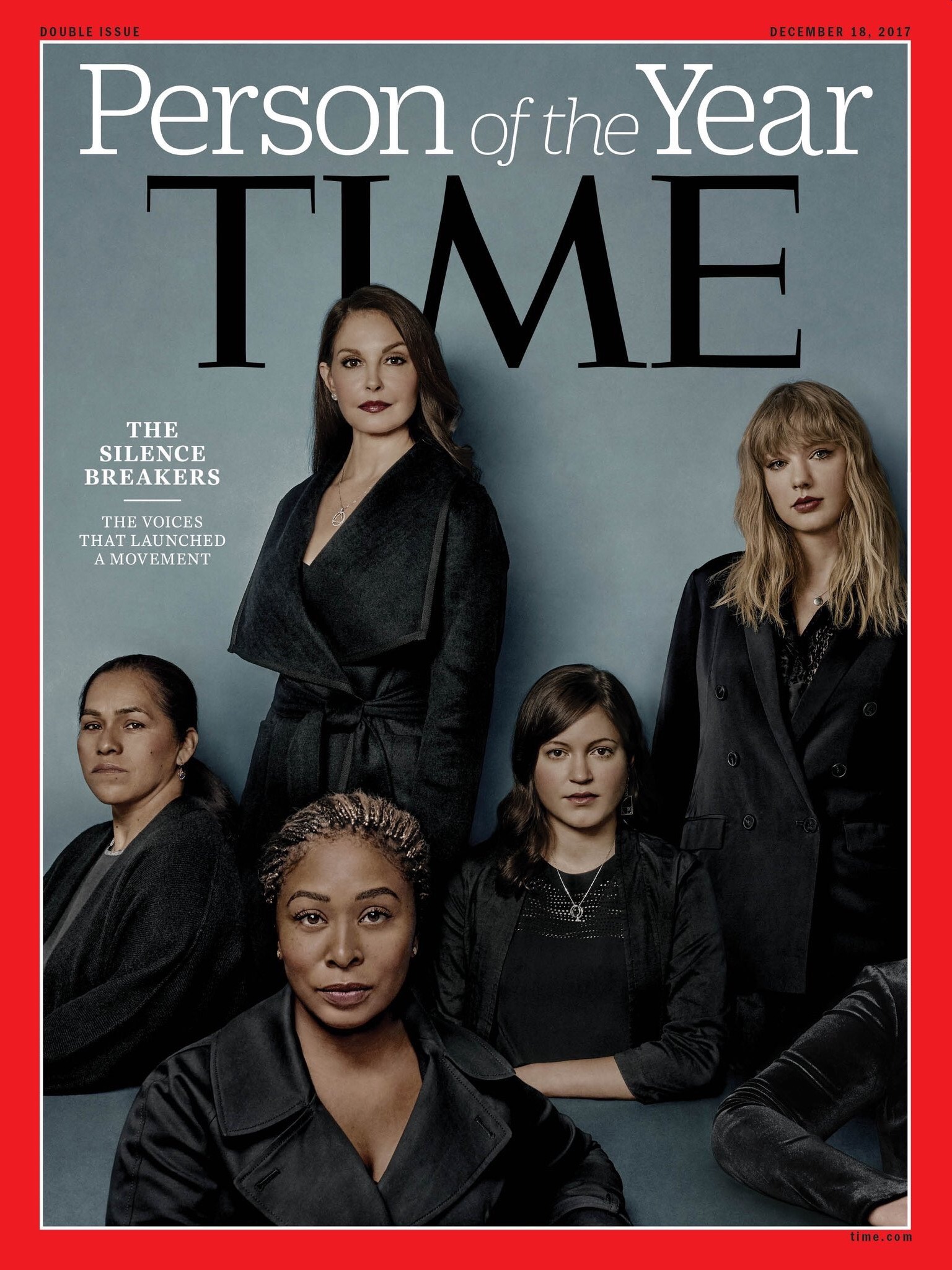 As soon as Time Magazine released their shortlist for Person of the Year, I knew who the POTY would be. It could really only be one person, or one group of people in this, Sex Predatorgate 2017. Time Magazine has labeled them The Silence Breakers: the women and men who have been abused and harassed and assaulted and raped, and who decided to tell their stories publicly, to call out their abusers in the public forum. This is the biggest story of the year, and it was the only appropriate choice.
My only qualm is who Time Magazine chose for the cover: Ashley Judd and Taylor Swift? Ashley was one of the few women willing to go on the record about Harvey Weinstein at first, so I get it. Taylor Swift took her assailant – a popular radio personality who sued her first – and she won. I understand why both women are being recognized, for sure. But on the cover? Eh. You can read Time's POTY coverage here – Time did a good thing, which was expanding the reality of sexual harassment, abuse and assault beyond Hollywood. They profiled victims in other industries and reflect on the massive cultural change around discussions of harassment and abuse just in the past year. Time did interviews with many women – across many industries – about what happened to them. Time did an interview with Taylor Swift, which you can read here. Here's one small slice:
In an interview with TIME, Swift says that moment on the stand fueled her indignation. "I figured that if he would be brazen enough to assault me under these risky circumstances," she says, "imagine what he might do to a vulnerable, young artist if given the chance." Like the five women gathered at that echoing soundstage in San Francisco, and like all of the dozens, then hundreds, then millions of women who came forward with their own stories of harassment, she was done feeling intimidated. Actors and writers and journalists and dishwashers and fruit pickers alike: they'd had enough. What had manifested as shame exploded into outrage. Fear became fury.
What I like about Time's piece is that they aren't limiting it to actresses, celebrities and some token service workers. They actually expand the story to the world of politics and media, and how many predators have been "outed" in those fields, to mixed results. I mean, Roy Moore is still likely going to win that Senate seat. Donald Trump is still president. This year hasn't been entirely inspirational, you know.
Other "runners-up" for Time's POTY include: Donald Trump, Robert Mueller, Patty Jenkins and yes, Colin Kaepernick.
Find out why the Silence Breakers were chosen as TIME's Person of the Year 2017 #TIMEPOY https://t.co/jOS7zksnw7

— TIME (@TIME) December 6, 2017
The Silence Breakers are TIME's Person of the Year 2017 #TIMEPOY https://t.co/mLgNTveY9z pic.twitter.com/GBo9z57RVG

— TIME (@TIME) December 6, 2017
Cover courtesy of Time Magazine.