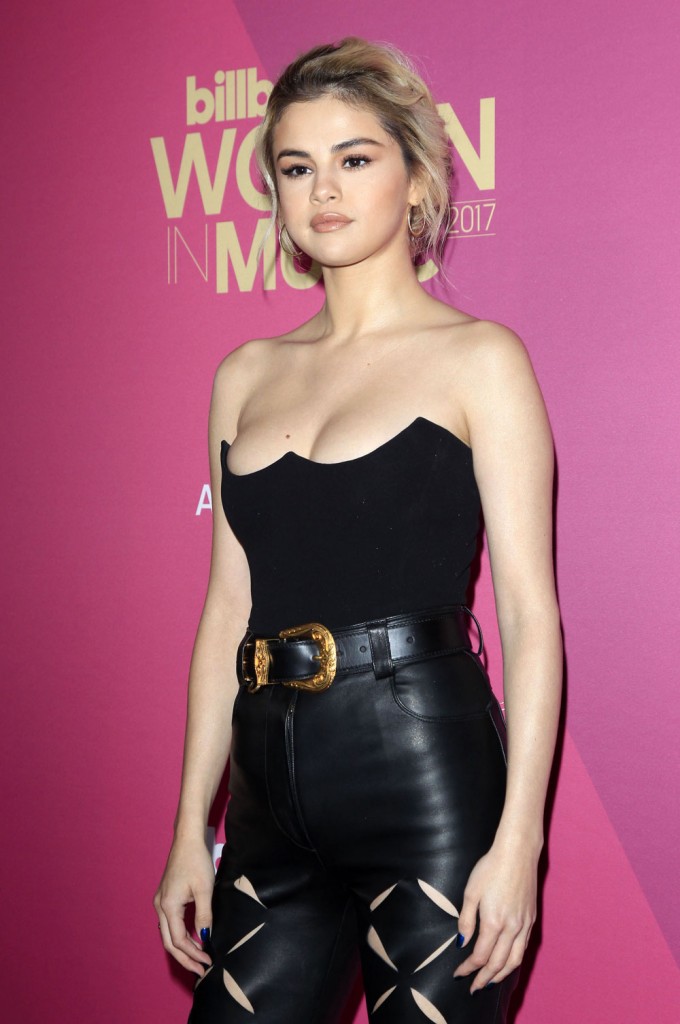 Selena Gomez was honored by Billboard Magazine as their woman of the year, for which they published a cover profile and interview with her and held a party in her honor. Selena was quite candid with Billboard, particularly about her on-again relationship with her first love, Justin Bieber, and her claim that she ended her relationship with The Weeknd as "best friends," which is doubtful. Given how many times Selena and Bieber have been on and off, and how much she previously seemed ambivalent toward him after their split (I swear "Same Old Love" is about Bieber) I would expect her to be more discreet about that. It's rather naive of her to get back with him in the first place though so I guess not.
Selena apparently took offense to the fact that the Billboard journalist noticed a huge teddy bear in her house and wrote about it. On Tuesday of this week she complained in an Instagram story about this apparent violation of her privacy, writing on top of a screenshot of that part of the article "Never will I let another human guess my words ever again. Or invite them in my home. That is so hurtful. The most 'ridiculous' part of that is no one knowing my heart when I say things."
Right after that she made her Instagram private, meaning she would have to approve each individual future follow request. However 130 million people were already following her, and apparently they weren't affected at all. Selena is the most followed person on Instagram. This was despite the fact that she took a three month social media break last year. Here's more:
People first noticed that the world's most popular Instagram account had locked out new followers around 7 a.m. ET, when major fan account @SelenaHQ tweeted out the news. Selena's fans reacted with shock and worry: "So Selena Gomez made her insta private. Guys am shook and happy at the same time. Like I want someone else to take that most followed title. So they can leave my baby alone. All the slander against her is just too much," one concerned fan tweeted. Others, however, found it funny that an account followed by hundreds of millions of people was now "private." "Selena has half of ig following her, what's the point of putting her account on private" one wrote.

Gomez flipped the switch shortly after posting and deleting a message seemingly criticizing her Billboard "Woman of the Year" profile to her Instagram Story…

The section of the article in Gomez's photo also uses the word "ridiculous," which was attributed to the "Wolves" singer. Here's that part, the article's opening paragraph, in full: "There's a five-foot teddy bear sprawled across the kitchen floor in Selena Gomez's North Hollywood home. 'I know, I know,' says Gomez, rolling her eyes, acknowledging that the stuffed animal doesn't quite blend with the trio of armchairs nestled in the inviting, marble-accented nook. 'It was a gift, and at first I thought, 'This is so ridiculous, I can't wait until I give it away to another person.' But Gomez, 25, hasn't let go of it—yet."

It's unclear what exactly offended Gomez about that seemingly innocent description, although it appears that she feels that she was misquoted about her feelings toward the teddy bear. The situation is made even more confusing by the fact that Gomez posted her Billboard cover on Twitter and thanked the magazine last Thursday, immediately after the article was published—which would imply that she had read and approved of the article at that time. And over the weekend, after attending the Billboard Women in Music 2017 event on Saturday, she posted the magazine cover on Instagram.

Update: Less than 24 hours after the social media power move, Gomez has restored full public access to her Instagram feed, and the nation has sighed a breath of relief.
Making her Instagram private was a hasty move that could be quite expensive for Selena. She got a $10 million contract with Coach last year based primarily on her social media influence. She's already made her Instagram public again, it was unavailable to new followers for less than a day, but brands may think twice about working with her after this move and may worry that she'll act hastily on social media. Maybe she'll get a pass for this one though. As smart as she is about her career, she can be pretty dumb in love and it's telling that she got upset by the part of the story that talked about a teddy bear. It also took her days to respond to this article. That could be due to the fact that she hadn't read it until now, but I would bet that something recently happened in her personal life. The bear could be from Bieber, she may have had a falling out with him, and that could explain why she suddenly got upset that the Billboard article included that detail. Or maybe the bear is from Abel/The Weeknd and the Biebs got mad at Selena for keeping it.
As much as Selena's red carpet style leaves something to be desired (she's surely contractually obligated to wear some of those outfits), I love seeing her street style. GoFugYourself has more of Selena's recent looks if you're interested.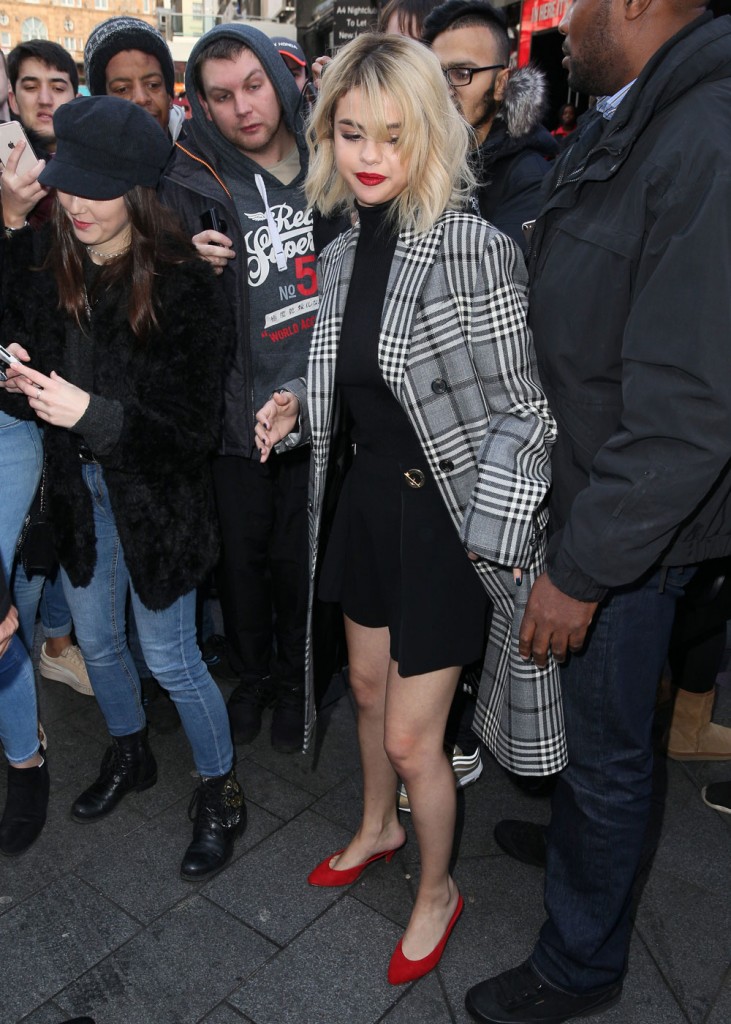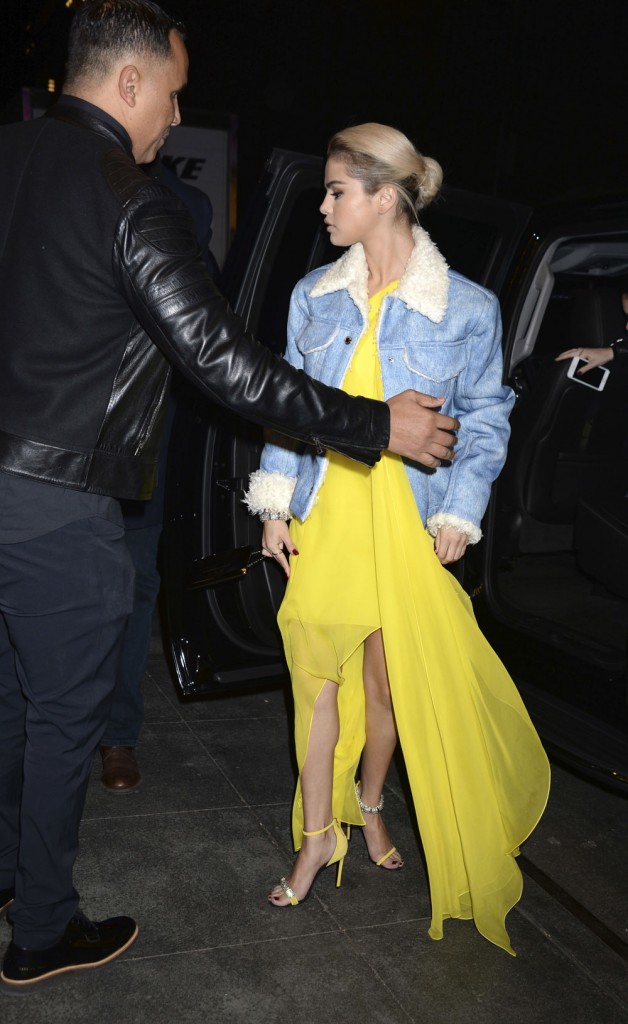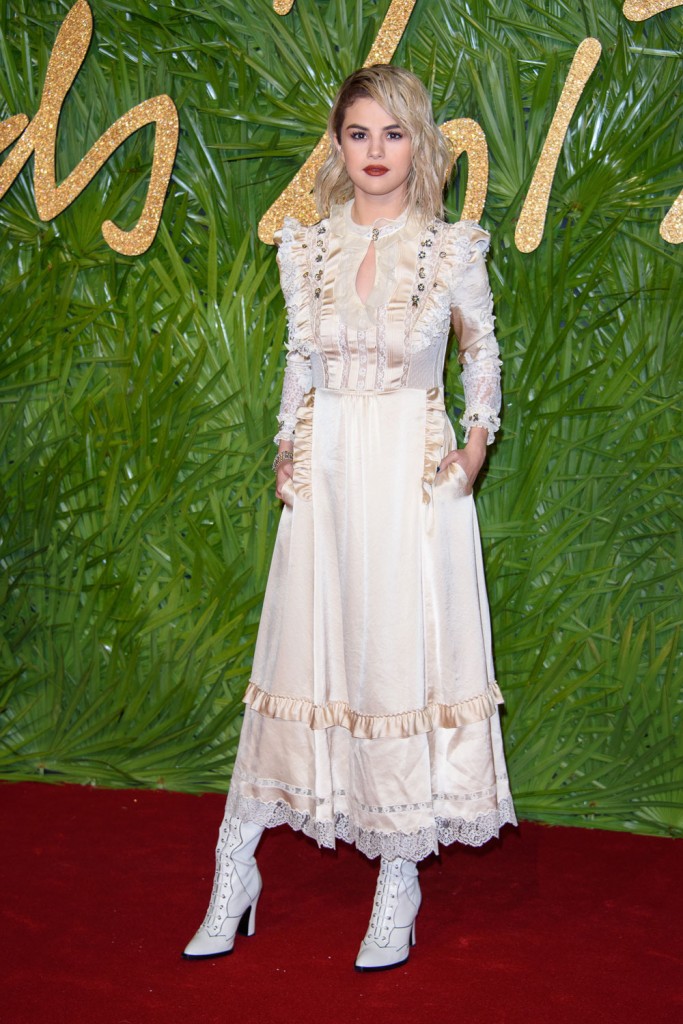 Photos credit: WENN