Embed from Getty Images
Ugh. I feel my lack of interest in all of these reboots of TV favorites from the 80s and 90s is definitely falling on deaf ears, as yet another beloved series from our collective childhoods is possibly being touted for a return.
This time, the sitcom in question is Blossom, which ran for five seasons on NBC, from 1991 to 1995. The series focuses on the trials and tribulations of Blossom Russo, played by Mayim Bialik and her family – Dad Nick (Ted Wass) and brothers Tony (Michael Stoyanov) and Joey, played by Joey Lawrence. The show not only immortalized Joey's catchphrase, "Whoa!," it also gave a boost to the floral hat market (I might be kidding about that last bit).
Joey, 41, probably still excited about the recent reunion of the cast for Entertainment Weekly's annual reunions issue, is all for bringing the show back to the small screen. He recently told Steve Harvey that "There's been serious talk about [a revival], believe it or not. Mayim and I have both said we'd be into it. We've talked to Don Reo about it, who created it. If there's a way in, then I think we're all down for it."
Sure, Joey wants a Blossom reunion, but is he really the best spokesperson for this? It's like the actor who played Principal Belding saying there's going to be a Saved By the Bell reunion. Besides, Mayim is a busy lady, still doing the full-time acting thing on Big Bang Theory. Would anyone (besides Joey and probably Jenna von Oÿ, who played Six) want Blossom without Blossom?
During the interview, Steve asked Joey what his TV counterpart would be up to in 2017, and he said he would have retired from baseball and "gotten married several times", adding that his "brain wasn't firing on all cylinders." Joey revealed a similar fate for his character in the EW story, while Mayim said she thought Blossom would be a neurotic scientist "with precocious children who were f—ked up." She added that, "If I were gonna create that show, I would have her be a single parent, just to have the parallel of what Blossom was originally." Ummm…pass.
For those of you who may have forgotten, Joey is also a singer who had a few minor hits during his Blossom heyday. Well, Joey has entered the Christmas music race with his contribution, "Christmas Time," and shot a cute video for the tune, complete with ugly sweaters. Joey told US Magazine that, "I love a Christmas song that's just about Christmas! The ones that rub me the wrong way are the 'You broke my heart at Christmas' type. I wanted to make it about that special happiness we all get around the holidays that we can't explain and do something poppy and fun." As for the song, it's no "Nothing My Love Won't Fix", but it's decent.
Joey also talked about spending the holidays with his daughters, 7-year-old Liberty and 11-year-old Charleston. He told US, "My girls still get very into Santa, so that is just so cool for me to see. It's such a short period of time where we get to live in that world before real life comes and smacks you in the face and ruin it." Sweet sentiment, Joseph. All I want for Christmas is no more reboots. Let's make that happen.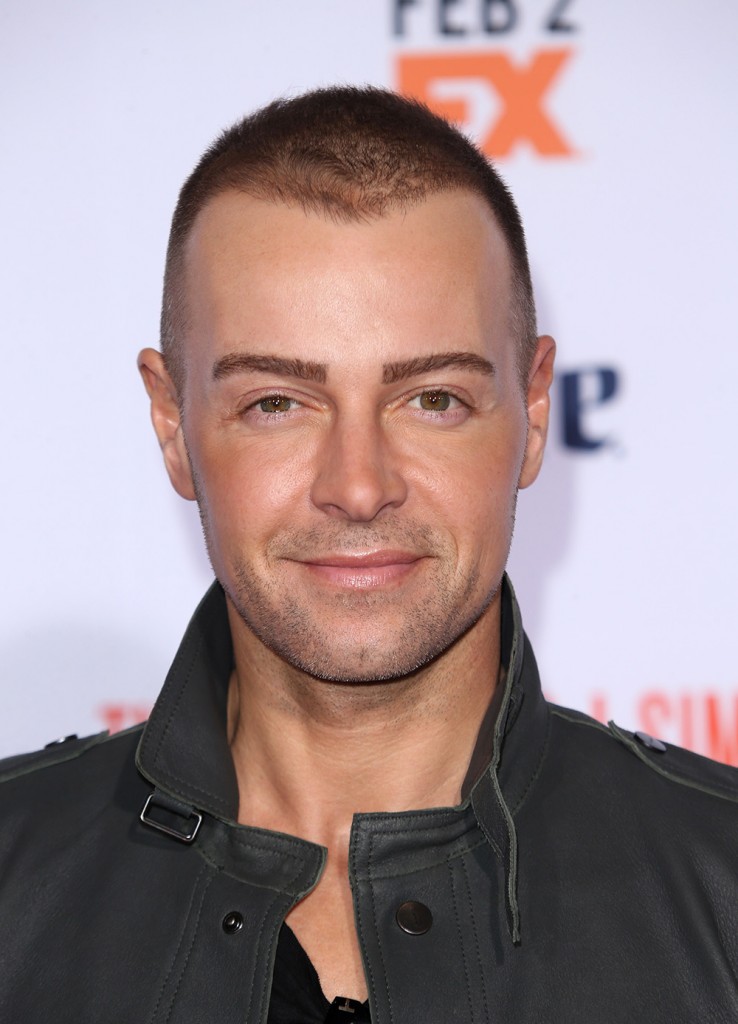 Photos: Getty Images, WENN.com