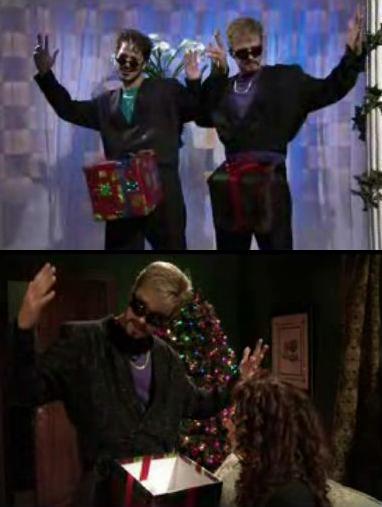 It's August 30th, which means there's only 116 days left 'till Christmas, so we best whip out the "Dick in a Box" video again. It's like Christmas in July, but we're on the quarter system here. It turns out that there actually is a real – and wonderful – reason to tune into the Emmys this year: Andy Samberg and Justin Timberlake will be performing their (now) classic holiday song "Dick in a Box." It's right up there with "God Rest Ye Merry, Gentlemen" now. The lyrically gifted song – a Freudian lovefest and feminist nightmare – is nominated in the Original Music and Lyrics category. But it turns out there's a bit of controversy of the lyrics – I have no idea why.
"Justin Timberlake doesn't want to cover up his 'Dick' at the Emmys. As I first reported, Timberlake and Andy Samberg are said to be in talks to perform their Saturday Night Live skit 'Dick in a Box' at the Primetime Emmys Sept. 16. A source reports that things may have hit a snag because the show's producers have apparently asked Timberlake and Samberg to change the words of the racy ditty to make it more family friendly. The ceremony airs on Fox at 8 p.m.

"I'm told the singer and the actor have balked at the request. When the holiday-themed skit debuted on SNL in December, the word 'dick' was bleeped out 16 times. The skit features Timberlake and Samberg bearing gifts attached to their man parts while crooning to their ladies. The funny thing is that if the Emmys performance were to occur, it's possible Timberlake and Samberg could have already been named winners by that time, since 'Dick in a Box' is nominated for Original Music and Lyrics. It goes up against Family Guy's 'My Drunken Irish Dad,' MADtv's 'Merry Ex-Mas' and double-nominee Scrubs for 'Guy Love' and 'Everything Comes Down to Poo.' The Original Music and Lyrics award will be bestowed Sept. 8 at the Creative Arts Emmy ceremony, a week before the Primetime Emmys.
[From E! News]
Oh man, I think I just found my dream Emmy category. As much as I love "Family Guy" more than any other show, and admire any song titled "Everything Comes Down to Poo" (because it's both funny and true) "Dick in a Box" is infinitely better than all the rest. I'll even dare to say that it's the greatest 3 minutes of singing ever put on television. Don't challenge me on this, I will hear no arguments. The song, inspired by '90s R&B bands, is lyrically genius, as it explains the male psyche more succinctly than any psychologist ever could. It also sounds oddly like most of *Nsync's Christmas CD – not that I've ever heard it, nor do I own it, nor do I play it from the day after Thanksgiving through January 1st – which is okay, because there's a New Years song on there. Let's pray that the FOX sensors back down (it's not like it's Cock in a Box… thought that'd be funny too) and our television screens are graced with a live performance this September 16th.
Here's the video one more time, because you know you wanted to watch it again, and were about to head over to YouTube anyway.