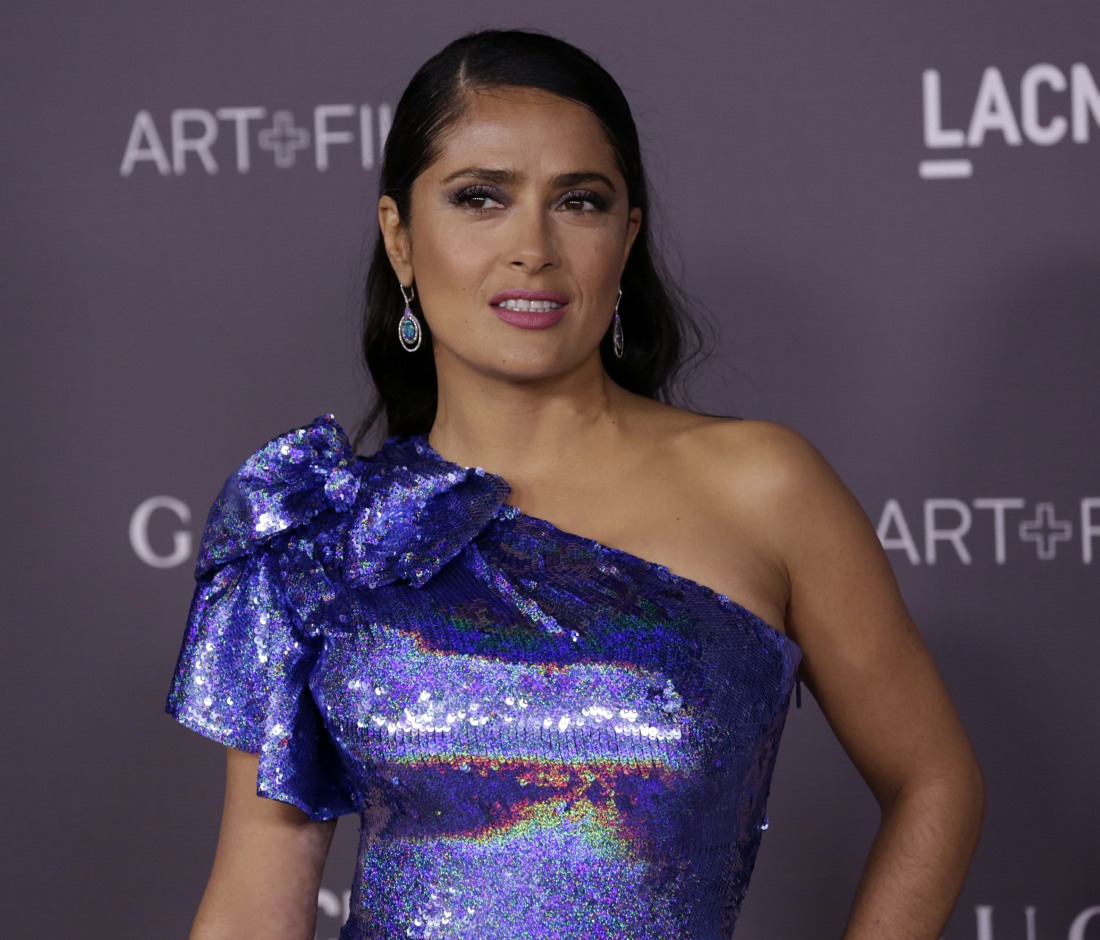 The New York Times published an op-ed from Salma Hayek on Wednesday. If you haven't read it already, you need to prepare yourself emotionally, because it is another gut-wrenching story about Harvey Weinstein. Salma talks at length about why she didn't come forward sooner, and it's a vivid portrait of how even one of the most famous and beautiful women in the world can still deal with the guilt and self-blaming that comes with being abused and being harassed. She acknowledges that her story isn't better or worse than other stories about Harvey Weinstein, and acknowledges that her friendships and connections with powerful people in Weinstein's orbit – people like Robert Rodriguez, Quentin Tarantino and George Clooney – probably "saved" her from a worse fate. You can read the full piece here:
Salma Hayek on Harvey Weinstein, in @nytopinion:
"No to letting a naked friend of his give me a massage.
No to letting him give me oral sex.
No to my getting naked with another woman.
No, no, no …
And with every refusal came Harvey's Machiavellian rage." https://t.co/8KfW3y3Igz

— The New York Times (@nytimes) December 13, 2017
She really came into Weinstein's orbit because she pursued him professionally, wanting him to produce her Frida Kahlo bio-pic. He agreed to produce it, and he wanted Salma to do more films with Miramax. When she signed the contract, that's when everything started. He said yes to her professionally, and then she had to say no to his demands:
"No to opening the door to him at all hours of the night, hotel after hotel, location after location, where he would show up unexpectedly, including one location where I was doing a movie he wasn't even involved with," Hayek wrote. "No to me taking a shower with him. No to letting him watch me take a shower. No to letting him give me a massage. No to letting a naked friend of his give me a massage. No to letting him give me oral sex. No to my getting naked with another woman."

She writes that every refusal was met with "Harvey's Machiavellian rage" and while he often tried to sweet-talk her to get his way, threats would also be part of his armory. One time, she claims, "in an attack of fury" he said to her: "I will kill you, don't think I can't."
[From The Guardian & THR]
She details some of the other crap she went through, like Weinstein dragging her away from an opening night party at Cannes so she would go to his "private party" with prostitutes. When the demands and the phone calls at all hours of the night became too much, Salma tried to remove Frida from Miramax and get the lawyers involved. He gave her a list of demands to get her film made, and she met those demands (like a script re-write, that kind of thing). When the production began, he turned up on set and threw everybody but Salma off the set. When they were alone, he berated her, told her that she only had her beauty and no talent, and that her Frida must be made sexier or else he was going to pull the plug. The only way Salma could continue making the film, he said, was if she agreed to a lesbian sex scene, with Salma doing full-frontal nudity. She didn't want to do it, but she was between a rock and a hard place, because she truly believed that Weinstein would shut down the production if she didn't acquiesce. So she did.
The actress wrote that she eventually gave in to an alleged demand by Weinstein that, "He offered me one option to continue. He would let me finish the film if I agreed to do a sex scene with another woman. And he demanded full-frontal nudity. He had been constantly asking for more skin, for more sex."

She agreed, not wanting the production to fold. "I arrived on the set the day we were to shoot the scene that I believed would save the movie," she writes. "And for the first and last time in my career, I had a nervous breakdown: My body began to shake uncontrollably, my breath was short and I began to cry and cry, unable to stop, as if I were throwing up tears."

She wrote of being troubled the day of performing the scene: "It was not because I would be naked with another woman. It was because I would be naked with her for Harvey Weinstein. But I could not tell them then."
[From The Guardian & THR]
After the film was completed, Weinstein still played games, threatening to only release it on video, with no theatrical release. The director Julie Taymor had to get involved and Harvey was a total rage-monster to her too. This is all so sick.
Update: You can read Weinstein's response to Salma here. I'm not going to cover it separately because who gives a sh-t what he has to say? His statement is just a denial about the making of Frida too, he doesn't even address her claims about his pattern of harassment and abuse.
Photos courtesy of Getty and WENN.