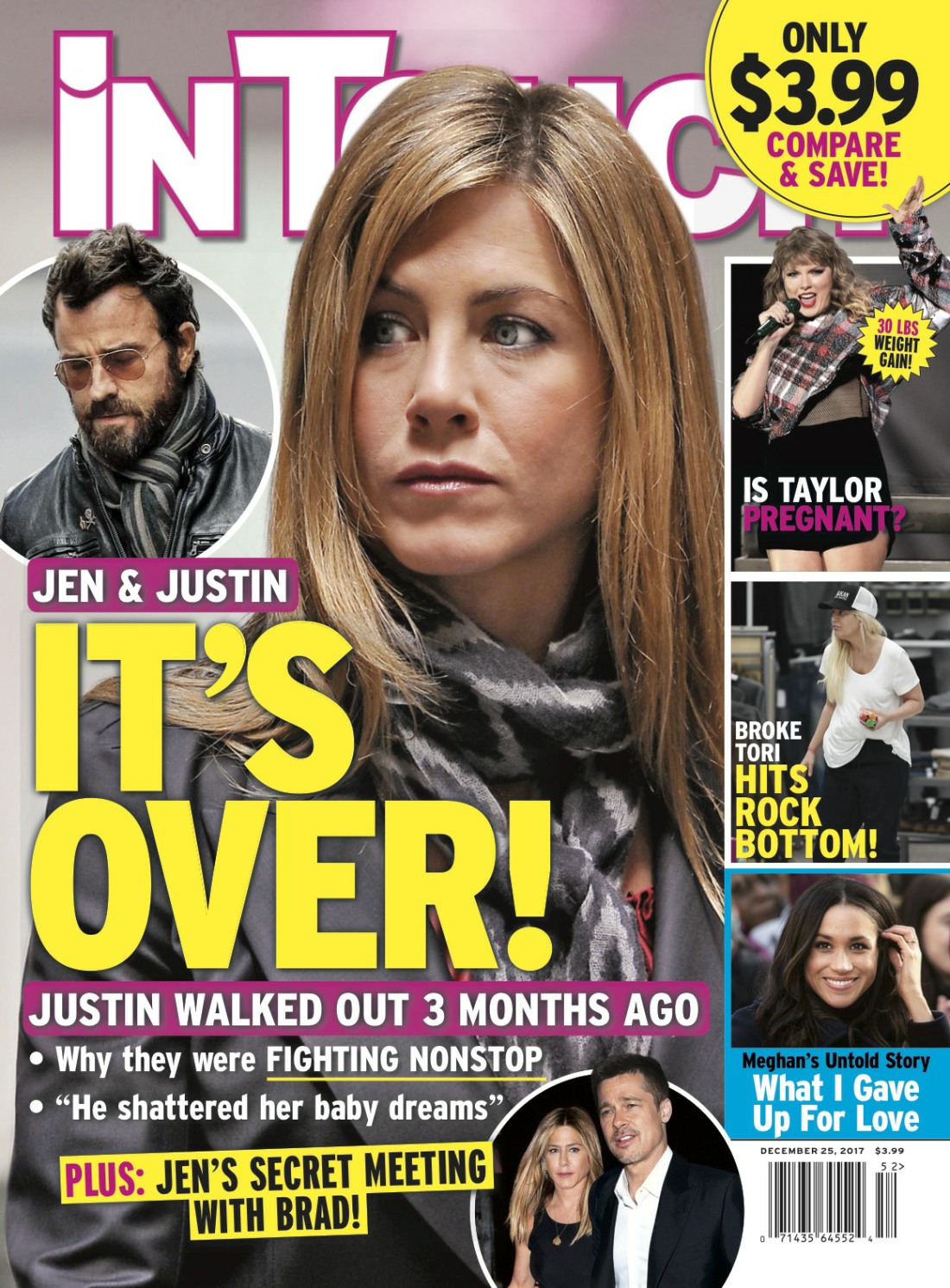 Justin Theroux and Jennifer Aniston have had a low-key year. I'm sitting here, going from memory, trying to recall if they had any big headlines in 2017. Jen was still shilling for SmartWater and her multiple endorsements. Justin worked. He premiered the final season of The Leftovers, and the last season didn't receive any Golden Globe or SAG nominations (it did receive one Emmy nomination, for Ann Dowd). The lack of gossip is both good and bad. It's good because there doesn't seem to be any drama between Justin and Jennifer, which is nice considering Jen's former status as tabloid-staple. The bad thing is about the lack of gossip is that… maybe people stopped caring about them? Or maybe they haven't even been in the same city together much this year? In Touch Weekly says their marriage is crumbling. Hm.
In Touch is exclusively reporting that Jennifer Aniston and Justin Theroux, who were once smitten red-carpet fixtures together, have been living separate lives since October.

"Justin left Jen three months ago when he went off to shoot the film On the Basis of Sex in Montreal and work on the Netflix series Maniac in New York," a friend tells In Touch. "He's been living primarily at his apartment in Greenwich Village."

And sources tell In Touch that two years after they wed, the marriage has crumbled. "Although they have put up a good facade of being a happily married couple, the opposite is true," says the friend. But following her messy, high-profile divorce from Brad Pitt, 53, in 2005, Jen is reluctant to let go just yet.

"Jen and Justin have arguments about where they should live," says the insider. While Jen loves LA, where she has a home in the swanky Bel Air neighborhood, Justin clearly prefers NYC. "Jen can't stand the weather in New York," the insider tells In Touch. "And she hates not having a car in the city to drive to wherever she needs to go."

The East Coast–West Coast issue is just one of many differences that have divided the couple, who met on the set of Tropic Thunder in 2007 and became romantic after co-starring in 2012's Wanderlust. While friends would love to see them salvage their relationship and work things out, the insider says it's a long shot. "It's only a matter of time now," the insider tells In Touch.
Even before they got married, they were like this though. Their relationship and marriage has always been built on a foundation of separate lives and separate spaces and a lot of time apart. I used to find it odd because they were being painted as the most loved-up and adorable couple in the world. Now they're no longer being painted that way, the cutesy People-Mag-friendly facade has been ripped away and now we can see: they barely spend any time together. They're rarely in the same city for longer than a few days. Does it follow that their marriage is "crumbling" if this is the way it's always been? They're not kids – Jen is 48 (she'll be 49 in February) and Justin is 46. Isn't it far more likely that this is what they want their marriage to be? Together, but apart for long stretches of time? I don't know – I think they both went into this marriage with their eyes wide open. Meaning, if this is what their marriage looks like, then that's the way they want it.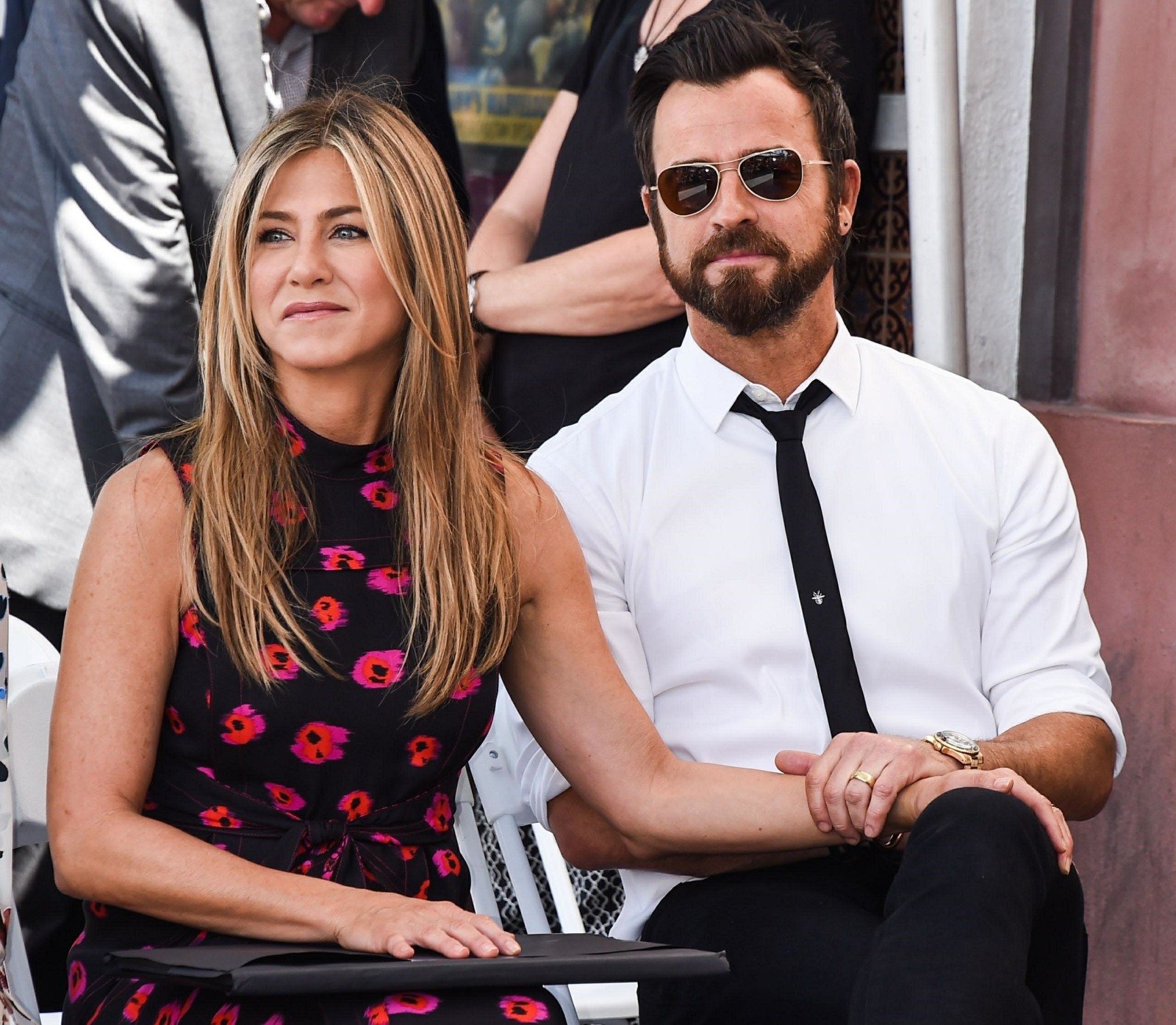 Cover courtesy of In Touch Weekly, additional photos courtesy of Backgrid.