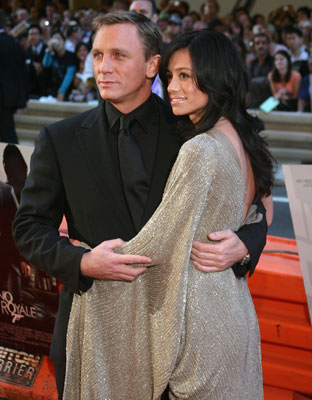 Can James Bond ever be a sensible married man? Wouldn't it ruin those cheesy lines? What will he do to fill in those dull evenings when he's away from the missus and no bad guys are near?
Whoops, I seem to have Bond's glamorous life confused with Daniel Craig's somewhat more prosaic one. He has a long term girlfriend, and reports from Britain indicate they may be engaged.
The British actor reportedly proposed to film producer Satsuki Mitchell during a romantic break in Italy.

Mitchell has been spotted wearing a huge ring on her wedding finger ever since the summer vacation.

It will be second time up the aisle for Craig who married British actress Fiona Louden with whom he has a child.

Their daughter Ella was born in 1992.
His fiancé may have some competition – when has Bond ever been known for his monogamy? – after Daniel confessed to being turned on by his co-star Nicole Kidman.
In an interview with W magazine, Craig says: "Nicole turns me on. Not in a sordid, horrible way — well, come to think of it!"
Daniel is currently filming the next Bond instalment, which should be full of more bangs and fast cars. After all, he's the greatest Bond of all time, or at least the one that pulls the most cash at the box office. If you ask my mum, she likes Pierce Brosnan, grandma likes Roger Moore, and I'm partial to Sean Connery. If only because of this fabulous quote, about his good looks winning him film roles. In the early 1960's Sean told Ruth Park "I reckon I have about five more years work in my face."
Well, we're all wrong sometimes. It's not always a bad thing.