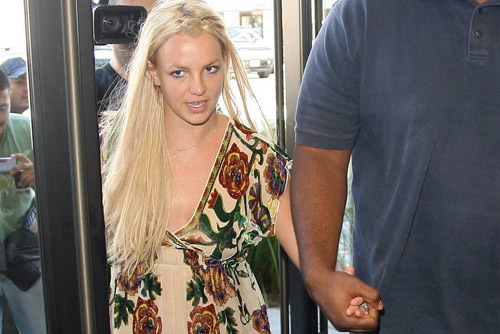 Britney's much-anticipated comeback, which got off to a limping start after her disappointing 10-15 minute lipsynch tour at various House(s) of Blues, might finally be underway. She is definitely going to open the Video Music Awards. An earlier plan had her doing a medley of her hits along with My Perogative, with big images on a screen behind her illustrating scenes from her tumultuous life that we're all too familiar with. That's not going to happen though, although she is supposed to be doing something else that's "shocking," and her new f'k buddy magician Criss Angel is said to have helped her with the act.
"She's planning it to be a big comeback performance," says a Spears insider, who adds that the goal is to make it "shocking."

One early idea that was canned?

Performing "My Prerogative" amid a medley of hits, as images of exes Justin Timberlake, 26, and Kevin Federline, 29, and other gossip fodder flashed on a screen behind her.

As for a report that she'd do a duet with Timberlake?

"Totally, patently false," says a Timberlake source.
And two intro segments from new songs reported to be by Britney have been leaked and are available on TMZ. They're both pretty catchy and she seems to have some decent new material to perform on the VMAs.
In other related way too frequent Britney news, her monthly income was included in documents from a custody hearing with K-Fed and she makes almost 3/4 of a million each and every month.
With that kind of cash coming in, she could go anywhere and do just about anything. Instead she chooses to run around in the same old boots flashing her ass to the paps.
Is anyone really looking forward to Britney's comeback? With that kind of production work, just about any cute young girl who has a good voice and can perform could be groomed into the next pop superstar. It's time for some new blood in the business. Did you hear that Hayden Panettiere got a record deal? I guess she will do. Move over Britney, you're old news.
Update: People Magazine reports that Britney's new album will drop on October November 13th. You can hear the full version of her first single, Gimme More, on Z100′s website. It was released right after the clips were leaked online. Oh, and she's supposed to be disappearing on stage several times at the VMAs.