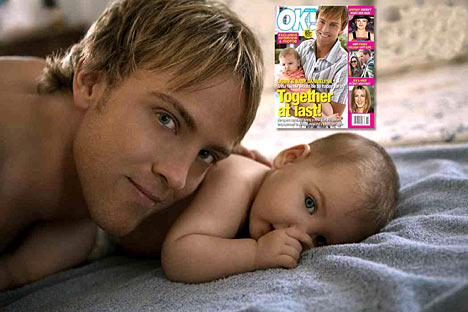 Larry Birkhead had some kind of deal with OK! Magazine for photos and stories about his life with Dannielynn, the daughter of the late Anna Nicole Smith. OK! thinks he screwed them by letting US Weekly have the photos and story on Dannielynn's first birthday and they're pissed. After paying him $1.7 million and doing him a bunch of favors, they're not about to let him get away without spreading some nasty gossip about him.
OK! editors claim to have some shocking news about Birkhead, implying that he made a deal with the guy who first claimed to be Anna Nicole's baby daddy, Howard K Stern. Unless he's thought to have plotted to kill Anna, I don't see how it can be all that scandalous. Maybe they're going to claim that they made a deal for the handover of the baby and that there was money involved:
The magazine's publicist said: "OK! Magazine has uncovered explosive allegations regarding Larry Birkhead, Howard K. Stern and baby Danielynn, prompting the magazine to cancel our exclusive coverage of Danielynn's first birthday party."

"The newly obtained allegations are detailed, shocking and potentially incriminating. It makes it impossible for OK!, in good conscience, to promote this family's highly questionable relationship in our pages."

Both were locked in a paternity battle over the child before DNA tests claimed to prove Birkhead as the father following the death of Anna Nicole.

OK's American editor Sarah Ivens said: "My biggest fear is that Larry and Howard may have tricked us all."
[From the Daily Mail]
Larry says OK! forced his hand, though, by threatening him not to go to a rival glossy after he was on the cover of US with Dannielynn. He said that was bullshit:
Birkhead, who says he didn't play ball with Us, wrote an email to OK! in which he said, "I was just threatened via email by (the reporter) that OK! would do a negative story on me if I did any stories with any other mags. Ridiculous!!! I am not sure what planet she's on but I am not going to be threatened. She blew it!"
OK! thought they had a "four-part deal" with Birkhead, while Birkhead thought he had an agreement with them for just the first photos of his daughter once he was awarded custody.
Either way, whatever crap they've got on Larry Birkhead can't really be trusted considering that they've got an axe to grind.
It really makes you lose faith in the integrity of the gossip industry when someone can smear the good name of a doting father like Larry Birkhead over a measly couple of million.